Article also available in other languages
These double-barrelled rifles have a magical appeal for hunters. You don't actually need them, but thank God there is more to life than just the things you need. And if you own one of these fine rifles whose barrels are well matched and with which you can reliably hit the bullseye, you will love it and not want to part with it again.
Double rifle as life insurance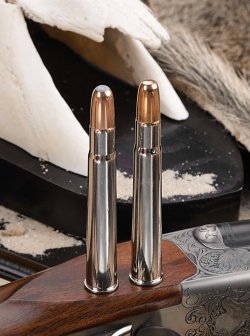 Also, and especially when hunting big game in Africa, a double rifle with its instant availability of a second round proves itself a fine thing. Even more so: When hunting buffalo, for example, the fast second shot may occasionally be even lifesaving. However, two double rifles, one for drive hunts in local forests and one for Africa, inevitably amount to a pretty penny. This will cause many a hunter to hesitate. The .375 Flanged Magnum Nitro Express, i.e. the rimmed version of the .375 Holland & Holland Magnum cartridge, may offer an alternative here. 

With about 5,200 joules of muzzle energy, in terms of performance the "Flanged" is only slightly inferior to its rimless counterpart, but more than ten percent superior to the 9.3×74 R round. The rifle would thus have to be controllable in drive hunts in Europe while also reliably bringing down big game in Africa when shot properly. For hunting pachyderms, however, the cartridge is at the lower power limit, and for long shots in the open field the double rifle is the wrong gun.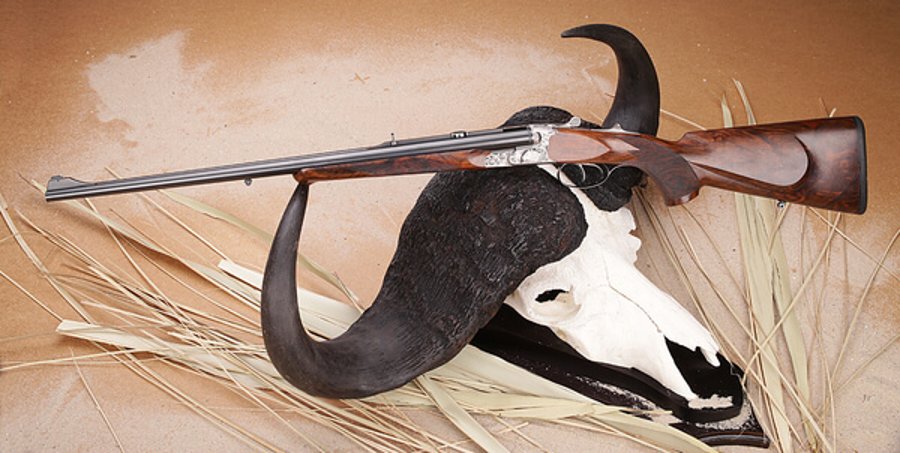 Our test candidate
Since the author had already carried a KRIEGHOFF "Big Five" successfully in Cameroun 15 years ago, this technically perfectly known model was selected once more. 
The strengths of the 104-centimetre-long "Big Five" by KRIEGHOFF include a firmly soldered 60-cm barrel pair with very good shooting performance. 
In addition, the manual cocking allows carrying the loaded rifle in the bush safely. Moreover, the universal trigger system is to be ranked at the top of the very best triggers ever available in double rifles.
The plan for this long-term test
Extensive testing at the range, carrying the weapon in fall and winter on drive hunts, in daytime stalking of large game and use of the double rifle in big game hunting in Africa, if possible. Unfortunately, this time there was no occasion for the latter.
The gun under test: KRIEGHOFF Double Rifle Classic "Big Five"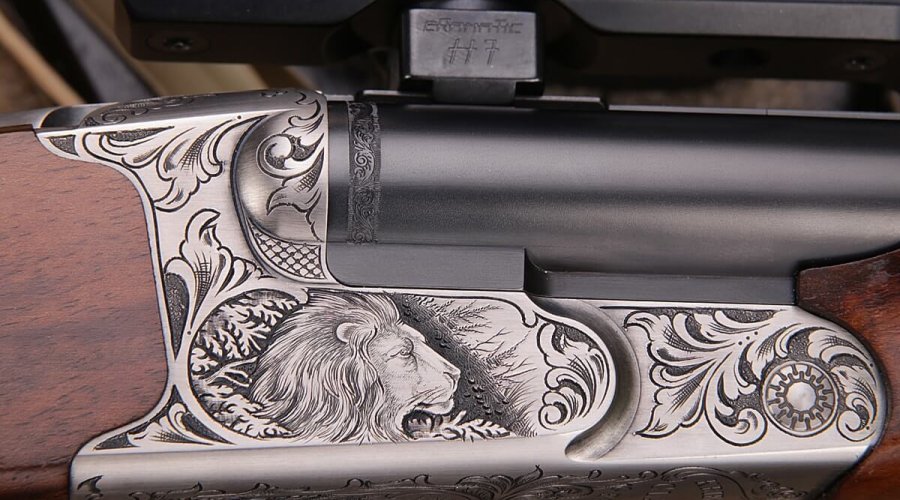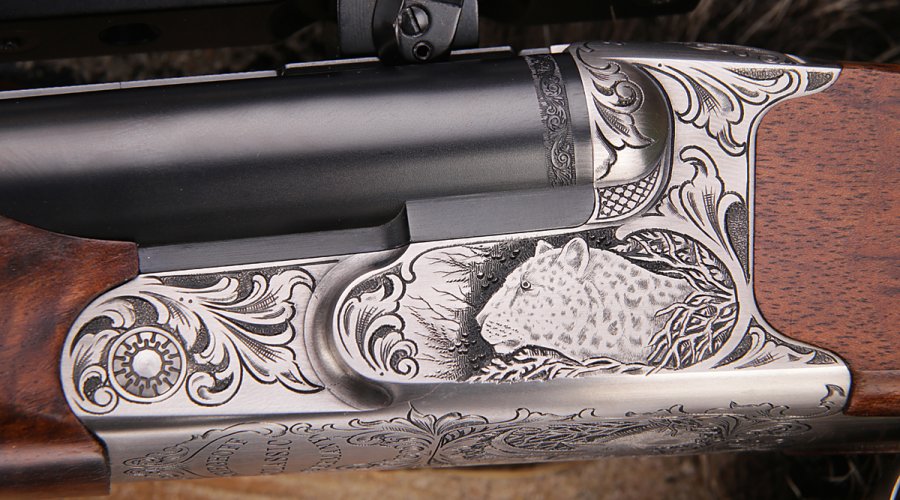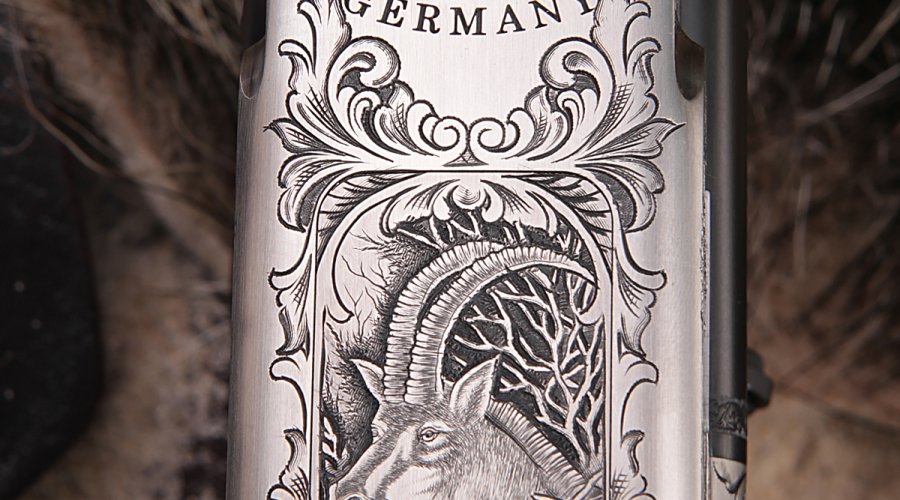 KRIEGHOFF sent us a particularly classy variant: stock made of burl wood and hand-made game scene engraving. This showed on the left side the portrait of a leopard, on the right that of a lion and below that of a roan antelope. In this embodiment, however, the rifle including scope and assembly amounts to a quite hefty € 17,000 price tag, including VAT, in Germany! The optics on the weapon: a bridge-pivot mounted LEICA Magnus 2-10×42 – a riflescope for universal use.
The KRIEGHOFF Double Rifle in field-testing
The slip-proof beavertail forend and the perfectly positioned triggers of the rifle were pleasing. In the rifle under test, the front trigger for the right barrel releases at 2.1 kilos, the rear one for the left barrel at 2.5. The front trigger is articulated to prevent finger bruising. The rifle with its 15-millimetre-thick rubber recoil pad was comfortable to shoot after a bit of practising of the aiming position. The open sights with classic, open express rear sight and steel bead front sight were likewise convincing.
Plastic beads as you sometimes find them even on big game rifles are no good for hard use! The bridge-pivot mount for the riflescope is certainly rugged and practical to handle, but it will not win a beauty contest. Perhaps a Ziegler claw mount would have been a stable and aesthetically appealing alternative here.
When the rifle arrived, there was no time for the long way to the shooting range. Therefore, we first went briefly into the grounds. After a double shot at a distance of 70 steps from the raised hide, through the telescopic sights at eightfold magnification the bullet holes looked like a single one. Yet there were two of them, perfectly three centimetres high and only 1.3 cm apart. 
To get an idea of the hot shooting behaviour of the rifle, a short sprint back to the raised hide followed, and less than three minutes after the first doublet the next pair of shots:  6.5 cm above the target point and six centimetres apart, but at the same height. Top results, especially as under field conditions and with a brief "sprint interlude" some scattering on the side of the shooter cannot be excluded.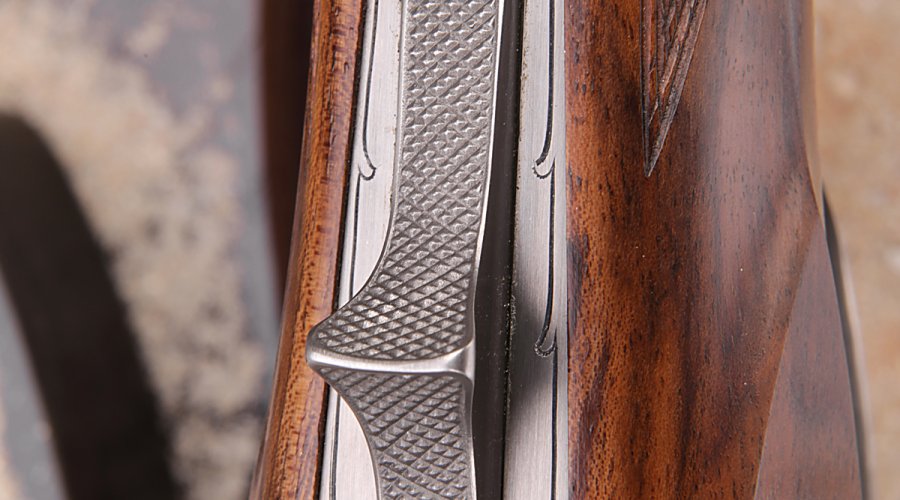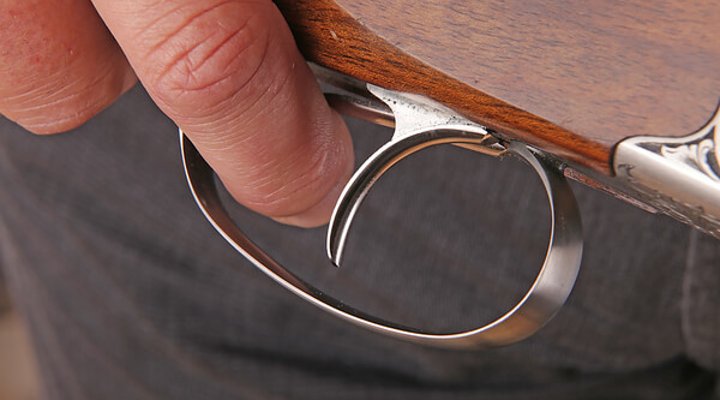 As first test ammunition, KRIEGHOFF had included some NORMA African PH ammunition with 19.4 grams (300 grs) Woodleigh bullets, each FMJ and soft-point. Whether the two loads match, was to be ascertained in the later shooting range test.
Even before the shooting range test, we went to the first drive hunt. With two double shots, a wild boar piglet and a highly fugitive fox were brought down – admittedly, each with the second shot. However, this was the result of unnecessary haste, but despite the weight of about five pounds with optics, the rifle swings quite well.
Five wild boar sows, one fawn and two foxes were brought down right at the beginning of the drive-hunting season. However, the NORMA cartridges did not always show satisfactory effects even in case of thorax hits (heart and lung area). Occasionally, even after good hits two or even three shots were required until the game died. The Woodleigh soft-point bullet proved evidently too powerful for weak European game. It just would not transfer sufficient energy to the animal body before exiting from it.
A replacement barrel for domestic drive hunts seemed to be the solution. After consultation with KRIEGHOFF, a barrel pair of 8×57 IRS was selected. This calibre permits adjusting the barrels by a wedge at the mouth so that they are well matched. This has the advantage that after a load change the barrels do not have to be re-soldered. However, this adjustment option also carries the risk of barrel shifting during shooting. Why else would producers firmly solder double barrels for big game calibres?
Finally, both barrel pairs, i.e. the .375 Flanged as well, were equipped with a SWAROVSKI Z6i 1-6×24 drive hunt glass. The small optics are virtually ideal for daytime hunting at short and medium distance at home and abroad.
KRIEGHOFF Double Rifle under test with RWS 8×57 IRS Evolution ammunition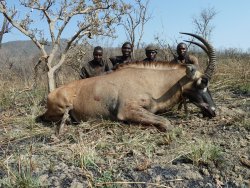 The rifle came back thus equipped shortly before the season for drive hunts. A short test of the small pair of barrels in 8×57 IRS with the 13-gram (200 grs) Evolution ammunition by RWS in the grounds using both telescopic and open sights yielded entirely satisfactory results. 
Two days later, a drive hunt took place in private grounds. With one double shot each, a second-year wild boar and a strong-bodied deer of German class IIb (i.e. middle-aged, with sub-average antlers) were brought down. All four shots were fatal hits. But the second barrel also tempts to fire quickly for a second time if the game is not brought down immediately. The flight distances were approximately 30 paces.
Three weeks later, a doublet of wild boar piglet and second-year wild boar succeeded. The stand neighbour succeeded in said feat with his KRIEGHOFF Double Rifle in 9.3×74 R. Thus, with a total of four shots, two piglets, a second-year and a pretty good tusker were thus brought down between the two stands.
After the second pair of shots, the barrels were then completely degreased and shot flawlessly.  Two double shots each from a cold rifle at 100 m yielded a scattering circle of 4.7 cm at perfect height with the previously mentioned IRS Evo ammunition by RWS. At 50 m, the double shots from cold barrels were 2.5 cm apart. This can be barely outperformed.
Still, the .375 barrel pair produced results that were even more precise: the double shots at a hundred metres were a perfect 1.7 cm apart. However, as you stalk buffalo at rather short distances and often use full metal jacket loads, too, double shots with full metal jacket and soft-point cartridges were fired at 50 metres each. Scattering circle of four shots with two loads from cold barrels: 2.2 cm!
Technical data of the KRIEGHOFF Classic Big Five
| | |
| --- | --- |
| Model | KRIEGHOFF Classic Big Five |
| |   |
| Calibre | .375 Flanged Magnum Nitro Express |
| Barrel Lenght | 600 mm |
| Total Lenght | 1.040 mm |
| Trigger Weight | 2.100 g (right), 2.500 g (left) |
| Weight | 4.300 g |
Finish: Universal (double) trigger, manual cocking, walnut stock (Category 3) with German cheek piece and 15-mm rubber cap, Big Game engraving, nitrided surface finish, V rear sight, bead front sight, prepared for bridge-pivot mount.
Conclusion of our tests of the KRIEGHOFF Double Rifle Classic "Big Five"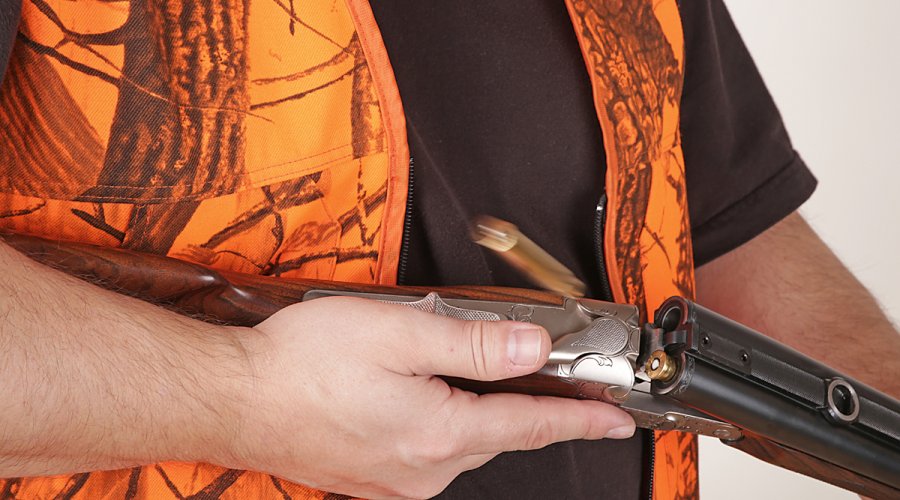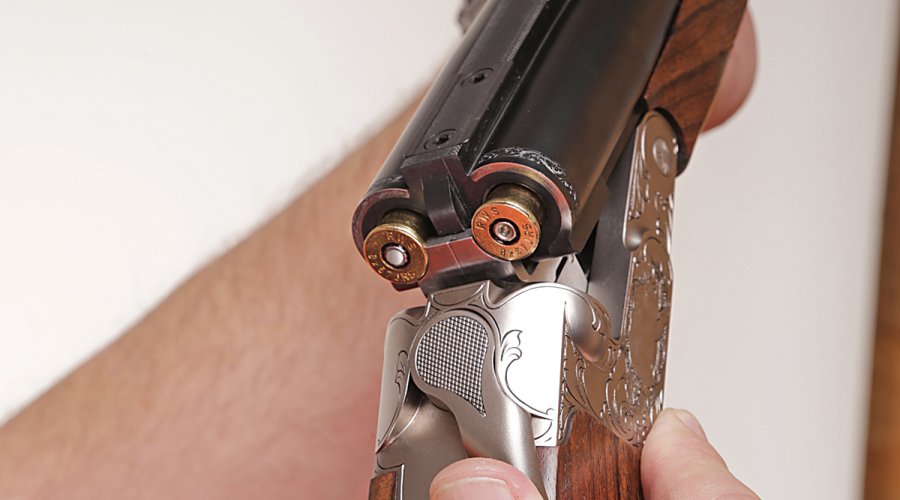 With a KRIEGHOFF-Double Rifle .375 Flanged with two big-game loads (full metal jacket and soft-point) and one soft-point load you are well-equipped for Africa as well as for domestic drive hunts.  It's not a steal, but what you get for it really is first-class. This is certainly not a weapon for just anyone – but if you can afford it, you are very well equipped with it.
When you now purchase a new KRIEGHOFF Double Rifle, however, you should directly take into account the extra cost, not included in the base price, for the new Intelligent Ejector System (IES). This pays off in local drive hunts as well as when hunting in Africa. The modern and sophisticated system with its deactivatable ejectors controlled via the triggers has only recently become available from KRIEGHOFF and represents a very useful add-on to the Classic Double Rifle family by the traditional company.