First introduced last January at the 2015 SHOT Show in Las Vegas (NV) by Gamo Outdoor USA − the north American branch of the Spanish-based Gamo Outdoor S.L., a global leader in airguns market and technology − the new Mach 1 Pigman Edition air rifle was conceived under the auspices of an airgun sponsorship agreement signed in July 2014 with the production of a popular Sportsman Channel TV show − "Pigman: The Series" − and with its host and executive producer: professional hunter Brian "Pigman" Quaca, one of the most accomplished and unique hunters to ever feature his exploits on outdoor television. 
A charismatic host, Brian "Pigman" Quaca enjoys entertaining the masses with his distinctive approach to hunting, his excellent sense of humor, and he is reportedly a down to earth person who always takes the time to hang out with his fans.

A signature version of the already popular Mach 1 high-power air rifle from Gamo, the new "Pigman Edition" model integrates a vast majority of the most innovative features launched by the Spanish company, and its U.S. subsidiary, on the global panorama of airguns.

At the earth of the new single-shot, break-barrel Gamo Mach 1 "Pigman Edition" air rifle is the the IGT Mach 1 system, which replaces the standard spring-activated piston used to charge conventional airguns and propel their pellets with a 33-millimeter inert gas cylinder that delivers superior velocity and terminal performance, propelling 4,5mm/.177 caliber Gamo PBA Platinum pellets up to a staggering 1420 feet-per-second (432,8 metres per second), with constant performance and a smooth, effortless manual cocking. The 5,5mm/.22 caliber variant of the Gamo Mach 1 "Pigman Edition" provides instead a muzzle velocity level that ranges around 1020 feet-per-second (310,9 metres-per-second, approximately) with the same type of ammunition.


Another peculiar feature of the Gamo Mach 1 "Pigman Edition" is the CAT technology, standing for "Custom Action Trigger": Gamo's own near-Match-grade airgun trigger system, provides two separate screws that enable shooters to independently adjust its first and second stage and thus to customize its weight, break and reset according to their needs and purposes.
The Gamo Mach 1 "Pigman Edition" air rifle is factory-issued with a 3-9x40 riflescope mounted on the company's own RRR ("Recoil Reducing Rail") system, developed to subdue the taxing stresses placed on your scope from the intense recoil of air guns and high-powered rifles by using a patent-pending two-piece aluminum construction separated by dual polymer struts to absorb shockwaves. Once mounted to the RRR rail, the recoil stresses to internal components of the scope are reduced by almost 100%.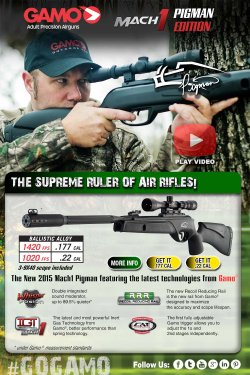 Last, but not least, the Gamo Mach 1 "Pigman Edition" air rifle integrates another Gamo signature technology, the Whisper Fusion noise dampening system, integrated directly onto the fluted, polymer-jacketed steel barrel − thus effectively dubbing as a sound suppressor for this extremely powerful airgun and making it discreet for indoors or outdoors plinking despite its high power, as well as a trusty varmint hunt tool that will not give away, by any chance, your shooting position to any prey nearby.
The Gamo Mach 1 "Pigman Edition" air rifle is also factory-issued with fiber-optic front and rear sights, a prominent ambidextrous cheekpiece on the all-weather black stock, rubberized grips, and an adjustable SWA ("ShockWave Absorber") synthetic buttpiece, based upon three removable absorption cells, providing up to 74% more absorption than standard recoil pads for a more stable and pleasurable shooting.
The manufacturer's suggested retail price for the Gamo Mach 1 "Pigman Edition" air rifle is $369.95 for both the 4,5mm/.177 and 5,5mm/.22 versions. As of today, the Mach 1 "Pigman Edition" air rifle is available only in the United States. Prospective non-US buyers should refer to the relevant GAMO distributor for their Country for informations concerning possible availability and pricing.

This video has been hidden because of an external service (YouTube) that could potentially collect personal data.Allow video services for the duration of the visitAllow video servicesStop allowing video services