Rössler Signature Hunter – A hunting rifle with high intrinsic accuracy for raised hide, stalking and mountain hunting
Mountain hunting is a fascinating activity. It offers hunters a unique challenge as they have to navigate challenging terrain. This is often steep, rocky and usually difficult to reach. In addition, hunters in the mountains often have to aim their shot beyond the point blank range of the bullet they are using. In many cases, the terrain simply does not permit getting closer to game. So rifle and optic must meet special requirements for mountain hunting. In cooperation with the Willenbach hunting estate, we had the opportunity to examine a rifle, scope and silencer combo suitable for mountain hunting. 
What does the developer Walter Rössler say about the Signature Hunter?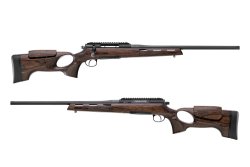 We had no point-of-impact shifts during our rifle test, which is especially noteworthy because we fired the Signature Hunter at 100 yards with and without the Hausken silencer. In developing this version of the manual-cocking rifle, the team at Austrian firearms manufacturer RÖWAattached great importance to ergonomics. RÖWA CEO Walter Rössler says: "The outstanding feature of the Signature Hunter is its laminated wood stock. It comes with an adjustable cheek piece and butt plate and can thus be adjusted to the ergonomics of the shooter. Speaking of "female shooter" or "female hunter": ladies in particular will love the Signature Hunter, as the gun's safety is smooth and quiet to operate. The thumbhole behind the pistol grip is also striking. It is significantly larger than on the Titan 6 series from Rössler, the predecessor model of the Signature series. It has been optimized so that it fits even more securely in your hand. This comes into play especially when you need it, for example when hunting, of course. The forend of the Signature Hunter is designed as a trapezoidal stock. In .308 Winchester caliber with a barrel length of 51cm, the rifle weighs around 3,500 grams. Thanks to the stock design and the mechanism for the stock adjustment options, the Hunter is somewhat heavier than the other Signature models. 
Kahles Helia 3,5-18x50i riflescope – An ideal companion for raised hide, stalking and mountain hunting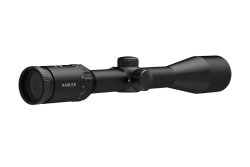 If the basic accuracy of the hunting rifle is right – and it does not matter now which model of RÖWA we are talking about – you should not make any compromises when it comes to optics and mounting. Not much more needs to be said about the Kahles Helia 3.5-18x50i, the more amazed we are every time how well this riflescope performs out of the cold (here you can find our review of this scope). At this point, the attentive reader should know that the state-of-the-art technology from Kahles also benefits a little bit from the innovative parent company Swarovski Optik. For this reason alone, you should subscribe to the Youtube channel of all4hunters, because we will soon be putting a video online on the subject of Swarovski Optik's development work, which will impressively demonstrate the innovative power of the optical giant and which you should not miss under any circumstances. The two optic brands from Austria will then certainly become even more dear to you. But let's get back to the riflescope we used, the Kahles Helia 3.5-18x50i. Weighing in at 660 grams and measuring 383 mm, this riflescope offers just about everything you need for hunting. In addition, sport shooters should also take a look at it, because you can shoot with it at long ranges. And hunters appreciate it above all because of its flexible application possibilities for the raised hide, stalking or mountain hunting. The scope is available with two reticles (illuminated reticle: 4-Dot or G4B), each in the 2nd focal plane. With a 30 mm main tube diameter, it offers an adjustment range of 1 meter in windage and 1.95 meters in elevation at a distance of 100 meters. If this is not enough for you, you should think about a tilted mount.

Recknagel, for example, also offers corresponding mounts with adjustable elevation.
Ammunition: how susceptible to wind is the RWS Evolution Green in .308 Winchester with 9-g bullet at 300 yards?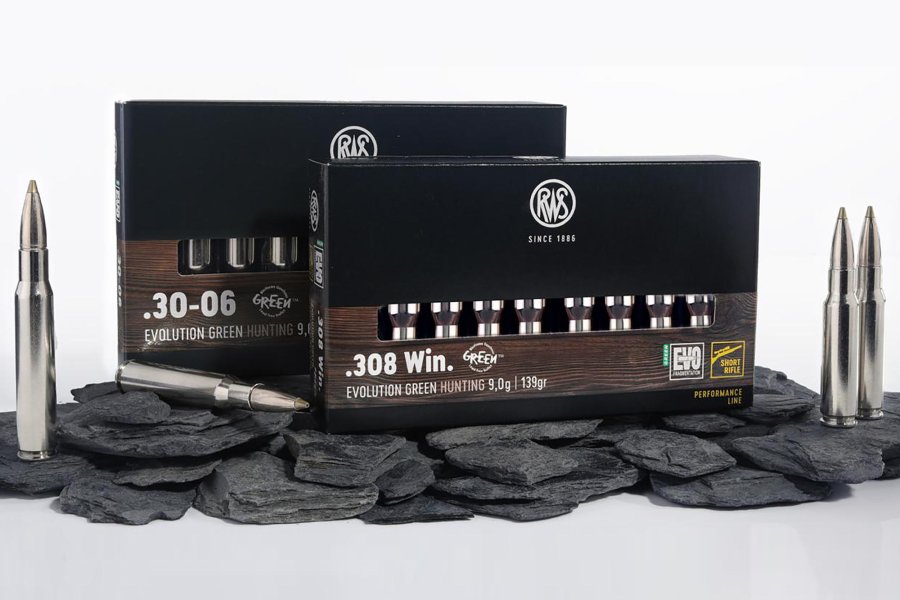 After testing that the accuracy with and without Hausken silencer at 100 meters was already very good, we naturally wanted to know what it was like at 300 meters. As test ammunition, we chose the lead-free Evo Green from RWS. With a bullet as light as the RWS Evolution Green, which weighs only 139 grains (9.0 g) in .308 Winchester, you naturally have to take environmental influences into account when analyzing the aiming point. We were all the more surprised when we hit the roebuck target at the first attempt. And that was with wind gusts of up to 16 m/s. Our conclusion on the RWS bullet: you can shoot tight groups at 300 m even with such a light bullet!  However, it is strongly recommended to practice this beforehand and, in case of doubt, to let your finger straight once too often rather than once too little when it comes to accurate, fair shooting on the hunt.
The Jakt JD 184 XTRM silencer from Hausken in mint green – Available exclusively from Rössler RÖWA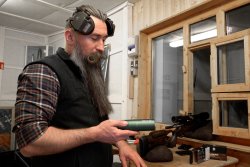 To what extent a color-designed silencer offers added value is left to the eye of the beholder. The fact is, and this applies more and more to gun accessories as well, that the individualization of hunting equipment continues to advance. It's not just in the USA that it's now trendy to customize the color of your gun to your own taste, and slowly but surely this is also catching in Europe. In terms of sound reduction performance, the mint green Hausken silencer in the RÖWA Edition is no different than its Jakt JD 184 XTRM counterpart in black. It has an attenuation performance of around 30 dB. This is perfectly adequate for most hunting situations. As always at this point the note that such a silencer is a wearing part, but with proper care it can serve its owner well for a long time. You should also give the Hausken JD 184 XTREM a break in the shooting cinema in order to make the most of this suppressor from Norway. Nevertheless, there is no getting around the issue of cleaning. 
Important links to the article: Here you will find more information about Rössler RÖWA.