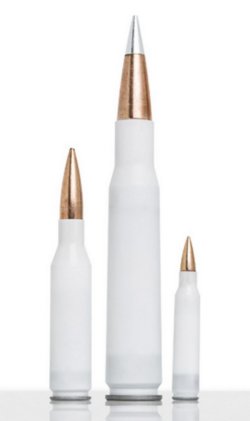 From composite munitions manufacturer True Velocity, an interesting insight of the new composite-cased ammunition being evaluated by the US Army for the Next Generation Squad Weapons (NGSW) program. The NGSW program is intended to select the new 6.8mm weapons that should replace both the M249 squad automatic weapon and the M4 carbine from 2022-2023. A few days ago here on all4shooters we reported on the latest developments, showing you the prototypes designed by SIG Sauer, one of the three companies selected by the US Army to advance to the next phase of testing. The other two firms are AAI Corporation Textron Systems and General Dynamics-OTS Inc. In a press release, True Velocity let us know that the company's composite-cased ammunition has been selected for the U.S. Army's Next Generation Squad Weapon (NGSW) modernization program, adding some striking images of the ammo to come.
True velocity explains that its proprietary-design 6.8mm composite-cased cartridge was submitted "as part of an overall NGSW weapon system in partnership with General Dynamics Ordnance and Tactical Systems and firearm manufacturer Beretta Defense Technologies" – and the fact that Beretta is also involved in the NGSW program is interesting news per se.
The new cartridge will provide "substantially increased effective range and muzzle energy, drastic reduction in cartridge weight and enhanced accuracy." 
A breakthrough in military firearms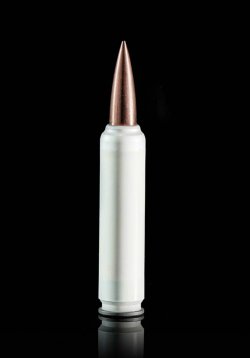 "Polymer cartridges" weigh and cost less than traditional brass-cased ammo, and are not prone to corrosion, with significant logistical and operational advantages. Moreover, "True Velocity's 6.8mm composite case design produces a level of performance, consistency and efficiency never before seen in small arms ammunition," said Chris Tedford, president and chief operating officer for True Velocity. "Combining True Velocity's innovation and technology with the expertise of General Dynamics OTS and Beretta results in a weapon system solution that exceeds NGSW requirements and provides the U.S. Army with a definitive edge on the field of battle."
As for the cartridges unveiled by True velocity, it's worth noting the particular design of neck and shoulder – a well-known weak point, especially in composite cases – which are now much shorter and smaller compared to traditional ammo. Earlier designs were in fact different, merely replicating the neck and shoulder of brass cases (see photo above).
Ironically, if polymer-cased ammo is adopted by the US Army, it will be the first real breakthrough in military firearms since the introduction of metallic cartridges, more a century and half ago.