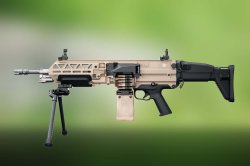 As is well known, the established manufacturer with a company history of over 130 years has set standards in the production of machine guns. FN weapon systems such as the MAG or Minimi are in service all over the planet. The brand-new EVOLYS is based on the manufacturer's wealth of experience and its distinctive folding stock is somewhat reminiscent of the FN SCAR assault rifle family in appearance. The new model is said to combine the firepower of a belt-fed MG with the light weight and handling characteristics of an assault rifle, which is a significant advantage in the face of asymmetric conflicts in foreign deployments and modern military tactics. After all, a soldier who can move more dynamically in any terrain thanks to weight-reduced equipment is significantly more efficient. The FN EVOLYS, with a theoretical rate of fire of 750 rounds per minute, is based on a short stroke gas-operated action with a short-stroke piston and multi-lug rotating bolt. The patented cartridge feed system automatically repositions cartridges when the feed cover is closed and the belt is not properly placed on the feed tray. This avoids a failure to feed the first cartridge. The last link of the ammunition belt is automatically ejected to clear the way for fast, reliable reloading.
Noise-suppressed shooting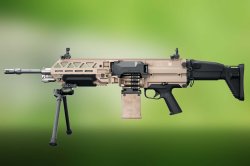 Naturally, suppressor use was considered from the outset in the development of the FN EVOLYS and tested intensively in practice. The MG is consistently designed for ambidextrous operation, and the fire selector has a semi-auto position to enable specific engagement of point targets. The length-adjustable buttstock with height-adjustable cheek rest allows individual adjustment depending on body size, equipment, shooting/aiming position. The monolithic receiver with integral one-piece aluminum hand guard is designed for maximum robustness and ensures repeatable mounting of optics plus additional equipment (magnification modules, night vision/thermal optics). The hydraulic buffer absorbs a lot of recoil, providing the best conditions for controlled single and continuous fire. Of course, the new FN EVOLYS is scheduled to be on display at the DSEI international security trade show in London, UK, September 14-17 this year. 
FN EVOLYS specs

| | | |
| --- | --- | --- |
| Model: | EVOLYS 5.56  | EVOLYS 7.62 |
| Caliber: | 5.56x45 mm NATO  |  7.62x51 mm NATO |
| Operating Principle:  | Gas operated, short stoke piston, with multi-lug rotating bolt | Gas operated, short stoke piston, with multi-lug rotating bolt |
| Overall Length: | 850-950 mm  | 925-1025 mm |
| Barrel Length:  | 14"/355 mm  | 16"/406 mm |
| Weight: | 12.1 lb/5500 grams  | 13.6 lb/6200 grams  |
| Width: | 133 mm | 135 mm |
| Firing Modes:  | Semi/full auto  | Semi/full auto |
| Rate of Fire:  | 750 rounds per minute   | 750 rounds per minute   |
| Feeding: | Free disintegrating belt or Minimi pouch for 100/200 rounds | Free disintegrating belt or Minimi pouch for 100/200 rounds |
| Maximum Effective Range:  | 800 m | 1000 m |