A new tender worth up to CZK2.35 billion (about $93.4 million) for Česká Zbrojovka (CZ). CZ will supply the Czech Army almost 40,000 firearms – plus ammunition –  by 2025, including more than 16,000 Bren 2 assault rifles, over 21,000 CZ P-10 pistols, over 1,600 CZ 805 G1 underslung grenade launchers, nearly 100 CZ Scorpion PDWs and training ammunition.

The framework agreement was signed by Lubor Koudelka, Deputy Minister for Armaments and Acquisition, and Ladislav Britaňák, CEO of CZ. "Our goal is to modernize the army, but also to support the Czech industry and maintain jobs in these difficult times," explained Czech Minister of Defense Lubomír Metnar.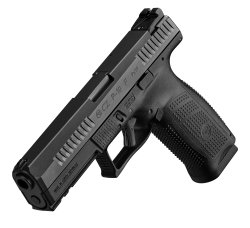 The Czech army is historically one of the most important customers of CZ, and the purchase follows the contracts from 2010 to 2016, when the army purchased almost 40,000 small arms from the manufacturer.
"The Army of the Czech Republic demands only the best armament. This contract is an assurance for us that we are doing our job well and create high-quality and innovative products that hold up even in the most demanding military and law enforcement markets. At the same time, it is an important signal of the importance of investment in the domestic defence industry, especially in the difficult present time that demonstrates the need to ensure maximum security of deliveries from domestic sources," said Luboš Kovařík, President of the CZ Group.
Bren 2 rifle, P-10 pistol and CZ Scorpion PDW – All the guns by CZ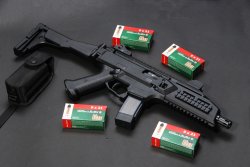 Introduced in 2015-2016, the CZ Bren 2 modular assault rifle series features a gas-operated, rotating bolt action. It's chambered both in the powerful 7.62x51 NATO cartridge and 5.56x45mm caliber. It uses 25-round reinforced polymer magazines, and has a detachable forend to provide an option to use an interface system in accordance with the customer's needs and requirements. 
On the civilian market, CZ offers a carbine version (read our article here), as well as a pistol version named Bren 2 Ms Pistol.
The CZ P-10 pistol is a 9mm striker-fired, polymer-framed guns also available on the civilian market in several versions (see here), including the MRDS-ready CZ P-10 C OR model and the new CZ P-10 M, a single-stack version. The same goes for the 9mm CZ Scorpion PDW, which is also available to civilians in many countries – as a semi-auto gun, of course – in pistol, "ultra compact" and carbine versions.
Lastly, the CZ 805 G1 is a 40x46mm grenade launcher that can be used with a wide range of modern standardized grenades, as well as with non-lethal ammunition