Česká Zbrojovka Uherský Brod A.S. - the most important firearms manufacturer of Czech Republic better known worldwide simply as CZ - introduces a new iteration of its Bren rifle, the Bren 2 Ms Pistol. 
"Bren" is an evocative name, from the WW2 light machine-gun to the Bren Ten pistol of the 1980s, both strictly connected to Czech gun inventiveness – the Bren machine gun was a version of the Czechoslovak ZGB 33 and the Bren Ten was strongly "inspired" by the CZ-75 pistol. Introduced in 2009, the 805 Bren was designed to a specific set of requirements set out by the Czech military (you can find more info on all4shooters here – they also developed a semi-auto civilian version: we tested it here). On the contrary, as claimed by CZ, "the Bren 2 is a clean-sheet design" in pistol form - which means it's a semiautomatic gun, not a full auto weapon - with multiple barrel lengths and two chamberings, .223/5.56x45mm and 7.62×39. 
CZ Bren 2 Ms Pistol, a modular gun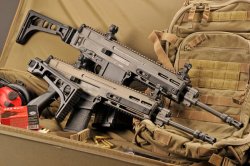 The new Bren 2 Ms Pistol's aluminum receiver has been trimmed-down, while the lower is made from carbon fiber-reinforced polymer, resulting in a lighter gun (depending on the version and barrel length, weight ranges from 5.4 lb to 5.86 lb). The reciprocating charging handle of the previous CZ-805 Bren has been replaced with one that stays stowed in the forward position until it is needed. It can be swapped left or right side and also doubles as a forward assist. On both sides of the gun, an AR-style bolt catch/release system has been added into the front of the trigger guard. AR-style fully ambidextrous magazine release and safety complete the controls. The .223 variants also use the familiar AR-15 style magazines and magazine capacity is 30 rounds in both calibers. Sights are folding and adjustable.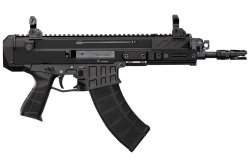 Three barrel lengths (9", 11" and 14") are available for the 7.62×39 version and two (8" or 11") for the .223/5.56x45mm version. "All variants are swappable to different barrel lengths and chamberings and also feature a modular forend that can be swapped to different lengths," guarantees CZ. Adding that "In pistol form, the Bren 2 Ms comes with a flush rear plate that has the provision for attaching a AR-style buffer tube for the installation of an arm brace, cheek rest or similar pistol stabilizing device. For those who wish to SBR, a Carbine buffer tube and stock can be installed or the entire rear plate can be removed and replaced with a factory folding/adjustable stock."
The MSRP in the US is luckily the same for all versions and calibers: 1799 USD.