Not all black rifles are derived from the AR15 platform, and the vast US market is always interested in semi-automatic rifles based on military designs. Despite the fact that the majority of the world's inhabitants are convinced that in the US assault rifles can be bought even in supermarkets, in reality American laws are very strict when it comes to automatic weapons. There is a federal regulation called 922r that basically prohibits the importation of firearms that are too "military style" or can be modified to full-auto too easily. The Bren 2 Ms in 5.56x45 mm /.223 Remington has been approved for sale on the civilian market in the 922r-compliant version with a 16.5"/42 cm barrel.
CZ Bren 2 Ms carbine, a handy and lightweight modular gun
The CZ Bren 2 Ms operates via a short-stroke gas piston system that does not require a buffer tube for the return spring and is therefore equipped with a folding stock that allows to reduce its overall length from 35.6"/904 mm to 28"/710 mm, making it easier to transport.
The Bren 2 Ms is extremely light thanks to an aluminum upper and a lower made of carbon fiber composite. As a result, the weight of the unloaded carbine is 7 lb 3 oz / 3250 grams.
The "M" stands for "modular" and refers to the forend that can be swapped to different lengths and styles according to user preference.
The charging handle is non-reciprocating and therefore it doesn't move during firing, but can be used as a forward assist. It can also be swapped from side to side. The ambidextrous firing selector, bolt catch and magazine release button are AR-style. There are no sights – a very long Picatinny rail allows for the mounting of any iron or optical sight. The CZ Bren 2 M can be fed with 10 or 30-round magazines.
The price in the USA of the CZ Bren 2 Ms carbine is 1.999 USD. Let's wait an see what will be the availability and sales price in our EU markets. As always: Stay tuned!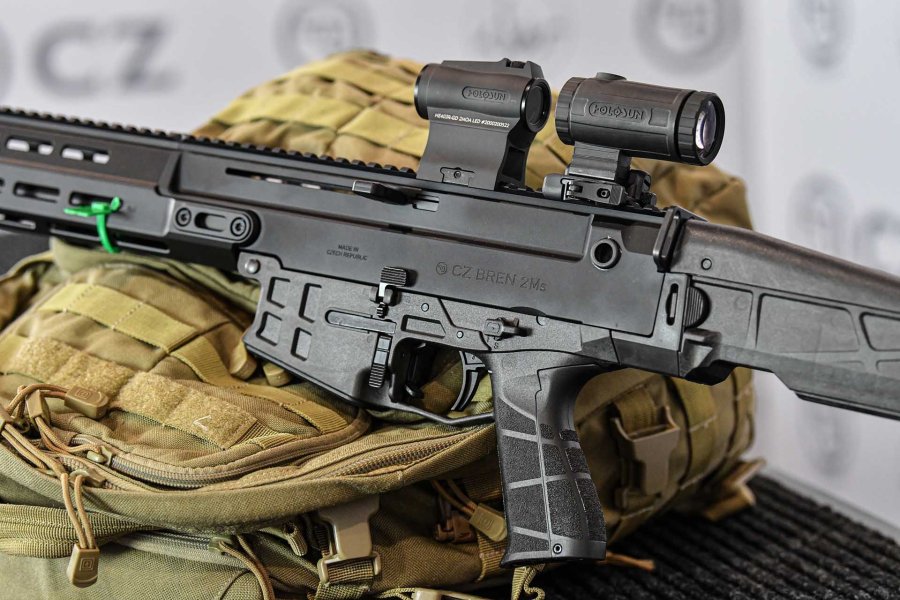 Franco Palamaro, © F.PALAMARO
---
CZ Bren 2 Ms Carbine technical specifications and price:
| | |
| --- | --- |
| Manufacturer: | CZ |
| Model: | Bren 2 Ms Carbine |
| Tipologia | Semi-automatic |
| Chambering: | .223 Remington |
| Receiver: | aluminum |
| Lower:  | carbon fiber-reinforced polymer |
| Stock: | polymer |
| Weight: | 7 lbs. 3 ounces  |
| Overall height: | 7.41 in. |
| Overall width: | 3.25 in. |
| Overall length: | 35.6 in. |
| Length folded: | 28.25 in. |
| Barrel length:  | 16.5 in. |
| Barrel type:  | cold hammer forged |
| Magazine capacity:  | 30 or 10 rounds |
| Price (MSRP) | 1.999 USD |