B&T USA, the Florida-based subsidiary of B&T AG Switzerland (formerly known as Brügger and Thomet AG), announced that the City of Miami Beach Police Department purchased B&T APC9K PRO 9mm platforms equipped with SIG Sauer P320 magazine compatible lower receiver groups – the 9mm P320 is in fact the service handgun of the City of Miami Beach Police Department. These sub-compact guns are also equipped with B&T three-lug QD suppressors and Aimpoint sighting systems.
"B&T has a long history of supplying local, county, state and federal law enforcement agencies with top-tier products, and we are honored to provide Miami Beach Florida Police Department with B&T's specialized equipment to help them with their challenging assignments," stated Tim Nickler, President and CEO, B&T USA. 
B&T APC9K PRO, an unusual move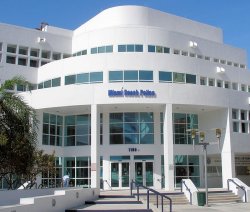 The B&T APC9 – a 9mm blowback action select-fire SMG that fires from a closed bolt at a cyclic rate of 1,080 rounds-per-minute – was first announced in 2011. The PRO version was introduced in 2019, and the "K" ("Kurz", short) in the APC9K PRO name indicates the sub-compact model with a 5.4-inch barrel. The APC9 PRO is also available with a lower receiver that accepts the magazines of GLOCK G17 pistols in 9mm caliber. Among its features, ambidextrous controls, a new non-reciprocating charging handle – which is also ambidextrous – and the pistol grip that can be replaced with all the already existing aftermarket parts compatible with the AR15/M4 platform.
Even if the APC acronym actually stands for "Advanced Police Carbine", the move towards a submachine-gun platform is somewhat unusual these days, many police departments preferring compact or even full-size rifles instead. These ultra-compact weapon systems are destined for specialized service within the department. Last year a version based on B&T's APC9 PRO K model chambered in 9mm was also selected by the US Army for the Sub Compact Weapon (SCW) program. 
The City of Miami Beach Police Department serves a growing community of nearly 100,000 full-time residents, swelling to over 3 million during peak visitation, and is the first agency to purchase SIG Sauer P320 magazine compatible lower receiver groups for the APC9-series platform.