The history of Nighthawk Custom is comparatively young. It all started with two breakaway gunsmiths from Bill Wilson in 2004, who wanted to go into business for themselves. However, they didn't moved too far, so that with Wilson Combat and Nighthawk Custom you can find two renowned high-end 1911 manufacturers in the 6000-soul community of Berryville in Arkansas. Whereas in the beginning there were only two 1911s to choose from, the GRP and Talon, there are now over 40 different models available in 9mm Luger, 10mm Auto and .45 ACP calibers. Today, an impressive 85 gunsmiths are employed by Nighthawk Custom, and the lineup also includes imported Korth revolvers from Germany and Cosmi break-action semi-auto shotguns from Italy (we have also extensively tested the break-action self-loading rifle on all4hunters.com). According to the 2019 AFMER (Annual Firearms Manufacturing and Exportation) report – data is always released two years later for confidentiality reasons – Nighthawk Custom produced exactly 2265 pistols, with the 9mm caliber group accounting for about half even in the home country of the .45 Auto. High-quality materials are the standard, MIM and cast parts are accordingly taboo.

Philosophy at Nighthawk Custom: one gun, one gunsmith

A lot of handwork goes into the individual models and the manufacturer follows the "one gun – one gunsmith" credo. Thus, on each Nighthawk Custom pistol you can discover the initials of its creator in a concealed place, which improves transparency and facilitates any traceability.
As a result of the cooperation between Nighthawk Custom and Korth, the German revolvers are distributed nationwide by the US company on the other side of the pond, while the German revolver manufacturer in turn offers the US pistols in Germany. Korth CEO Martin Rothmann provided us with a half-dozen guns at once, though we already covered several Nighthawk Custom guns in the past. Two new models caught our particular interest, however: the Agent 2 in .45 ACP, a classic 1911 with a sleek design that comes factory with a slide cutout for a micro red dot sight. The other is the TRS Comp in 9mm, a 1911 or 2011 with a high-capacity frame for double-stack magazines with a single-chamber compensator that blends in beautifully with the overall design.

TRS from Nighthawk Custom – The Tactical Ready Series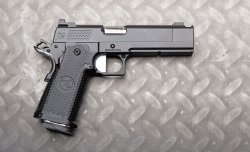 "Square, practical, good" might come to mind when looking at the front end of the TRS Comp. The compensator seamlessly continues the contour of the Long Dust Cover (LDC) and slide. Thus, from the side, the only indication that this is not a standard 2011 is the narrow gap between the slide and the muzzle end. If you subtract the single-chamber compensator, you still get 4.25"/108 mm of barrel length. The concept is somewhat reminiscent of the IPSC pioneer days, when moderately tuned 1911s were used with single-chamber compensators in the lower gas pressure "Major Power Factor" .45 Auto. The frame consists of two parts in the usual manner, with an upper part made of steel for the slide guides and a lower part made of high-strength aluminum as the actual grip section. Dimples, which set visual accents and promise better grip control, also embellish the rear section of the slide.

However, you won't find a micrometer sight for the sporty pistol or a safety on both sides. The Heinie Ledge Black rear sight can be moved sideways for correcting the point of impact. The front sight is really "old school", as it is not highlighted by a fiber optic rod, but by an 18-karat gold bead, which, however, is definitely a practical alternative. Recently, the TRS has also been available with a cutout for a mini red dot sight (MRDS), which is becoming more and more standard. At 40 oz approx. (1200 g), this is a handy, well-balanced Hi-Cap pistol for dynamic IPSC/action disciplines and, in combination with a light recoil spring, provides a very comfortable shooting behavior. The TRS Comp is offered exclusively in 9mm Luger, the steel plate magazines holding 17 cartridges. The TRS is also available as a short Hi-Cap Commander without compensator. The version shown here has a price tag of $4599 in the US – 5255.52 euros in Germany.

The Agent 2 pistols from Nighthawk Custom: 1911s at their best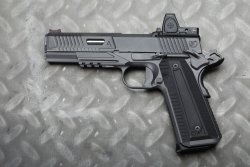 A cutting-edge design 1911 was created in collaboration between Nighthawk Custom and the hip US company Agency Arms, which is best known for its appealing tuning conversions/parts for polymer frame FN, Glock, SIG Sauer and Smith & Wesson pistols. In addition to the Agent 1 – a Commander with a 4.25"/108-mm barrel – the full-blown Agent 2 with a 5"/127 mm barrel has been in the manufacturing lineup for some time. The forged frame has been given a rail to accept gun laser/flashlight modules and a discreet magwelll. The slide features a sleek design with a prominent flare in front of the chamber/ejection port, a side window and aggressively designed grip textures on the front- and backstrap. Our Agent 2 came right out of the box with a cutout for an MRDS. Again, we're going for quality, so it comes with a Trijicon RMR 2. Other adapter plates, which by the way are slid onto a rail in the slide cutout, are available for the compact Shield RMSc or the quite popular Vortex Viper (as well as other MRDS with the same footprint).

However, there are also back-up sights to the very robust Trijicon. In most cases, the rear sight is behind the MRDS, but in this case it sits in front. You can certainly live with the shorter sight radius in the case, but there is even a fiber optic front sight. The anthracite gray Cerakote "Smoke" finish successfully rounds off the 1911 with a nice touch.
In terms of build quality, the TRS Comp and Agent 2 left a very decent impression, which also applies to the trigger characteristics at trigger pull weights of just under 1900 grams (TRS Comp) and 1400 grams (Agent 2). Our Agent 2 was chambered in the US traditional .45 Auto caliber, but is also available in 9mm Luger. Other calibers such as .38 Super Auto, 10mm Auto, longer barrels with suppressor threads, and optional equipment options for the individual gun of choice can be found in Nighthawk's Custom Shop. The price of the Agent 2 with Trijicon RMR 2 in Germany is 6768.72 euros. Prices may differ in other European countries due to VAT and import duties.
Test: with the TRS Comp and Agent 2 pistols on the shooting range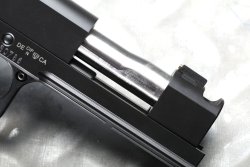 With ten types of ammo each in 9mm Luger and .45 Auto and the two test pistols in the guise of the TRS Comp and Agent 2, we headed out to the range. The Agent 2 was tested for accuracy using loads with bullet weights ranging from 185 to 230 grains. The best result we achieved was with the GECO 230-grain JHP, with a 2"/51-mm group. Unfortunately, at least with our choice of ammunition, we were unable to produce a better grouping from the Agent 2. Now the TRS Comp went into the chuck jaws of the Ransom Rest shooting machine and shooting performance was checked with loads featuring bullet weights from 95 to 147 grains. The best result here came from the 95-grain Magtech at 2.16"/55 millimeters. Only the TRS Comp suffered a feed malfunction with the short and blunt-nosed Magtech 95-grain factory cartridge. Most not unexpectedly, the fast ammo varieties with light bullets, such as the Magtech 95-gr jacketed soft point or our handload with 6.4-grain Hodgdon Longshot and 100-gr H&N hollowpoint bullet, revealed the best compensator action. Thus, the TRS Comp's golden front sight quickly found itself on the target during the dynamic drills that followed.

Nighthawk Custom TRS Comp and Agent 2 pistols specs and prices

Model: 

Nighthawk Custom TRS Comp
Nighthawk Custom Agent 2
Caliber:
9mm Luger
.45 Auto
Magazine Capacity:
17 rounds 

10 rounds

Grip:
Steel-aluminum (2-piece)   

Steel, gray (smoke) Cerakote finish

Slide:
Steel, Cerakote finish  

Steel, gray (Smoke) Cerakote finish

Barrel Length:
4.25"/108 mm 

5"/127 mm

Grooves/lands diameter:
9.04-8.82 mm 

10.47-10.25 mm

Rear Sight:
Heinie Ledge, 3.15 mm   

3.15 mm/back up to Trijicon RMR Type 2

Front Sight:
3.05 mm, with gold bead   

2.8 mm, with red fiber optic insert

Sight Radius:
6.6"/168 mm 

5.3"/135 mm

Safety:
One-sided thumb safety  

One-sided thumb safety

Trigger Action, Pull Weight*: 

SA 1876 g  

SA 1452 g

Lock time*: 

5 ms 

4 ms
Total Weight (incl. magazine): 

1210 g

1169 g

Dimensions (LxWxH):

216x34x154 mm 

220x36x165 mm

Extras:

Padded Cordura bag  

Padded Cordura bag

Price (in Germany): 

5255.52 euro 

6768.72 euro

Notes:

* Mean of 10 measurements with the Trigger Scan System

Our test conclusion on Nighthawk Custom pistols

The Nighthawk Custom 1911 pistols, recently offered with a classic slim grip for a voluminous Hi-Cap frame using double-stack magazines, impress with clean workmanship and appealing designs. Unfortunately, the shooting performance of the Agent 2 and TRS Comp falls somewhat short of the lofty expectations of us accuracy-focused shooters. With a different ammo selection, perhaps something better is possible – at least the gun's fits would speak to that. Both models are excellently manufactured, impress with their great design and for this reason alone have a high fascination potential. However, if you are looking for high-accuracy match pistols, this is unfortunately not the right place.

| | |
| --- | --- |
|  What we liked: |  What we found less good: |
| Great design | Accuracy falls short of the expected potential |
| Clean workmanship | |
| Tight fits | |