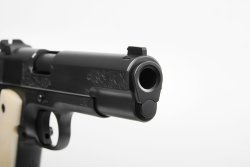 Based in Berryville, Arkansas, Nighthawk Custom expands its lavish 1911 model pistol family based on John M. Browning's century-old design with the VIP Black which, according to company owner and CEO Mark Stone, is one of the most exclusive examples in Nighthawk Custom's range.
More than a gun, Nighthawk Custom's VIP Black can be in fact defined a "powerful gem", more akin to a jeweler's masrterpiece. This all-steel pistol in the classic Government size with 5 in / 127 mm barrel with countersunk muzzle features a deep black hard coating and hand engraving by engraver Bertram Edmonston.
Nighthawk Custom VIP Black, a true collector's piece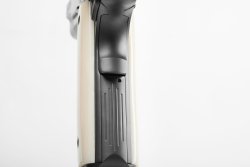 Hand built as a true heirloom piece, the VIP Black is crafted with all the finest customizations. Other features of this single action pistol with one-side slide stop lever are: custom vertical front strap mainspring serrations, hand serrated rear of the slide and ejector matching the Heinie Slant Pro black rear sight, Nighthawk 14k solid gold bead front sight for quick aiming, giraffe bone grips, custom walnut hardwood presentation case.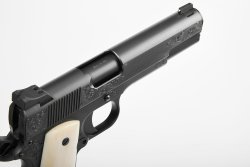 All this is coupled with a durable black diamond-like coating (DLC) and high-quality build and surface prep. As expected, the gun is chambered in a classic and popular .45 ACP caliber. The magazine – on the off chance you really want to fire such a beauty – has a capacity of 8 rounds. At a hefty 7999 USD, price is commensurate with the quality.
With its truly elite package, the new Nighthawk Custom 1911 VIP Black should be the highlight in any gun collection.