From Nighthawk Custom comes the new 1911-style Tactical Ready Series (TRS), a line of fully machined double-stack pistols chambered in 9mm. Two models are available, a full-size, Government frame called TRS Comp featuring a 5"/127 mm barrel with integrated compensator, ad a 4.25/108 mm barrel TRS Commander model. Both guns have a magazine capacity of 17 rounds and a monolithic slide.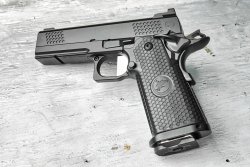 As Mark Stone, owner and CEO of Nighthawk Custom, explains, the Tactical Ready Series was designed to answer the demand for high-capacity pistols. "Up until this point, we have only offered a double stack as an upgrade. With the current demand in the market, releasing a permanent double stack series meets consumer demands and shows customers what we can do with a double stack."
Nighthawk Custom TRS pistols: Full Size and Commander-style
Here's a list of what the two models have in common: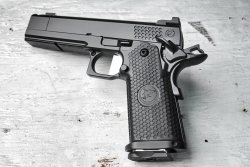 Double stack frame
Black Nitride finish
Match grade 9mm barrel
Dimpled cocking serrations
Heinie Ledge Black rear sight
Lightweight aluminum Nighthawk Custom flat trigger
Completely dehorned for comfortable carry
Ultra hi-cut front strap
Both the TSR Comp and TSR Commander are Nighthawk Custom's first models designed around a double stack frame. And now, the different features: the full-size TRS Comp sports an integrated compensator with precision designed port – the same as the Fire Hawk model – that reduces muzzle flip and allows for faster follow-up shots. The full-length dust cover, adding weight up front, also aids in reducing muzzle flip. An 18K solid gold bead front sight provides quick target acquisition for the shooter, coupled to the Heinie Ledge Black rear sight.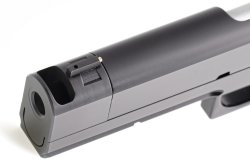 On the other hand, the smaller TRS Commander sports a tritium front sight. With an overall length of 7.76"/197 mm, it's a full 0.71"/18 mm shorter than its sibling, still providing a reassuring 17+1 round capacity. This makes the TRS Commander an ideal gun for concealed carry.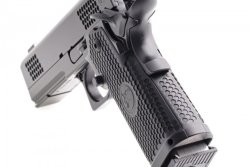 The flat-faced straight and vertical trigger that equips both models is actually a bit perplexing on handguns described as "tactical" or "carry" models. The idea is that a flat trigger ensures a uniform pull length no matter where the trigger finger makes contact. But we still see this feature as more suited to competition guns than carry pistols. Even if the manufacturer claims that this design provides a non-slip surface, we'd have preferred a traditional curved trigger – but maybe it's just an idiosyncrasy of ours.
As for prices, the TRS Commander starts at 3999 USD, while the TRS Comp starts at 4599 USD.