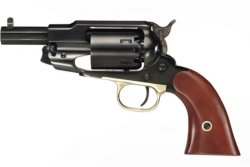 All the charm of an "Old West" wheelgun in a compact size: Taylor's & Company, the world's leading marketers and importers of state-of-the-art historical firearms, is now offering "The ACE" revolver in their product lineup for 2021. Manufactured by the Italian Pietta, a company well known among Western shooters and collectors alike for its faithful replicas of "Wild West" firearms, the ACE is a 6-shot snub-nose wheelgun based on the 1858 solid-frame Remington-Beals New Model Army Revolver that was introduced by Remington after the Colt 1836 patent expired in 1857. Featuring a short 3"/76 mm octagonal barrel – which makes it a more comfortable gun to carry – and a classic blued finish with a brass trigger guard, the ACE has in fact an overall length of 8.38"/213 mm.  Constructed on a steel frame, it weighs in at 38 oz/1077 g.
ACE revolver, "a modern spin" on the 1858 Remington model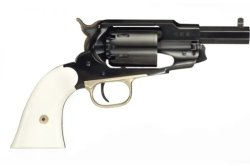 Certainly not a replica for purists in search of absolute historical authenticity – it is described as "a modern spin on the much-loved 1858 Remington model" – the ACE is offered in black powder .44 and a drop-in conversion cylinder model to shoot smokeless .45LC ammunition. "The ACE's ammo flexibility has transitioned into a huge demand for it already this year," said Rob Girard, Taylor's & Company's VP of Sales and Marketing. "Besides the standard .44-caliber black powder format, it accepts a 6-shot .45 LC conversion cylinder (sold separately). This is huge these days when certain calibers of ammo are impossible to find."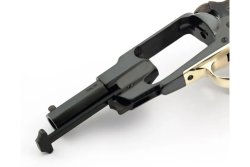 The full-frame design of the original model makes it a top choice for black powder shooters as the cylinder can be removed without taking the firearm completely apart, unlike the Colt models. Since this model has the shortened barrel length it features a "lever-latch" part to retain the cylinder pin in the frame and does not come with a loading lever.
The ACE comes standard with a fixed front blade sight and a rear notch for quick target acquisition. This firearm is available with three options for the two-piece grips: checkered walnut, smooth walnut, and white PVC. Prices in the US start at $350.