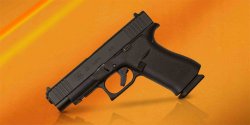 Here on all4shooters.com we already tested the "Slimline" G43X and G48 pistols just a few weeks ago. In short, both pistols feature a 10-round single-stack magazine that make them ideal for concealed carry and share the same size frame, but with different slide lengths. The slide for the G43X is the same sub-compact length as the G43 (6.06 in) while the G48 has a compact length (6.85 in) slide. Now GLOCK hits the market with some interesting variations on the theme: the "Black" and the "Rail" versions of both the G43X and G48.
The first is just a cosmetic option, since the two slim grip GLOCK pistols originally came with a striking silver-colored slide, a finish achieved through a PVD ("Physical Vapour Deposition") hard material coating. Actually, a very trendy and fashionable look, but some traditionalist shooters still wanted a more classic all-black livery for their new GLOCKs. So the Austrian manufacturer met their request offering a black slide too.
G43X Rail and G48 Rail, ready for tactical accessories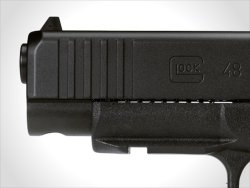 The Rail versions of the G43X and G48 are a more substantial addition to the Slimline range, instead. The new models feature a frame with a GLOCK mounting rail for tactical accessories and a black slide with nDLC finish. The new additions are otherwise identical to the non-rail versions: chambered in 9mm Luger (9x19mm), with a 10-round magazine, the G43X Rail has the same compact-size grip length with a minimal profile and a built-in beaver tail as the G48. Both feature a reversible magazine catch and the accurate GLOCK Marksman Barrel (GMB) of the Gen5 series, with front slide serrations.
Apparently, for the moment the new "Rail" versions will be available in the EU only - the US will have to wait a bit longer: the G43X Rail and G48 Rail are in fact showed only on GLOCK's European website and not on the US one.
Just to whet the fans' appetite, GLOCK already announced that the G43X Rail and G48 Rail will soon be available as a combo version with specific tactical light, too.