The .45 ACP (aka .45 Auto) still has its supporters, even though ammo prices can already put a significant dent in the wallet. In the huge U.S. market, this Glock model could well find its buyers. With the 5th generation, it has been technically and ergonomically updated and can now also be equipped with red dot sights mounted on the slide. Reason enough to take a closer look at the new 5th-generation G21.
Glock recap: these are the features of the Gen5 at a glance

The typical features of this latest generation from Glock are:
Glock Marksman Barrel (GMB) with increased accuracy
Interchangeable backstraps for improved hand position
Double-sided bolt catch lever and the funneled magazine well
Front slide cocking serrations
Even at first glance of the new Glock G21 Gen5, it quickly becomes apparent that the slide of the G21 Gen5 model is about 2.5 mm wider than a 9mm G17 slide. Incidentally, this also applies to the models in 10mm Auto caliber, such as the G20. A look at the scales also shows a weight difference of about 100 grams compared to the G47 slide. It is understandable that this pistol turns out to be slightly larger than models in 9mm Luger/.40 S&W: this is an aspect you need to consider if you want to opt for a more powerful caliber. This also applies to the reduced magazine capacity, which is two cartridges less in .45 ACP. The Glock 21 Gen5 MOS costs 970 euros (MSRP).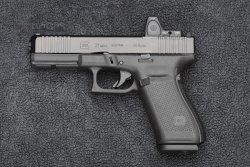 The Glock 21 Gen 5 MOS on the shooting range

During our shooting performance review, intensive use was made of MOS interfaces. The G21 was equipped with the Trijicon RMR in no time and thus also used on the shooting range. This equipment made the extended visit to the range far more comfortable for the eyes and concentration and resulted in tight groupings.
We tested the G21 in a seated position using a Caldwell shooting rest with five rounds of each ammunition type at 25 meters. A motley mix of training and defensive cartridges with ball, truncated cone or the less feed-friendly semi-wadcutter bullet types between 185 and 230 grains were used to test accuracy and reliability.
It was a surprise when we achieved the smallest 5-shot groups several times. The differences between the S&B 230-grain JHP, the H&N handload with 200-grain KSHP, and the WM factory cartridge with 200-grain SWC bullet were minimal. However, with the typical service pistol hard triggers, such groupings require a decent rest and solid grip technique. The numerous small groups resulted in the average diameter of 39 mm.
The G21 showed itself to be slightly slower to fire and also to recoil, if the powerful Hornady 220-grain Critical Duty test load is disregarded. This has rightly earned the .45 ACP a reputation as a good-natured large caliber.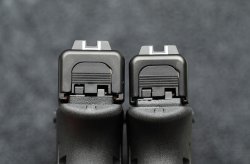 Handling: the .45 version in comparison with a Glock in 9mm Luger

In terms of handling and shooting feel, the G21 differed only slightly from the classic G17. Therefore, we could not determine any significant differences. The G21 impressed with its accuracy and reliability, which makes it an excellent choice for training.
In conclusion, the G21 convinced us not only in terms of its shooting performance, but also in terms of its handling and shooting feel. It is a reliable pistol for training and offers outstanding accuracy, which makes it an ideal choice for any shooter.
Glock 21 Gen5 MOS spec and price

| | |
| --- | --- |
| Model: | GLOCK 21 Gen5 MOS |
| Caliber: | .45 ACP  |
| Magazine Capacity: | 13 rounds |
| Frame Grip: | Polymer with steel inserts |
| Slide: | Steel, black nDLC coated |
| Barrel Length, Profile:  | 117 mm, Glock Marksman Barrel |
| Rear Sight: | 4,3 mm, with white, non luminescent outline |
| Front Sight:  | 3.7 mm with white, non-photoluminescent dot |
| Sight Radius:  | 179 mm |
| Safety:  | Trigger safety, automatic drop firing pin safety |
| Trigger System, Pull Weight:  | Safe Action, 2,680 g average |
| Weight (incl. Magazine):  | 781 g |
| Dimensions (LxWxH):  | 202x35x140 mm |
| Extras: | Hard case with one spare magazine, 2x backstraps, loading aid, cleaning kit |
| Price (RRP in Germany):  | 970 euro |
Test conclusion: how the Glock G21
in .45 ACP performs

The Glock G21, originally available in .45 ACP, has now been successfully upgraded to the latest Gen5 MOS model. This upgrade means that the G21 can now be equipped with mini-red dot sights, thus meeting the Glock standard for 2023. It is good to see the G21 now included in this series, the most up-to-date one, alongside the G20, which is available in the powerful 10mm Auto caliber.
In the development of the Glock series, we are closely following the numerical order. What can it be expected with the Glock 49 model? The G48 Slimline model already exists. As soon as there is further information on this subject, we will of course inform you.

---
Test: Tino Schmidt (caliber)

For more information on the G21 and all other Glock please visit the Glock website.