Right off the bat, the first question from all4shooters.com to start the interview: Amy9×19 – who are you, what is behind your social media name?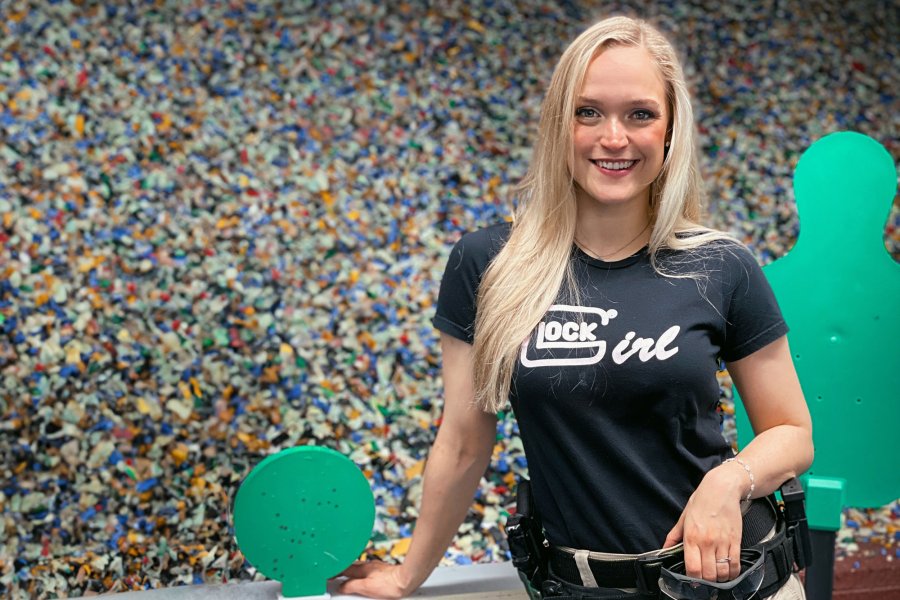 I am Amelie Eichinger-Noll, possibly better known as Amy9x19, 26 years old and currently probably the only female certified shooting trainer in the civilian sector of defensive shooting in the German-speaking world. What is behind the name? A lot of passion, powder smoke, many hours on the range, discipline and ambition, female power, safety awareness and work – in short, a real 9x19 lifestyle.

all4shooters.com: How did you get into shooting sports?

Amy9x19: Actually, it was family-related, as my parents are avid shooters and ran their own shooting club for years. Because my father, Heinz Eichinger, is himself an official shooting instructor and active duty member of an Austrian special forces unit, the topic of safety and shooting sports was never a taboo, but a very positive part of my everyday life. I was lucky enough to be allowed to inhale powder smoke at an early age and so, out of my own interest, I fired my first shot at the age of 12, in a safe environment and under the guidance of my parents. Since then I have been absolutely fascinated by shooting.

Almost into the profession with her family: Amy9x19 tells about her way into the shooting sport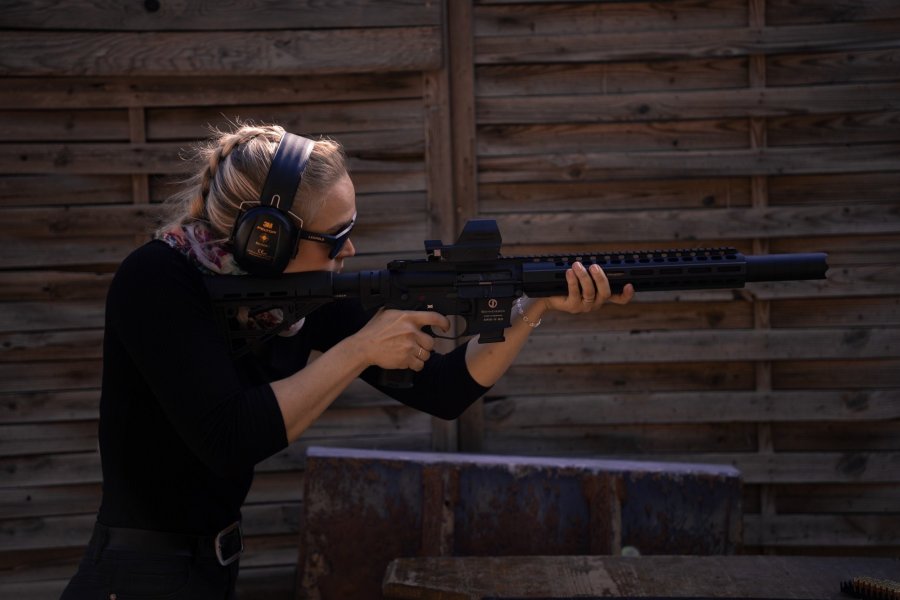 all4shooters.com: What are your favorite guns and why did you choose them? 

Amy9x19: Well, if you follow my social media channels a bit, I think you know exactly what my favorites are. But for those readers who haven't stumbled across my accounts yet, I'd also like to share my personal highlights. Since I not only train defensive shooting myself, but also teach it, I really need working tools that are rugged and safe to use and can be relied on in all (stressful) situations. And who doesn't think of Glock first and foremost? I have shot guns from various manufacturers, but in the end I have always come back to my various Glocks. I don't want to diminish the value of the other guns in any way, but the Glock is simply optimal for me, my purposes and defensive shooting. If I had to choose one of them, it would probably be my much-loved G19 Gen5, as it not only feels incredibly good and balanced in my hands, but is also an absolutely reliable and rugged tool for me. And when it comes to long guns? There, of course, I remain true to my 9mm lifestyle! With my burnt bronze-colored AR15-9 from Schmeisser, I also have everything I need to work here – with its 10.5" barrel length and the AR-typical handling, this 9x19 version just suits me incredibly well! AND – I can use my pistol magazines here again.
From hobby to profession to vocation: how Amy9x19 is living her dream as an "atypical" shooting sports influencer

all4shooters.com: What role does shooting play in your "professional life"?
Amy9x19: Shooting has actually evolved from a passionate hobby to my profession. I'm absolutely grateful that everything has worked out so great and that my regular training, my education and my passion for defensive shooting have finally paid off and I get to live my dream, so to speak. But it also requires a lot of discipline and hard work – after all, I always have to stay on the ball myself, continue my education, and I usually spend my weekends at the range to teach interested shooters how to shoot or to optimize their performance.
all4shooters.com: Do you see yourself as an influencer? Or are there other aspects that are more important to you in your tasks?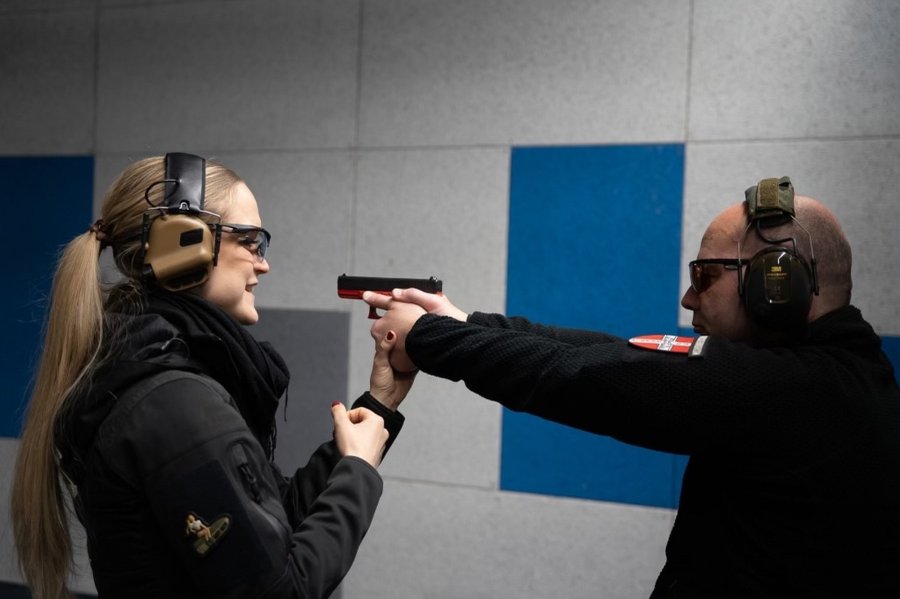 Amy9x19: I don't see myself as a typical influencer, to break it down to this term alone would diminish my work, there is simply more behind it. Social media and my accounts have become an important part of my work and the effect on the outside – but originally it really came from the idea of documenting an "online diary – From beginner to shooting coach". In the meantime, incredibly great networks, friendships and partnerships have developed worldwide and I am mighty proud of my wonderful community. But I'm definitely not a fan of holding up a different product in front of the camera every week and selling it to my followers as the "best". Here I rather focus on the authentic depiction of the things that I use long-term and regularly in my everyday life, out of conviction.
So I just see myself more as a shooting coach who uses social media to "influence" the sport of shooting to make it more respectable and who wants to help with training videos, tips and tricks for safe gun handling. Shooting can be a great sport, but if you decide to go down this path, a solid education and regular training are simply indispensable.
What can individual participants or even groups expect during shooting training at "HESA by AMY9x19"?

all4shooters.com: How did you come to the training you offer and what can our fans learn from you where?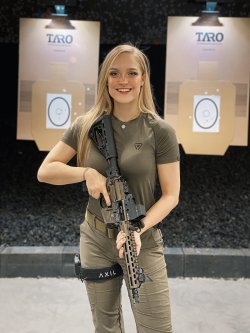 Amy9x19: I had the great fortune to enjoy a very intensive and professional training. In the course, where I was the only woman in the group at the time, I acquired all the necessary skills, from shooting skills to didactics, and with many many training hours, learning units, sweat, ambition and an exam in theory and practice, I earned the title "trainer". Together with me and the training is a great team of trainers. The trainers are, among others, shooting instructors in the Austrian military special forces, as well as the police, but also come from the civilian sector. We are the founders of HESA (Heinz Eichinger Shooting Training) and offer defensive shooting (short and long rifle) for civilians from beginners to advanced as well as for law enforcement in special seminars. Our events and competitions are also well known beyond the borders of the country. By the way, we are also happy to come directly to the respective home range and event location, if desired and possible. And whoever thinks directly of helmets, plate carriers and camouflage when he hears the term "defense shooting" has a completely wrong picture in his/her head. I cordially invite everyone to click on the homepage hesa.amy9x19.com or just visit one of our courses or an event and get to know us! We are not wannabes, but professionals, where there are really enough offers for the absolute beginner to the absolute professional shooter to learn and educate themselves. But no matter what we offer – In each of our courses the correct handling and safe use is always in the foreground. If there are any questions about this, you can of course contact me individually at any time – after all, I don't bite...

all4shooters.com: You are at many events and have many partners. We are curious: what's next for you?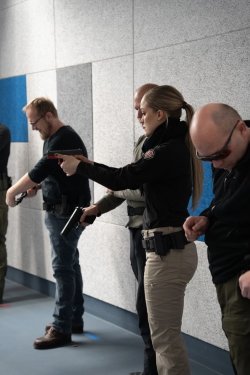 Amy9x19: Together with my team, I am always striving not only to realize new projects in cooperation with my long-term company partners, but also to develop and offer new, innovative ideas and possibilities for my community. This is really great fun for me. Just recently, I held the very first Glock Girlsday by Amy9x19 (sponsored by Glock), where the goal was to hold a shooting event "by women / for women" with ten women from my community – to get to know firearms and safe handling in a small exclusive setting! Just us girls among ourselves – it was really nice and the feedback absolutely positive. Next up is the "Schmeisser Roadshow" project, where participants will have the opportunity to get to know and try out various Schmeisser products in live fire during a dynamic (defense) shooting course. Team Schmeisser Germany and GMG will also be on site with advice and great bargains. Here, the team from IWA will also be joining us and reporting on it at their Campfire.
So if you couldn't get a ticket for the first two dates - the interest is huge - you can at least join our event online on my Instagram account Amy9x19 or that of IWA Outdoor Classics! 
For the coming year 2024, many exciting projects are already planned, but here I do not want to anticipate too much. I only say: SHOT Show, British Shooting Show, IWA, something just for girls and so much more...

all4shooters.com: Amy, if you wanted to give the readers one more goal or message, what would it be? 
Amy9x19: First of all, thank you so much for letting me give you a little insight into my work, I'm glad to have been part of such a great format! My advice to all the beginners out there: take heart! If you are interested in learning how to safely handle a firearm, find competent instructors who will guide you from the beginning and make you feel comfortable! That is what we are here for. My goal for the future? To be able to set a positive example, to stand up for our community and to make the shooting sport even more inviting! And the most important thing at the end: Safe handling & having fun!


all4shooters.com: We also thank you for taking the time for this interview!

---