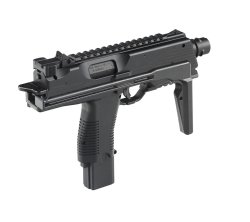 Quite odd, ain't it? We aren't used to see such a perfect replica outside of the Airsoft/Mil-Sim and training aids industry. But this is something a little bit more serious, being manufactured by GAMO Outdoors S.L., the world-famous company headquartered in Barcelona (Spain) and a global leader in .177 and .22-caliber low-power and high-power airguns for leisure plinking, target practice, competition, and varmint purposes. Attendees at the 2013 SHOW Show, IWA and other arms trade shows at the beginning of the year were quite astounded to see GAMo launch an air pistol based on the outline design of the Swiss-made Brügger & Thomet MP9 sub-machinegun. As the owner company of such brands as BSA and Laser Genetics, GAMO is perfectly aware thast the typical airgun enthusiast and shooter is not what he/she used to be, that being, a typical academic, olympic or field target shooter. That's why GAMO's MP9 is "aimed" to a new, younger generation of shooters, who grew fond with guns by skirmishing on Airsoft fields and playing Call of Duty on the X-Box. That's the same younger generation of shooters whose new, more specifically-oriented tastes are prompting a change in the gun industry: those companies who can see the writing on the wall are boosting the manufacture of modern sporting arms (these being, these semi-automatic or repeating arms that are aesthetically and, partially, technically similar to military-issued pistols, shotguns, rifles and carbines), or starting it outright; those companies who don't are bound to a steady decline. And GAMO definitely appears to be in the first group!
This video has been hidden because of an external service (YouTube) that could potentially collect personal data.Allow video services for the duration of the visitAllow video servicesStop allowing video services
But the GAMO MP9 is not just a mere shell: powered through a standard, commercial-grade, replaceable CO² canister to shoot up to sixteen 4.5mm/.177-caliber BBs of all sorts, the MP9 is a true powerhouse for leisure shooters, while its muzzle energy levels remain lower than 7.5 Joules to keep it perfectly legal to purchase, possess and use in most Countries with no license of any kind being required. Its polymer chassis with side-folding stock, minimalist fixed sights and two MIL-STD-1913 "Picatinny" rails retains the classic MP9 SMG look, while the grooved metal barrel ensures good performance on targets placed at a standard airgun distance range. MSRP for the GAMO MP9 in Europe ranges around 100.00€. The version sold in the United States and north America generally is blowback-operated, semi-automatic only, sports an energy treshold reaching up to 450 feet-per-second, and comes at around 149.95US$.