Gamo C-15 Blowback is a semi-automatic air plinker offering a <7.5J muzzle energy level (thus free to acquire and possess without a license in most Countries), conceived for informal training and plinking.
It is built to accept spheric 4.5mm steel BBs only, and provides a realistic blowback effect that makes it very funny to operate.
In the past years, the Spanish Gamo company significantly expanded its air pistols line, moving towards dirrerent fields to come out with original products. As an example: the C-15 and all the "Blowback" series airguns are built in Japan, and their look and quality somehow benefits from the "know how" of the Japanese industry with Airsoft replicas.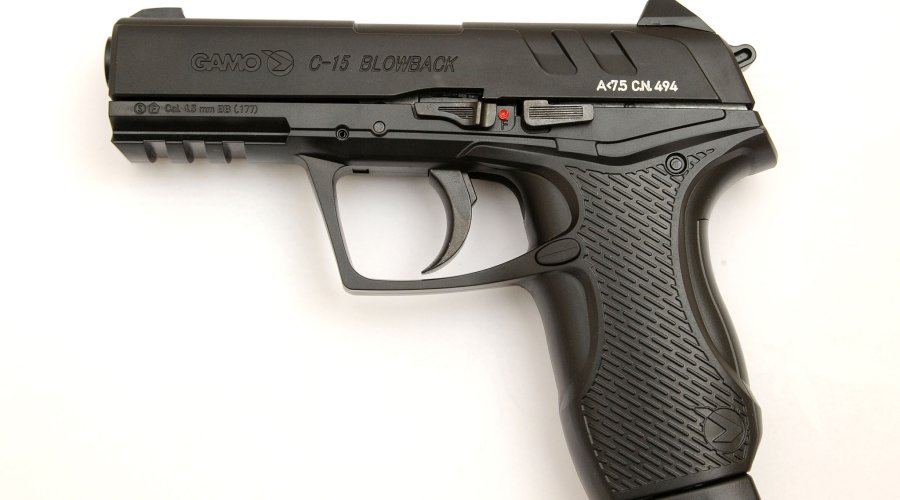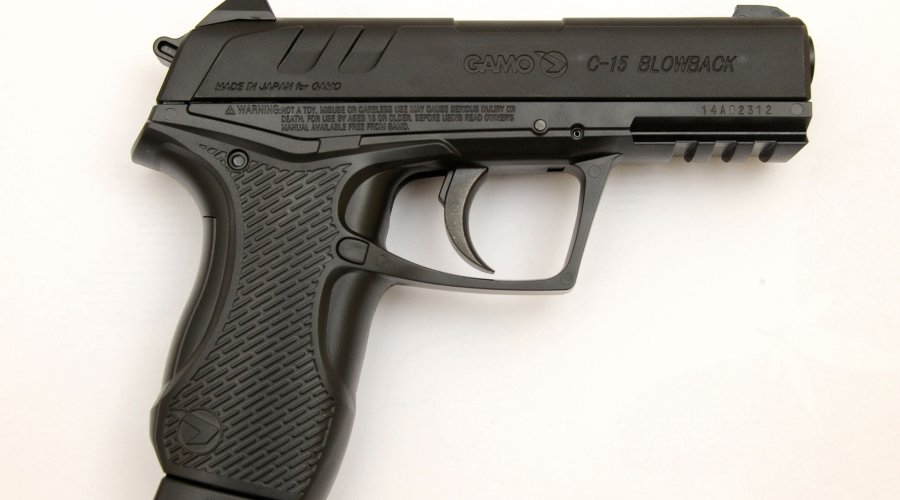 Once out of its cardboard box, the GAMO C-15 "Blowback" air pistol will immediately provide an astoundingly realistic weight feel: that's almost 690 grams there, like a "real" handgun, despite being made out mostly of plastic.
Unlike many other GAMO airguns, the C-15 "Blowback" air pistol is not an exact replica of a real-life pistol, and yet it merges elements from different models to provide a unique aesthetic feel – all while remaining after all visibly inspired by the latest Heckler & Koch or Walther creations. Its dimensions resemble those of a compact 9mm handgun, and the grip size is well proportioned to remain comfortable to operate even for users with large hands.
All controls – the manual safety, the hold-open release lever and the magazine catch – are located on the left side of the frame.
More specifically, the safety is located where a real handgun would have its disassembly lever, and will directly block the trigger grup when pushed forward. A bright red dot inlay on the frame itself will provide a visual confirmation when the safety is off and the gun is ready to fire.
The GAMO C-15 "Blowback" air pistol is CO²-operated: a standard, commercial 12-grams canister is to be placed in a seat located in the rear portion of the grip, under the backstrap, and secured in place by a blocking screw. The CO² canister can not be put in place or changed with the magazine in.
Sights are fixed, and provide a standard three white-dots quick alignment system; a Weaver-style rail located under the front portion of the frame will allow the shooter to install any typical handgun accessory – tactical gunlights, laser sights, and so on. The single-stack magazine holds up to fifteen 4.5mm BB pellets; unlike what many other sources state, the GAMO C-15 "Blowback" airgun will feed round pellets only – No "Diabolo" or "wasp-waist" pellets – as they wouldn't fit in the magazines.
Steel pellets only should be used on the GAMO C-15 "Blowback" air pistol: while the gun may technically accept round lead pellets, their use is strongly discouraged.
Once fifteen 4.5mm round steel BBs have been loaded in the magazine, the shooter may insert it in the grip and start shooting without having to rack the slide beforehand.   

The GAMO C-15 "Blowback" airgun sports a double-action-only trigger – this meaning that the hammer will return to decocked position after every shot, blowback effect or not. Being the C-15 model a purely leisure tool, the choice for a DAO trigger rises no eyebrow here, particularly since the trigger pull may be somewhat heavy, but is also smooth and constant.
The C-15 "Blowback" is extremely fast for a DAO, and the slide blowback effect is extremely realistic, shot after shot. The quantity of CO² necessary for the blowback effect must be quite low, since a standard 12-grams canister allows about sixty shots.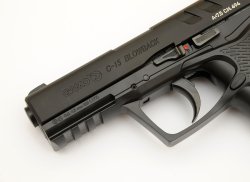 The stainless steel barrel is 98 mm/3.86" long overall and is smoothbore, but provides great accuracy – more than enough for simple leisure plinking, so keep in mind your range safety rules.
Once again, the muzzle energy provided by the GAMO C-15 "Blowback" airgun remains well under the 7,5 Joules threshold – meaning that this model can be freely purchased, possessed and operated by any person over 18 years of age in most European Countries without any kind of licensing or registration.
The manufacturer's suggested retail price for the GAMO C-15 "Blowback" air pistol is set at 126€ – extremely affordable indeed, enough to make this funny and user-friendly plinker quite popular.