An optimized and lightening-cut long slide with patented optics mounting system, a flat-face trigger that breaks cleanly at 90°, a flared graphite anodized aluminum magwell to speed up mag changes under stress, enhanced ergonomics and adaptability to fit any shooter: these are just some of the features of the new FN 509 LS Edge in 9mm, "the ultimate tactical pistol designed by FN to give users every advantage in the most demanding environments," according to the manufacturer, who also emphasizes that "each high-performance feature was critically chosen to give you every advantage". 
FN 509 LS Edge, "the most advanced FN 509 pistol to date"
The Long Slide is FN's newest addition to the striker-fired 509 pistol line-up. "FN's commitment to developing performance-driven products has reached a new level with the FN 509 LS Edge," said Mark Cherpes, CEO for FN America, LLC. "The foundation of unmatched FN craftsmanship and battle-proven reliability combined with expert counsel from professional users, allowed us to develop the most advanced FN 509 pistol to date."
FN claims that the 509 LS Edge tested with a million of rounds of live fire. Chambered in 9mm Luger, it has been in fact designed to provide superior versatility, accuracy, control and speed.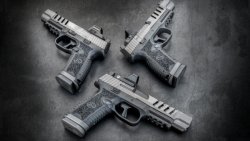 The FN Low-Profile Optics-Mounting System and the 0.040" fiber optic front sight help shooters master firearm control, also allowing users to run iron sights and a co-witnessed miniature red dot optic. The 6.7"/170 mm Long Slide provides an extended sight picture, improving target acquisition and tracking. Quickly mounting a favorite MRD is enabled with four included optic mounting plates. The 5"/127 mm hammer-forged barrel is target-crowned for better accuracy, with polished chamber and ramp for reliable feeding and extraction.
Frame is a mid-size type that should give users the feel of a full-sized pistol with a relatively compact footprint. The frame's full-height stippling ensures a full-contact 360-degree grip to reduce muzzle flip and control recoil. The ambidextrous slide stop and two interchangeable backstraps allow users to further customize the FN 509 LS Edge. Magazine release is oversized and knurled for instinctive operation.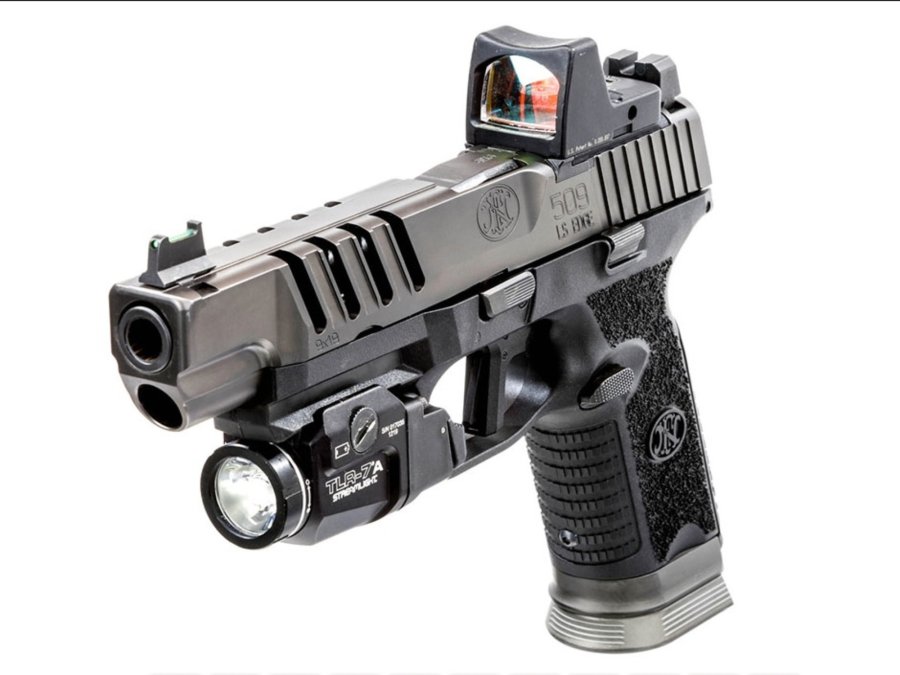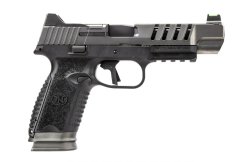 The flat-faced trigger breaks has a reduced pull weight of around four to five pounds – the short take up and positive reset allows for speedy follow-up shots. A new, conical striker reduces 509 trigger pull weight by 1.5 lb approx. The slide lightening cuts reduce weight and improve balance, too. A Mil-Std 1913 rail on the dust-cover fits all common weapon lights. Finish is a long-wearing graphite PVD.
The new 9mm FN 509 LS Edge can be yours for $1499 and comes with a lush package including three 17-round magazines (the pistol is compatible with optional 24-round FN 509 magazines), ballistic case, four MRD Mounting Plates, two interchangeable backstraps, locking device and owner's manual.
FN 509 LS Edge specs and price
| | |
| --- | --- |
| Caliber: | 9mm |
| Operation:  | Double-action |
| Magazine Capacity:  | 17 round |
| Barrel Length:  | 5"/127 mm |
| Barrel Twist Rate:  | 1:10" RH |
| Sight Radius:  | 6.7"/170 mm |
| Overall Length:  | 8.2"/208 mm |
| Height:  | 5.9"/150 mm |
| Width:  | 1.35"/34 mm |
| Trigger Pull:  | 4.5 lb - 6.5 lb (2 kg – 2.9 kg) |
| Weight:  | 31 oz/879 g |
| Price:  | 1499 USD |