FN has announced the newest 9mm compact compensated addition to the Edge series of striker-fired, polymer-framed pistols: here comes the FN 509 CC Edge.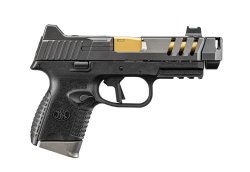 Its key feature is the novel quick-detach and self-indexing compensator that, according to FN, cuts muzzle flip by 25% for faster and more accurate follow-up shots while still allowing for ideal concealed carry performance – the gun's overall length is 7.5"/190 mm. Machined from stainless steel and coated with a graphite colored PVD finish, the durable compensator features v-style ports on either side that vector gases and flash out of the user's field of view, for a consistent sight picture from shot to shot.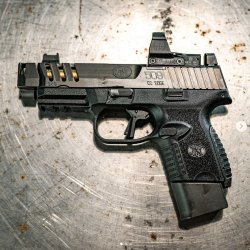 The (pretty long) list of interesting features of the new FN 509 CC Edge also include a patented FN Low-Profile Optics Mounting System, a precision flat-faced trigger that breaks clean at around 5.6 lb, and a 4.2"/106 mm hammer-forged target-crowned barrel. 
The barrel sports a gold-color Titanium Nitride PVD barrel coating that provide increased lubricity, hardness and long-wearing performance.
The green fiber-optic front and low glare blacked out rear sights allow for co-witnessing. Magazine capacity is up to 15 rounds (the FN 509 CC Edge is shipped with a 12-round and two 15-round magazines with machined aluminum base pads).

Improved sight recovery and shootability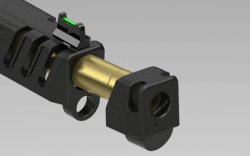 "The FN 509 CC Edge is a high-performance, premium 9mm carry gun that offers improved sight recovery, shootability and more, all without sacrificing on overall size for concealed carry," said Mark Cherpes, President and CEO for FN America, LLC.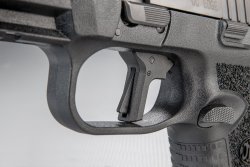 The FN 509 CC Edge compensator is quick-detach and auto-indexes for easy takedown: to release the comp, you just have to push in and twist 90 degrees.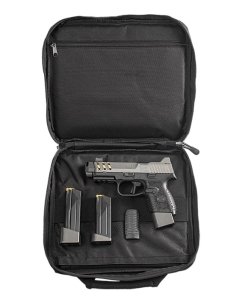 To resecure the compensator, simply reverse the operation. No tools or adjustment are required.

As mentioned, the 509 CC Edge is micro-red-dot-ready thanks to FN's patented Low-Profile Optics Mounting System that allows users to mount more than 10 different MRDs.
The pistol slide has lightening cuts, and the stippled frame texture enhances grip. The low-profile magazine release is reversible for lefthanded users. 
The slide release is on both sides of the frame. Two included interchangeable backstraps fit any hand size.​
FN 509 CC Edge specs and price
| | |
| --- | --- |
| Caliber:  | 9mm Luger |
| Magazine Capacity:  | 10 or 12/15 rounds |
| Barrel Length:  | 4.2"/106 mm |
| Twist Rate:  | 1:10" RH |
| Trigger Pull:  | 4.5-6.7 lb. |
| Overall Length:  | 7.5"/190 mm |
| Height: | 4.8"/122 mm |
| Width:  | 1.35"/34 mm |
| Sight Radius:  | 5.41"/137 mm |
| Weight: | 25.5 oz/723 g |
| Price (MSRP):  | $1,569  |