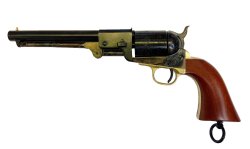 Sergio Leone's "The Good, the Bad and the Ugly" 1966 epic western is still much loved by cinephiles and gun enthusiasts alike, since Leone's signature close-up cinematography offers plenty of shots for firearms. Now, the trilogy is complete: after introducing its Clint Eastwood/Man with No Name (aka Blondie) 1851 Conversion Revolver replica, Cimarron Firearms announces the arrival of replicas based on the guns carried in the movie by the Mexican bandit Tuco ("the Ugly") and the cold-blooded mercenary Angel Eyes ("the Bad"), respectively played by Eli Wallach and Lee Van Cleef.
"Our Hollywood movie replicas have always been a favorite for Cimarron fans and our 1851 Man with No Name Conversion Revolver, designed after the gun carried by Clint Eastwood in 'The Good, The Bad, and The Ugly' has been a big seller," VP of Retail Operations, Bryce Wayt, said. "We knew we needed to complete the trilogy by introducing replicas based on the guns carried by that fast-talking Mexican bandit, Tuco, and that cold-blooded mercenary, Angel Eyes." 

"The Good, The Bad and The Ugly" firearms trilogy manufactured by Uberti and Pietta
Appropriately enough, the guns inspired by a "spaghetti" western are actually manufactured by two well-known Italian companies such as Uberti ad Pietta.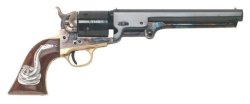 Designed by Cimarron Firearms, the "Tuco" is in fact manufactured by Uberti. It is a faithful reproduction of the Colt 1851 Navy used by "the Ugly" in the movie. It is a conversion revolver in .45 Colt with a Leech and Rigdon-style 7.5" barrel. It is finished in a cold case-hardened blue with a brass trigger guard and grip frame with a smooth wood grip and white lanyard ring.
For Lee Van Cleef's character, on the other hand, Cimarron Firearms had Pietta reproduce "the Bad's" gun, a Remington 1858 New Army, single-action, black powder revolver. It is available in .44 with an 8" barrel cold case-hardened with a brass trigger guard and grip frame, smooth wood grip, and Angel Eyes engraving on the frame.
The Tuco retails for $610.13 and the Angel Eyes for $578.04.