A pair of very special, consecutively serial-numbered Colt 1911s engraved by the American Pistolsmiths Guild will be the highlight of the 2019 SHOT Show auction. Created to commemorate the Colt-American Pistolsmiths Guild relationship and the continued American tradition of engraved Colt handguns, the two guns feature consecutive serial numbers GV203452 and GV203453. It took nine members of the American Pistolsmiths Guild representing the highest levels of skill and craftsmanship in areas including design, engraving, function, and finish to craft this exceptional pair. They include Daniel Batchelor, President of Powder River Precision, Inc. and President of the American Pistolsmiths Guild; Nighthawk Custom gunsmiths Allen Wyatt, Travis Gregory, Bryan Chaney and Steven Cox. Robert Reeves and David Atchley of Nighthawk Custom, and Doug Turnbull of Turnbull Restoration, another Guild member, also worked on the 1911s.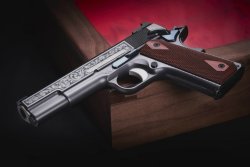 The concept was conceived by Roy Huntington, Publisher of American Handgunner magazine. Work started back in March of 2018 at Nighthawk Custom in Berryville, Arkansas, where members of the Pistolsmith's Guild performed no fewer than 18 separate procedures to create the smoothest operating 1911s possible. The Colts then went to engraver S.R. (Steve) Fiddler, a member of the Firearms Engraver's Guild of America, who enhanced the slides of both pistols with scroll engravings and 24-carat gold inscriptions.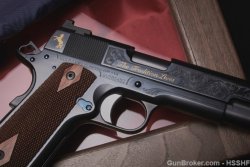 The right side of each pistol's slide sports a 100% precision scroll engraving, the Rampant Colt logo in 24-carat gold and the inscription "The Tradition Lives" engraved in 24-carat gold highlighted in a banner beneath the ejection port.
On the left side of each pistol, another scroll mirrors the one on right side, with the logo of the American Pistolsmith's Guild in 24-carat gold. Engraved in 24-carat gold the inscription "The Heritage Grows" stands out in a banner. A pair of hand-tooled belt-slide rigs (right and left) by iconic leathersmith Karla Van Horn of Purdy Gear completes this unique and striking set.
The high bidder for these historic guns will receive Letters of Authentication and Description from the artisans and professionals involved in the project including the American Pistolsmiths Guild, Colts Manufacturing, Nighthawk Custom, engraver S.R. Fiddler, Turnbull Restoration and American Handgunner magazine. The SHOT Show auction is administered for the National Shooting Sports Foundation by the Hunting Heritage Trust and Youth Shooting Sports Alliance.
Bidding is open now exclusively on GunBroker.com until January 25, 2019, and the two firearms will be on display at the GunBroker.com booth.
---
For more information about the pair of Colt 1911s, please visit Colt website.
Find all the news from SHOT Show 2019 on all4shooters.com.