One of the most classic Colt revolvers in a coveted short-barrel version is back: Colt has just announced that they are re-introducing its 3-inch Python.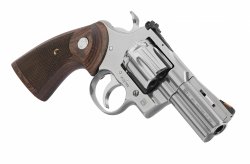 After a 20-year hiatus, in early 2020 Colt had announced that the Python was back, but till now it was offered in just two barrel lengths, 4.25" and 6". Now, the good news: the wait is over – a production 3-inch Python is back. Needless to say, the new variant is also chambered in .357 Magnum and has a 6-round cylinder.
Featuring a semi-bright stainless steel finished barrel and frame,  the reborn 3-inch Pyton is strongly reminescent of the classic models with its full-length underlug. 
The walnut grip's shape, deep checkering and inlaid golden Colt logo are also a feast for the enthusiast's eye, just like the ribbed top strap.
New Colt Python: more robust

The 2020 Python revolvers are made of modern stainless steel alloys and mount a re-designed rear sight. They are more robust too, with thirty percent more steel beneath the rear adjustable target sight. The muzzle sports a nice recessed target crown. Mechanically, there are no surprises: Pythons are double- and single-action guns with a spurred hammer. "The silky-smooth trigger pull on a Colt Python is second to none and is part of why these premium revolvers have such outstanding accuracy. Adding to its performance, the new Python includes more steel in the frame, so feeding the Python a steady diet of hot magnum loads is no problem," according to the manufacturer. "A match-grade adjustable rear sight (windage and elevation) and interchangeable red-ramp front sight allow zeroing the revolver with any load from full-house .357 magnums to .38 special target loads."
The relaunched compact 3" version is intended not only for collectors or range fun or, but also for personal defense. Price, at $1,499, is the same as the 4.25" and 6" versions.
Colt Python 3-inch specs and price
| | |
| --- | --- |
| Caliber: | .357 Magnum |
| Barrel: | 3" 1:14 LH, 6 groove |
| Overall Length: | 8.5"/216 mm |
| Overall Height:  | 5.5"/140 mm |
| Overall Width:  | 1.55"/39 mm |
| Frame: | Stainless steel  |
| Finish:  | Semi-bright |
| Grips: | Walnut |
| Sights: | Adjustable rear, interchangeable red-ramp front  |
| Trigger: | Double and single action |
| Trigger Pull Weight (Double Action):  | 7.0 – 9.5 lb max |
| Cylinder Capacity:  | 6 rounds  |
| Weight:  | 40 oz/1,134 g |
| Price (MSRP):  | $1,499 |