After some ups and downs, the Colt King Cobra eventually came back in 2019 as a 6-shot .357 Magnum revolver. Now it is offered in a new version with a cylinder chambered in .22 LR caliber.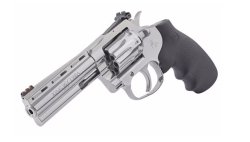 The rimfire King Cobra Target .22 LR has no inferiority complex against its centerfire sibling, the .357 King Cobra Target: partly, because it features basically the same forged stainless steel frame – which makes the .22 LR model a very solid gun indeed – plus a ventilated barrel rib, and also because it uses the same sights, I.e. a user replaceable front sight with fiber optic insert and a windage and elevation adjustable rear sight. 
The Colt leaf spring trigger pull is the same too, for a consistent trigger break. Even the Hogue overmolded rubber grips are interchangeable with those of the Cobra and King Cobra, so that aftermarket can offers many choices. Moreover, instead of the six-round cylinder of the .357 version, the .22 LR King Cobra sports an impressive ten-round capacity.
Video: Colt King Cobra Target .22 LR
This video has been hidden because of an external service (YouTube) that could potentially collect personal data.Allow video services for the duration of the visitAllow video servicesStop allowing video services
Colt King Cobra Target .22 LR, accurate and cost-effective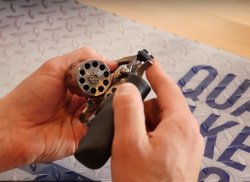 Designed  for many uses ranging from competition to plinking and small game hunting, the "Baby Cobra" "was designed and made to be shot a lot" - and here is where robustness comes into play. The one-piece stainless steel barrel, built for the utmost accuracy, is available in 4-inch and 6-inch lengths, both featuring a 1:16 RH rifling twist. The -22 LR King Cobra  On the US market the King Cobra Target in .22 LR will have  a price tag of $849.
"We are very excited to debut this new baby snake to our customers at NRA Annual Meetings," said Justin Baldini, VP of Product Strategy, Colt CZ-USA. "Shooting .22 LR is such an important part of shooting sports. It's where we come to learn as a beginner; and where we return as seasoned shooters to cost-effectively enjoy more time at the range.  We're confident that new and old Colt fans will love what we've done with the new King Cobra 22 LR."
Basically, what you got with the .22 LR version of the King Cobra series is an ideal target revolver with the same quality and characteristics of the centerfire models – just chambered in an inexpensive and extremely popular rimfire cartridge.