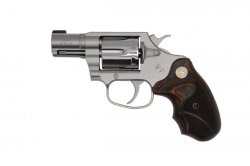 Breaking news: the King is back! After re-entering into the double-action  revolver market in 2017, Colt now introduces the all-new King Cobra in .357 Magnum. A great piece of news for all wheelgun fans, who over the years were dismayed when Colt discontinued one after the other all its revolver models, both glorious ones like the .357 Python and recently introduced ones. Among them, the King Cobra. This medium frame double-action was originally introduced in 1986, dropped in 1992, then brought-back in 1994 and discontinued just four years later. A rollercoaster of shocking events for loyal Colt customers, actually. At the end of 2016, Colt announced a new run of the Cobra series. It was just a matter of time before the King Cobra would come back too.
Colt King Cobra, twenty years later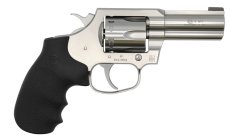 Twenty years after the last time it was produced, in its "third life" the King Cobra is a stainless steel construction double-action revolver, featuring a heavy duty frame with a full lug 3 in/76 mm barrel and a 6-round capacity. The user-replaceable brass bead front sight and Linear Leaf spring trigger (LL2) are the same as the rest of the Cobra family. Frame features a nice brushed finish and is equipped with black Hogue overmolded grips. Weight is 28 oz / 794 g.
"Our customers started asking for a .357 version of our Cobra immediately after the release, and at that moment we knew we had to prioritize this great addition to the Cobra family" said Justin Baldini, Product Director at Colt. "We couldn't be more excited to add the power of .357 Magnum back into Colt's Double Action Revolver lineup."
The all-new King Cobra has a MSRP of 899 USD and will premiere at the SHOT Show in Las Vegas, January 21-25, 2019. The team of all4shooters will be there, of course: stay tuned! 
Colt King Cobra: technical data
| | |
| --- | --- |
| Model:  | King Cobra |
| Caliber: | .357 Magnum |
| Barrel Length:  | 3 in. / 76 mm |
| Cylinder capacity:  | 6 rounds |
| Sights:  | Brass Bead Front |
| Frame Material:  | Stainless Steel |
| Frame Finish:  | Brushed Stainless |
| Cylinder capacity:  | 6 rounds |
| Weight:  | 28 oz. / 794 g |