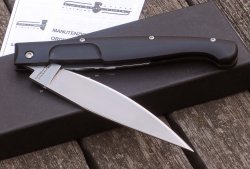 Despite the common belief (at least common in Italy), the word "Resolza" is a generic term in Sardinian language that translates into "Razor" but can apply to all cutting blades. 
With time it became a specific name for a typical knife design originating in the town of Pattada, which in turn is the most famous traditional Sardinian knife. 
Resolza is well known for its elegant shape that made it famous outside of the Mediterranean island and allowed it to become somewhat of a standard − although at first all Sardinian typical knives differed from each other, even if slightly, and had its own "individual" taste. And it couldn't be otherwise, since all knives were manufactured by craftsmen out of makeshift materials, forging the blade according to the size and type of the material they had to manufacture the handle.
So to speak: if the mouflon horn available to be used to make the handle was too short, it wouldn't be discarded: the knife would still be made, modeling both the blade and the handle into an elegant shape through some slight modification which − even through the observance of some sort of common archetype − would lead to the creation of a knife that would be slightly different from any other out there. In the frugal Sardinian economy, some craftsmen would resolve to the manufacture of a handful of knives to sell locally and would thus focus on the function, and not on the shape, of said tools.
Given the unique feature of each single knife, the typical Sardinian knives can be roughly split in three different categories.
The "Leppa" is a large dagger-type knife similar to the German Hirschfänger, or hunting dagger; the "Lametta" − originating in the northern Sardinian town of Tempio Pausania − or the "Mozzetta" − a typical folding knife from the town of Guspini − were flat-edged knives conceived as mere tools for cork industry workers and farming; other typical knives would have to be split in two sub-categories, with large-bladed knives being conceived to skin venison and thin-bladed knives being mostly apt to slaughter animals.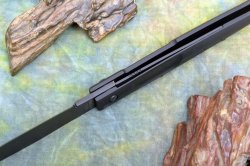 While large blades are typical to the "Foggia Antica" knives and, albeit more limitedly, to the knives manufactured in the Sardinian territory of Logudoro and in the town of Gonnosfanadiga, the typical Sardinian herdman's knife is mostly a tight-bladed slaughtering tool with a slight gap between the blade and the handle − a couple of degrees, barely perceptible, but enough to prevent the blade from folding down on the user's fingers if used in a stabbing motion.

Many "mainstream" Sardinian custom knifemakers now seem to neglect this feature, being focused on the manufacturing of collection knives more than utility tools, local craftsmen still keep it well in mind when making knives that are meant to be used.

Many of the above-mentioned "mainstream" custom knifemakers today manufacture Resolza-type knives for collectors purposes, with fancy features such as a Damascus steel blade or ivory handles, but its archetypical shape is so slender and elegant that many other craftsmen from all around Italy were prompted to make their own reproduction of the design: you can thus find those Resolzas manufactured in Maniago or Scarperia, and even some very sad plastic-grip imitations that will cut, if they really have to, but which you may want to avoid at all costs for the sake of dignity.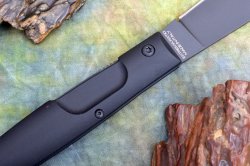 The list of the knifemaking companies that decided to take on this fascinating knife design and offer a modern-syled reproduction now includes Extrema Ratio − a company that focuses on quality above all and thus managed to come out with a product that is not a "distortion" of the original Pattada knife but rather an "upheaval" of the concept, an improvement achieved through the use of the best and most modern manufacturing technologies and materials that the Tuscany-based brand has to offer.
The elegant, sleek Extrema Ratio Resolza knife maintains the classic dimensions of the Sardinian tradition: a 12-centimetres blade, manufactured out of high-carbon, chrome-moly Boehler N690 steel offering high strenght and an edge that will remain sharp for a long time, no matter how extensively it is used.
Such an invaluable feature was originally obtained through the use of high-carbon, case-hardeded blades: a herdman can remain on his own, out in the wild, for a very long time, with nothing else but his knife as his main working, sustenance and survival instrument.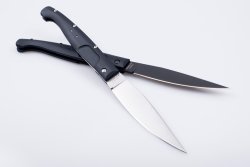 The plainly-sharped, 3 mm-thick blade doesn't turn this knife into a massive-looking instrument, given the overall dimensions.
In order to ensure an overall solidity despite lacking a brass nut (a typical feature of the "Resolza" design, which would indeed be quite out of place here, and has thus been replaced by a double-screw assembly) the handle of the Extrema Ratio "Resolza" knife is manufactured out of what the company calls "Testudo" – a hard-anodized, anticorodal aluminum alloy. 
The Extrema Ratio "Resolza" knife can be purchased with an "upgraded" black-finished blade or with a tumble-finished stainless blade.
The grip scales offer an Extrema Ratio signature feature – twin square cuts that provide an overall dynamic and modern look to the design without conflicting exaggerately with the traditional design.
Unlike the traditional, hand-made Sardinian "Resolza" knives, what makes the Extrema Ratio version safe and efficient to use in a stabbing motion if necessary is a discreet liner lock system. This modern revisited version definitely sports several technical differences that tell it apart from a typically hand-crafted knife, but its overall "natural" look make those differences quite harder to identify at a first glance. Albeit a modern knife, that's something you will swear you have been familiar with since... forever.
Its street price is adequate, and not excessive, provided its overall quality. It may indeed sound expensive at 238€ (223€ in its stone-washed blade variant), but it is actually not at all: presently, a good Sardinian knifemaker may ask you up to 100€ per centimeter of blade to let you go away with a well-made, original Resolza type knife. Do your own math...