What would one normally do with a razor? Well... shaving, to begin with. It wasn't easy, this time, because the grip position is not the one I am accustomed to when it comes to switchblades and because this razor blade sports a bevel on its rear end, while normally a razor blade would sport a flat rear end. I had to strop the blade − a Belgian coticule would have been useless, given the shape of the blade − and to use a much more powerful abrasive paste than the usual green chromium oxide compound.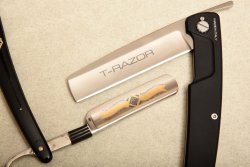 I thus resolved to use some high-concentration diamond-based paste which I prepared myself out of diamond powder and pharmaceutical-grade vaseline. I actually had to prepare two differently grained diamond paste solutions  − a thicker, 6 μ paste (similar in grain size to chromium oxide) for the biggest part of the job, and a 3 μ paste for the finishing  − and the entire sharpening procedure took me about two hours, but my Extrema Ratio T-Razor is now a true straight razor, and not just a knife (which was already sharp enough right out of the box!) which only had the shape of a razor, but couldn't cover exactly its function. 
When it came out of the box, the blade of the Extrema Ratio T-Razor could cut the hairs out of my arms clean, but true shaving is just another planet.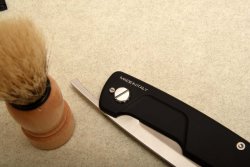 What else could a straight razor be used for − other than shaving, back when modern safety razors hadn't been invented yet, of course? Well, to be carried as pocket knives.

In the Italian tradition, straight razors were often carried as weapons by Sardinian miners and Sicilian peasants.

In the early 20th Century Italy, members of urban bourgeoisie (lawyers, physicians, teachers, and so on)  would have no problem: they could just walk into a gun shop, purchase a revolver and walk around with a gun in their pockets. For everybody else there was no other choice but the knife − a weapon and a tool at the same time.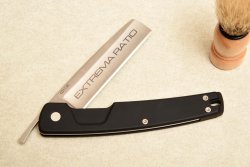 But why a straight razor?
Everything dates back to 1908, when the Italian Prime Minister Giovanni Giolitti asked and obtained to have a law passed that would forbid the carry of any point-edged knives whose blade was longer than four centimetres (approximately 1.57 inches), and of any knife whose blade was longer than ten centimetres (about 3.9 inches) if flat-pointed.

In Italy, however, there is a loophole to be exploited in every law, and thus knifemakers started to manufacture fake flat-pointed knives, whose "flat point" was just a cap hiding an edged tip.
In other areas of the Country, where knives were really nothing more than everyday tools − not weapons − and where tools longer than four centimetres were useless, somebody simply resolved to cut the blades out. That's how some typical knives were born, such as the Rasolino in the Sicilian city of Catania and the Mozzetta in the Sardinian town of Guspini.
It didn't take much for most people to realize that a cutting blade tool with a flat point had already been widely available for quite a while: that was the straight razor indeed, which up until then hadn't been considered anything else but a mere tool, and thus was not touched by any law regulating weapons; but since a flat-pointed knife could only be used to slash with its sharp edge, then carrying a straight razor right away would have been a perfect solution. It would have been perfectly "justifiable" or otherwise legal for anybody to carry.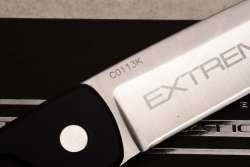 In some regions, the use of a razor also bore a high level of symbolism.
In the Mafia tradition, shashing a traitor with a razor rather than stabbing him with an edged knife would cause him a slow and very painful death.
Of course, none of this gruesome symbolism is to be found on the Extrema Ratio T-Razor folding blade knife. 
And yet, it retains the taste of past times, despite the necessary upgrade to the overall design and construction.

So to speak: no tortoise, wood or ivory handle here, replaced by two solid panels of black, hard-anodized anticorodal lightweight aluminum blade.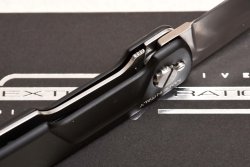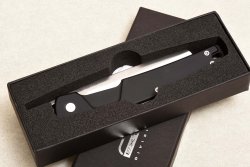 The rigid blade pivot is strong enough to allow the use of the T-Razor for things that would normally cause a standard razor blade to swing shut – such as, sharpening a pencil-
The robust, hard-tempered 58 HRc Boehler N690 steel blade is totally different from a standard razor blade in construction, although akin in shape, and will withstand a fairly intense use.
If used like it's meant to – that means, to cut or slash – the Extrema Ratio T-Razor folding blade knife can last for a lifetime. 
As a last toll paid to modern times, this knife comes with a liner lock system for the blade. As a final consideration to whoever would want to purchase the Extrema Ratio T-Razor folder to use it as a simple knife, the straight-edge blade makes the use of an Arkansas sharpening stone extremely easy.