Extrema Ratio, a well-known Italian-based premium knifemaker, introduced its new MF0T folding blade knife model back in March, at the 2016 edition of the IWA expo in Nuremberg (Germany). Mass-production and distribution was delayed up until May, and now the MF0T is being made available for commercial sales Europe-wide.
The new MF0T is basically a Tanto (flat-tip) bladed version of the Company's own, previous MF0D drop-bladed model that has already proved itself as a commercial success. Due to its size and features, this new medium folder knife − halfway between the Extrema Ratio "Basic Folder" and and "Heavy Folder" knives − is likely to meet the needs of basically any user: tactical, defensive, EDC, general purpose, and more.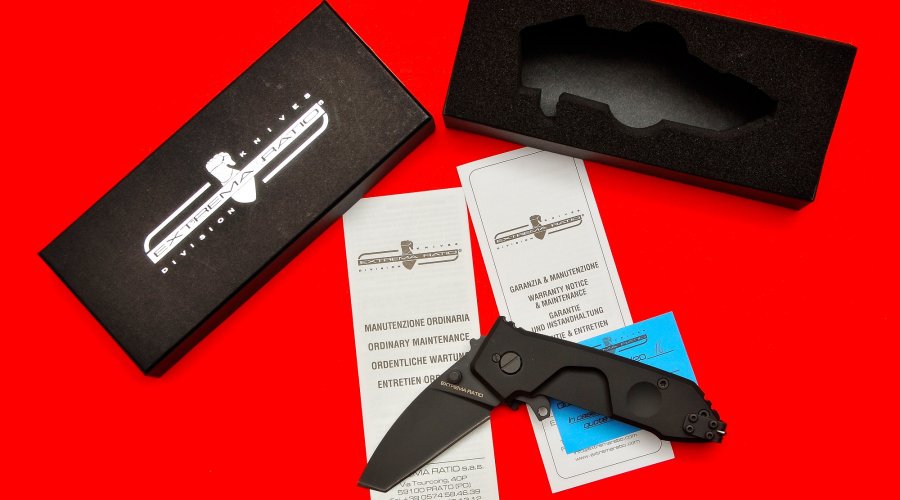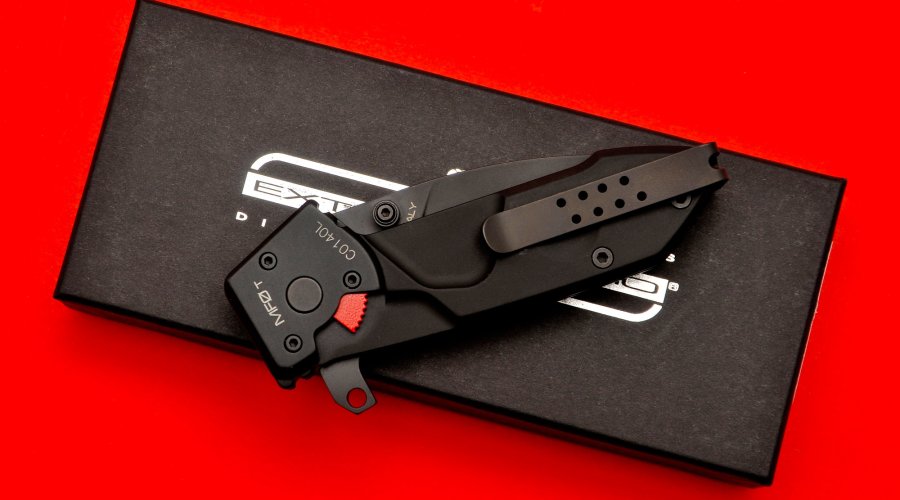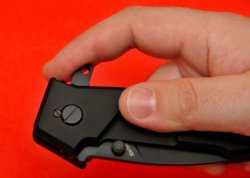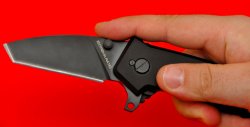 Features of the Extrema Ratio MF0T folding knife

The Extrema Ratio MF0T knife features a 68mm long, 4mm thick folding blade, manufactured out of a solid piece of Böhler N690 steel, topping a 58HRC hardness level on the Rockwell scale; a flat-grid, single-edged blade, it is also black oxide coated according to MIL-C-13924 specifics for maximum corrosion resistance.

The Extrema Ratio MF0T pocket knife is a manual folder design: two small notches on the sides of the blade allow the user to open the blade with the right or left thumb, while a wider notch on the upper portion of the blade itself allows a quick opening with the index finger.
The Extrema Ratio MF0T knife features a classic yet sturdy liner lock; as an additional safety measure, a red lever located on the right side of the knife allows the blade to be locked in the open position.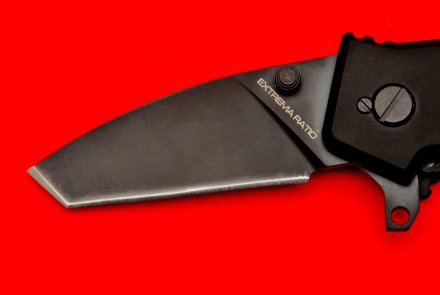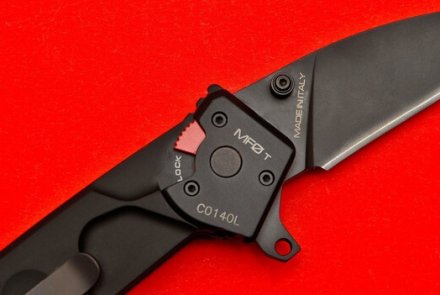 The blade pivot is located on the left grip panel, and is secured in position by a safety screw that can be removed with a small flat-head screwdriver. The screw itself is very small, about three millimetres in size, so you'll need to be extra careful not to lose it.
Once the screw is removed, a larger flat-head screwdriver can be used to turn the blade pivot left or right, thus making the blade lighter or harder to open. Once the adjustment is done, the safety screw can be put back in place.

The Extrema Ratio MF0T sports a two-scales grip machined out of 6082 T651 "Anticorodal" rolled aluminum alloy, and sports the signature centrally-lightened design of the Extrema Ratio tactical knifes grip. On both sides, the knife handle sports small, hollow millings for finger gripping, allowing a quick shift between a saber grip and a reverse grip for self-defense or combat purposes.
Each grip panel is held in place to the steel skeleton of the knife through a series of small Allen screws.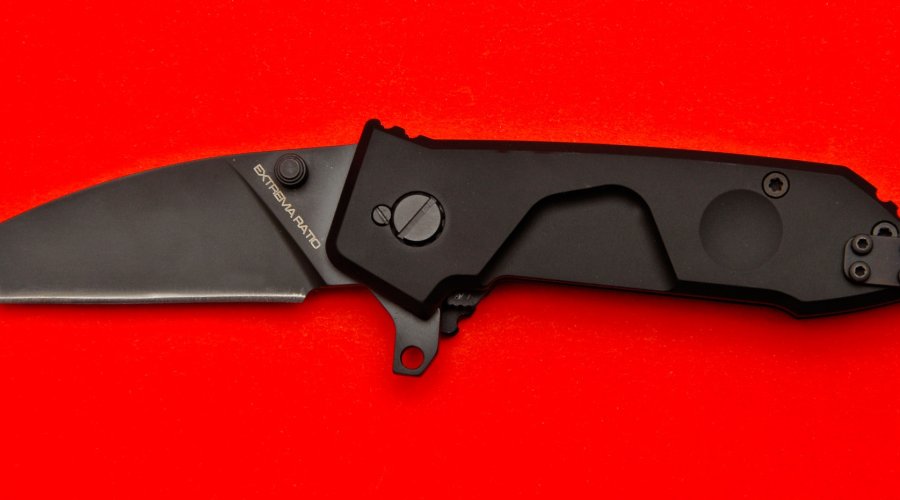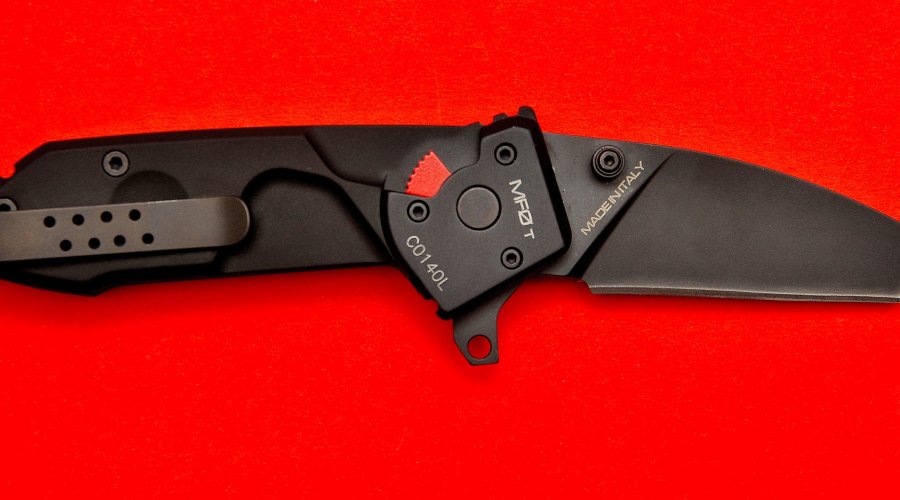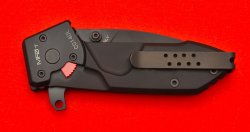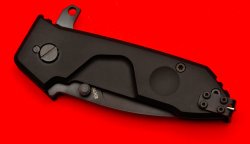 The Extrema Ratio MF0T folding pocket knife also comes with a steel belt clip that can be removed or reversed in position by removing four Torx screws; it protects a small but sturdy emergency glassbreaker.
We received a first-production MF0T folding pocket knife from Extrema Ratio, and upon examination and testing we could conclude that it is definitely an exceelent alternative for everyday carry.

The Extrema Ratio MF0T folding pocket knife is also particularly practical when it comes to the above-mentioned possible adjustments or to ordinary maintenance. All screws can be removed simply by using a small commercial interchangeable-tips screwdriver of the kind normally sold in electronics stores for iPhones and other similar devices.

Summing it up

The Extrema Ratio MF0T folding pocket knife is available in three variants: the one we received and tested, herby portrayed, is the standard black variant; a second black variant also exists, dubbed the "Ruvida" in Italian ("Coarse black") because of the peculiar texture of the grip, making it slip-proof in basically any condition. Finally, a "Desert Warfare" version comes with flat dark earth grips and FDE zebra stripes on the black blade.

The Extrema Ratio MF0T folder is sold at a manufacturer's suggested retail price of 269 Euros − a tad bit over US$300.00 at the current change rate − but it is definitely well priced for the quality, and those who prefer Tanto-style blades over classic Drop blades will now have no more excuses for not getting an Extrema Ratio MF0-line knife as their every-day carry pocket pal.