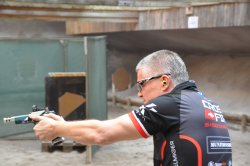 Despite all the uncertainties and travel restrictions due to the current pandemic situation, a total of 387 shooters from 6 European nations came together in Philippsburg to face the diverse shooting challenges of the 15 stages with a minimum of 287 rounds. Thanks to a hygiene concept that has meanwhile been tested over several matches, the GECO IPSC Masters 2020 went like clockwork.

In contrast to the first major events, which took place there in early summer, exhibitors were again admitted. After shooting, for example, visitors could stock up on accessories, take a look at the latest Walther pistol models or find out about the wide range of ammunition offered by match sponsor GECO.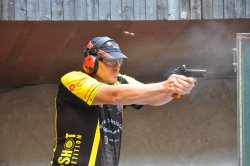 387 shooters from 6 countries at the GECO IPSC Masters 
As mentioned at the beginning, organizers really did not do things halfway with the 15 courses and put on a great show. The previously published stage drawings already indicated that a lot of moving targets had to be expected. In addition, some of the setups looked very complex, which indicated that the choice of the right shooting position would be very important. All in all, a challenging match was to be expected. This first impression was confirmed on Friday evening when the first shooters had completed the match. All too often, the scores were marked by misses, also known as "Mikes", which are highly disliked by the shooters.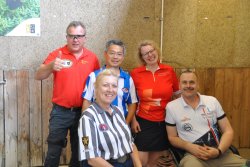 Challenges of the GECO IPSC Masters: moving targets, long distances

The 15 stages were divided into two long courses with 32 rounds to be scored each, 6 medium courses with 22-24 rounds and seven short courses with 12 rounds each, with several moving targets waiting for the shooters in 5 stages. The targets ranged from swinger targets and poppers to plates. And if the situation was not shaky, mini targets, penalty targets or the mere distance to the targets provided excitement. On Stage 12 there were 4 IPSC poppers and on Stage 13 an IPSC target that had to be hit at a good 40 metres. On stage 12 the distance could be shortened to 10 meters by a courageous sprint, but on stage 13 there was no such option and all that remained was "grit your teeth and go for it!" Finally, 2 single handed stages did their part to keep the difficulty of the stages at a constant high level.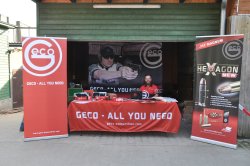 Clever awarding of prizes by GECO to preserve the hygiene measures
After 3 days under summery temperatures, this year's GECO IPSC Masters ended on Sunday afternoon. Due to the current situation, unfortunately without an award ceremony and also without the usual raffle at the end of the respective shooting day. Nevertheless, GECO as match sponsor did not want to let the participating shooters leave empty-handed and thought of another solution. On Stage 7, the Range Crew distributed tickets to the shooters on all days of the event and the lucky winners could later receive their prize personally at the GECO information stand.
Results and winners of the GECO IPSC Masters 2020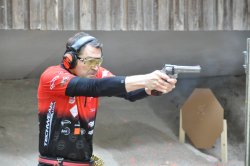 The strongest group was the Production Division with a total of 128 athletes and the victory went to the Portuguese Miguel Ramos, ahead of the two German shooters Stefan Rohoff (95.33 %) and Kai Simon (94.68 %). In the second strongest Standard Division, with 110 shooters, Gregory Midgley was twice as happy. After all, he won big the overall and seniors' ranking. Second place went to Oliver Damm, and the Belgian Tom Saudemont completed the podium. In the Open Division, often referred to as the Formula 1 of shooting sports, the Dutchman Dylan Keppel prevailed over Luis Erhardt from Germany and the Swiss veteran Remo Schraner. With only 54 participants, however, the Open Division is becoming increasingly thin, which is probably due in no small part to the introduction of the two new Production Optics divisions.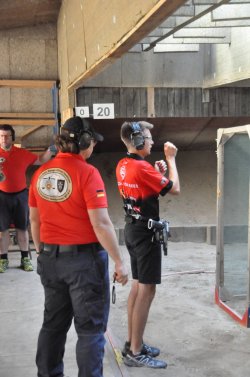 These also offer the luxury of a red dot sight, but the limitation to Production Division compliant guns makes entry and maintenance much easier and cheaper. The only difference between Production Optics and Production Optics Light Divisions is that in the latter the gun, including the red dot sight and with empty magazine, may weigh a maximum of 1000 grams, which is intended to encourage the use of modern polymer guns. Combined, a total of 57 participants opted for these two new divisions, with a majority of 41 shooters opting for the non-weight-limited variant. In this division Frankonia team shooter Nils Nothnagel won again with his CZ Shadow 2 Optical Ready, ahead of his team mate Arne Lentz and Robin Leypoldt. In the Production Optics Light Division the Walther team shooter Marijan Loch won with a Q5 match ahead of Benjamin Brändle and Michael Schütz.

Only the two nostalgic-looking Revolver (12 shooters) and Classic (26 shooters) divisions remain. Tom Kronawitter won in the wheelgun category with a fabulous lead of more than 16% and the division of classic 1911 pistols with a slim grip for single stack magazines was won by Michael Hoiss with a conceivably narrow lead of less than 0.8% over the Swiss Hampi Brosch.

Taking part is the first shooter's duty!

All in all we can only say that the GECO IPSC Masters 2020 was once again a top event and we can only warmly recommend participation to every IPSC shooters. The complete results including all categories stage results can be found at www.ipscmatch.de.
The Top 5 of the GECO IPSC Masters 2020

Open Division

Standard Division

Production Division

Dylan Keppel (NED)

Luis Ehrhardt (GER) 98,64%

Remo Schraner (SUI) 98,58%

Andreas Pfeiffer (GER) 96,97%

Jens Serneel (BEL) 95,91%

Gregory Midgley (SUI)

Oliver Damm (GER) 91,52%

Tom Saudemont (BEL) 90,79%

Steve Margodt (BEL) 88,32%

Maik Aschemann (GER) 88,26%

Miguel Ramos (POR)

Stefan Rohoff (GER) 95,33%

Kai Simon (GER) 94,68%

Patrick Kummer (GER) 92,03%

Philippe Vanreusel (BEL) 88,05%
The Top 5 of the GECO IPSC Masters 2020

Classic Division

Production Optics Division

Production Optics Light Division

Revolver Division

Michael Hoiss (GER)

Hampi Brosch (SUI) 99,22%

John van Uitert (NED) 95,61%

Thomas Steiger (SUI) 90,85%

Heinz Schürmann (GER) 88,41%

Nils Nothnagel (GER)

Arne Lentz (GER) 95,70%

Robin Leypoldt (GER) 87,90%

Jörg Haben (GER) 83,28%

Frank Weuster (GER) 78,24%

Marijan Loch (GER)

Benjamin Brändle (GER) 92,50%

Michaelk Schütz (GER) 88,67%

Christian Deuber (GER) 79,52%

Joel Stiefer (FRA) 73,07%

Tom Kronawitter (GER)

Eric Cornelissen (NED) 83,80%

Sascha Back (GER) 83,32%

Günther Knaus (GER) 77,87%

Marcel Slim (NED) 74,87%
---
Further information about the match sponsor and its ammunition offer can be found on the GECO website.

With the DTX line, GECO has brought out an inexpensive training ammunition – Here we present the GECO DTX.