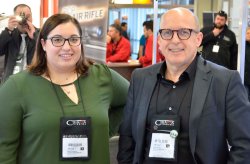 Ezechiele "Oscar" Chiappa founded his company in 1958 naming it Armi Sport and, at least initially, he dedicated himself to the manufacturing of traditional firearms. Oscar Chiappa had a peaceful vision of work: he had no major ambitions for expansion and for many years he worked essentially as a subcontractor, but the future is upon him. His son Rino Chiappa, current owner of the company, has specific ideas and big dreams. At the cost of colliding with his father, he insisted on expanding the company's horizon, following the most innovative production techniques. In short, Rino's dream is realized and Armi Sport becomes Armi Chiappa, with the family entirely involved in a company that even can afford the opening of a factory in the United States. Today, Giada Chiappa, Rino's daughter, also works full-time in the company, in particular taking care of relations with the US headquarters and of the company's coordinated brand. Here you can read our latest interview with Giada Chiappa.
All this considering that none of the firearms produced by Chiappa is a simple rifle or gun: the company likes to do difficult things and offers on the market unique replicas of Western models such as the 12-gauge Winchester 1887 or the revolutionary Rhino revolver in .357 Magnum featuring a barrel in alignment with the lower chamber of the cylinder.
In more recent times, Armi Chiappa has acquired the brand and know-how of FAS, a company specialized in the production of handguns and rifles for academic shooting, gathering further support.
The latest novelty presented by Chiappa Firearms during the meeting organized at IWA to celebrate its 60th anniversary, comes in fact from the FAS line.
Debut at IWA 2018: Chiappa Firearms FAS 611 Hunter
We are talking about the FAS 611 Hunter pre-charged air rifle, a modified version of the pre-existing standard 611 model. It's a rifle designed for hunting, especially varmint.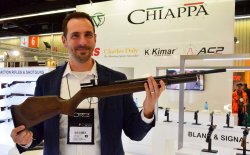 The FAS 611 Hunter stands out from the previous model for the presence of a 10-rounds rotary magazine that makes repetition easier and faster.
It should be noted that this is not a semiautomatic rifle, but a manual repetition gun. Available in 4.5mm low-power (V0 550 fps), 4.5mm full power (V0 800 fps) and 5.5mm full power (> 850 fps) the FAS 611 Hunter features a 24 inch (61 centimeters) barrel.
The cylindrical tank located under the barrel has an operating pressure of 200-250 bar. The beech stock has a large cheek-piece and a thick rubber recoil pad. An 11 mm Weaver rail on the receiver allows for the mounting of optics mounts. The weight of the FAS Hunter 611 rifle is approximately 7.3 lbs / 3.3 kg. The indicative retail price is 459 euro.
Chiappa Firearms FAS 611 Hunter: technical data 
| | |
| --- | --- |
| Type: | pre-charged air rifle |
| Caliber: | 4.5 or 5.5 mm |
| Action:  | manual repetition |
| Barrel length:  | 24 in / 610 mm |
| Magazine: | 10-round rotary |
| Overall length: | 39 in / 990 mm |
| Price: | 459 euro |