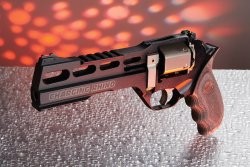 Things are different in Chiappa's Charging Rhino 60DS revolver: the cylinder  turns clockwise instead of counterclockwise like in a Colt and the barrel is aligned with the lower chamber instead of the upper one. The Italian six-shooter is mostly made of aluminum and the eye looks in vain for a hammer spur. But actually some things are not quite so new, because Emilio Ghisoni had already developed this barrel arrangement in the 1980s. His consistent implementation of the physical possibility to literally get muzzle rise under control, i.e. to minimize the distance between the bore axis and the extension of the straight line through wrist and forearm, also led to his innovative Mateba revolvers. When Emilio Ghisoni passed away in 2008, his ideas were adopted and further developed by Chiappa.
There are also other detail differences in comparison to other revolver brands. To swing the cylinder out, for example, the release lever must be pressed down.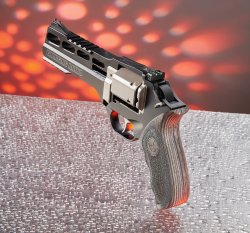 In combination with the Picatinny cut-outs on the upper and lower barrel surface and the light-catching fiber optic inserts in the front and rear sights, the intended use of this bulky-looking sports model is quickly revealed: poppers or IPSC discs are to be brought down or perforated as quickly as possible without a break. With an unloaded weight of only 33.5 oz / 950 g, handling is surprising; the six-inch model looks heavier than it is. Chiappa only manufactures the thin barrel (liner) inside the frame, as well as the cylinder, crane and ejection rod from steel, the rest being made of black anodized aluminum. The conventional sights left a technically good impression – the rear sight snaps neatly into the clicks. In the 0.12" / 3 mm rear sight notch, the front sight offers a contrast that is more suitable for quiet accuracy rather than fast action shooting, but the luminous fiber optic rods help with target acquisition. The laminate grip, which is designed for small to medium-sized hands, takes some getting used to. Shooters with large hands will probably want a more voluminous grip. Due to the high grip spur, the hand position was more like a sports pistol than that of a conventional revolver.

The unusually smooth and cleanly running trigger provided a thoroughly positive surprise: no jerking and even force distribution over the entire travel, with a trigger break at around 106 oz / 3000 g. Chiappa offers spring sets with various configurations, which are designed to allow trigger pull weights between 88 oz / 2500 and 148 oz / 4200 g. For the lightest ones, however, Federal 100 primers are recommended. The installation of these "performance kits", which reduce trigger resistance, should be left to the gunsmith. The unusually wide 0.47" / 12-mm trigger blade also have a subjectively lightening effect. By the way, the trigger can only be pulled off when the cylinder stop completely engages into a cylinder notch.

Chiappa Charging Rhino 60DS at a glance: technical data and price
| | |
| --- | --- |
| Model: | Chiappa Charging Rhino 60DS |
| Price: | 1300 euro (price may vary in your country due to VAT and import duties) |
| Caliber: | 9 Luger (9 Para) |
| Cylinder capacity: | 6 rounds |
| Dimensions (L x W x H): | 270 x 36 x 147 mm |
| Barrel length: | 6" / 152 mm, 1:19" (1:482 mm) twist rate |
| Weight: | 33.51 oz / 950 g |
| Trigger pull weight: | 106 oz / 3000 g |
| Notes: | Picatinny rails, internal hammer, DAO trigger system, full moon loading clips, laminate handle, elevation and windage-adjustable micrometer sight. |
Chiappa's Charging Rhino on the shooting range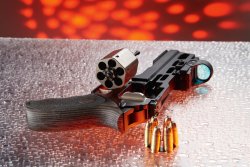 To test accuracy, a C-More RTS 2 red dot sight was mounted. We would like to point out how the cylinder gap (0.2 mm) is close to the fingers: pay attention to the warnings in the operating instructions, about where the shooter should not place his fingertips! During the precision shooting 3 cartridges by the brands Sellier & Bellot and Magtech misfired. However, this was only due to the particularly light trigger stroke during the precision check. With a faster trigger, these cartridges ignited perfectly – not for nothing Chiappa advises to use Federal primers, which are known to be particularly easy to ignite for extra-light competition triggers.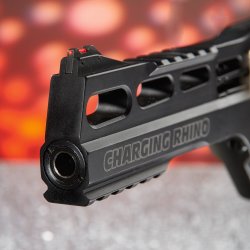 The big surprise of the shooting range session came when the first target was removed. Some groups looked record-breakingly good from a distance – after all they were shot with the red dot on. But from close up many groupings showed long holes and even keyholes! That's no good at all. Confusion increased when, after the end of the test series, some groups with keyholes ranked in orders of size that did not look so bad at all. 
Our analysis: there are two factors to consider for the partly bad target picture. On the one hand, there is the enormous free bore, which can be measured in centimeters. Add to this the barrel, whose twist rate instead of 1:10" / 1:250 mm (for the 9mm Luger) is almost twice as long. Since this corresponds to the .357 Magnum twist rate, the obvious suspicion is that instead a proper 9mm barrel the manufacturer of the Charging Rhino used a slightly longer barrel in .357. This could explain the fine groupings without oblong holes when using cartridges with thin bullet jackets as Magtech's, which are also accelerated with correspondingly great pressure. These jacketed bullets are compressed and, just like the copper-plated bullets by Haendler & Natermann, inevitably adapt. The situation was different with slower bullets, which just override the barrel rifling. This explains the still acceptable groups in spite of oblong holes, just as if they were accelerated in smooth-bore barrel: a very unusual mixture of internal and external ballistics, which is actually unacceptable for the customer.
Chiappa Charging Rhino 60DS: our test verdict
The Rhino owner unfortunately has to live with the technical shortcoming that definitely good groups can only be achieved with certain types of ammunition or hand-loaded cartridges. But if you come to terms with it, you'll have an innovative product in your hands, whose technical features represent the current top in modern revolver construction. With these limitations, the price is just ok, because there is no alternative. But other manufacturers offer revolvers without this flaw.