GECO is a German manufacturer that has made convenience its watchword. In fact, it manufactures pistol, rifle and shotgun cartridges characterized by excellent performance and reasonable prices. With the same product philosophy, for some years now the German company has been offering rifle scopes and binoculars in its catalog. Not only that: GECO also markets the bullets and cartridge cases it uses in its production chain as reloading components. Let's take a look at some of the jacketed bullets available in 9mm caliber, which can be used for reloading 9x19 mm Luger cartridges. All of the bullets examined have a diameter of .355" and come in packs of 200 pieces.
GECO 115-grain FMJ Round Nose bullet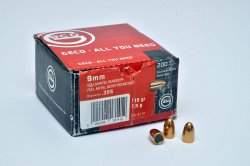 In order of weight, the lightest bullets in the group are the 115-grain/7.5-gram "vollmantel rundkopf" – the German term means Full Metal Jacket Round-Nose. In this bullet the copper jacket does not completely envelop the lead core that is therefore left uncovered at the base of the bullet and can be reached by the firing gases. It is therefore preferable to use this bullet in open air shooting ranges. The ogival bullet shape allows to assemble cartridges with a high degree of reliability in semi-automatic pistols and pistol caliber carbines (PCC). It is an inexpensive bullet, ideal for those who do high-intensity training sessions. The 200-pack is sold at a price of 29.10 euros. The 154-grain/10-gram version is sold at 30.20 euros per box of 200.
GECO 115-grain Hollow Point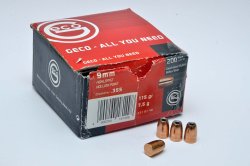 Recently discontinued, the 115-grain "Hohlspitz" are hollow point expansive bullets, whose base is completely wrapped by the copper jacket. The lead core is visible only through the conspicuous nose cavity. This is a bullet developed for the 9mm caliber that offers good accuracy and considerable stopping power. The fact that in the EU it is not possible to use expansive bullets for self-defense limits their use to sports shooting in ranges where the use of fully jacketed bullets is limited or where it is necessary to reduce the emission of lead vapors as much as possible. The cost of the 200-piece package is XXX euros. 
GECO 124-grain Full Metal Jacket RN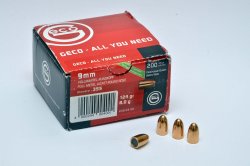 Going up in weight we find a great classic for the 9mm, that is the 124-grain/8-gram  FMJ RN bullet. Here too the profile of the bullet is ogival, with a tombac jacket that does not cover the base of the lead core. We are dealing with a bullet whose profile facilitates feeding in semi-automatic guns. It is also suitable for use in pistol caliber carbines. This is the ideal "all-rounder" bullet for sports shooting even with high intensity sessions, and it can offer excellent performance at a reasonable price. The 200-pack costs 23.40 euros.
GECO 124-grain Hexagon bullets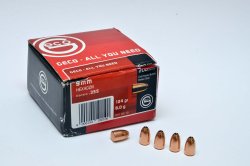 Finally, let's talk about the 124-grain Hexagon bullets, which at first glance might seem expansive bullets, but are actually designed to offer maximum accuracy in sports shooting. They are designed with a lead core and a copper jacket that completely envelopes the bullet, even at the base. The lower flared edge facilitates the insertion of the bullet into the case and helps  stabilization in flight, while the particular nose design does not have an expansive function, but provides greater stability and accuracy. In spite of the particular hollow point profile, the Hexagon bullet guarantees maximum feeding reliability in both semi-automatic pistols and in pistol caliber carbines, as we were able to verify during our tests. 
To learn more about GECO Hexagon bullets and their reloading you can read the article about the GECO Hexagon 9mm bullets field test we published a few years ago. A pack of 200 Hexagon 9mm bullets costs 31.70 euros.