In addition to its large tank with a volume of 2,500 milliliters and the integrated heating unit for heating the ultrasonic bath, the great advantages of the Lyman Turbo Sonic 2500 also include a digital timer function.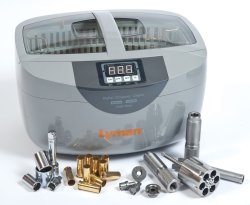 With the latter, a total of five different cleaning cycles with a running time of 1 ½ to 6 minutes can be programmed.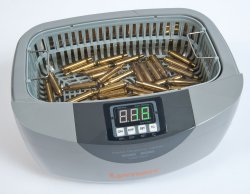 In contrast to other cleaning processes, cases are cleaned equally on the outside and inside. In addition, with pure wet c
leaning in the ultrasonic bath, no annoying parts of the cleaning medium can get stuck in the primer pocket or channel, which then have to be laboriously removed again by hand.
Another advantage is that ultrasonic cleaning at a frequency of 42,000 hertz is much quieter than most other case cleaning systems. In addition, a case cleaning system using a special cleaner does not take as long as other common processes, which usually take several hours.
According to the manufacturer, for example, up to 900 9mm caliber cases can be restored to a high gloss in the Lyman Turbo Sonic 2500 in just around 15 minutes – assuming an appropriate cleaning solution and an ultrasonic bath previously heated with the device's internal heater.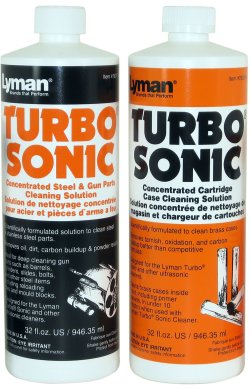 But the range of applications for the Lyman Turbo Sonic 2500 is even broader. It can be used not only for cases, but also for thorough cleaning of gun parts and also for cleaning other items found in the home, such as watches, glasses, CDs or even gold, platinum and silver jewelry.
For the different things, Lyman also offers various cleaning solutions in concentrated form, adapted to the respective materials. For example, there is a cleaning concentrate specially designed for copper and brass parts – including cases – but also one for steel and anodized aluminum parts, as well as one for jewelry. Currently, the two most important types for reloaders and shooters are available in the online store at STROBL.cz.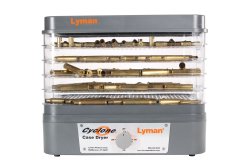 The unit, which weighs only three kilograms, is largely made of plastic. The same material is also used for the case basket, which fits exactly into the stainless steel tank of the Turbo Sonic 2500 and is easy to remove thanks to two retractable stainless steel handles. The sieve-like construction of the basket helps to conveniently separate the cases or gun parts from the liquid, for example.
The Lyman Turbo Sonic 2500 comes with a detailed, easy-to-understand user manual, as well as a special stand that can be used to place watches without waterproof cases in the cleaning bath so that the liquid only flows around the wristband.
After cleaning, the items must of course be rinsed with clean water and dried. If the cases are dried in the open air, it can take a few days for the water to evaporate completely. To speed up this process, STROBL.cz also offers the Cyclone Case Dryer from Lyman.  
Lyman Turbo Sonic 2500 case cleaner specs 
Model:

Lyman Turbo Sonic 2500


Device Type:


Digital ultrasonic cleaner


Power Supply:


220 ~ 240 Volt, 50 - 60 Hz


Power Consumption: 


170 watt

Heating Power:


160 watt

Ultrasonic Frequency:


42,000 Hz


Cleaning Cycles: 


90 s / 180 s / 280 s / 380 s / 480 s


Tank Capacity:


2,500 ml, enough for up to 900 cases in 9mm, 

400 cases in .223 Remington 

or 250 cases in .30-06 Springfield


Cleaning Solution Capacity:


600 ml to 2,100 ml


Weight:


3,000 g

---
Other useful reloading articles as well as products of interest to the sport shooter and hunter can also be found in the online store on the website of the renowned mail-order company STROBL.cz. Here prices, delivery times and offer fit. So you can be sure that you can buy good quality from renowned international manufacturers cheaply and reliably online. And feel free to take some time to browse through the entire range of products offered by STROBL.cz. There is sure to be something or other that you will like. And that doesn't just apply to reloaders.
Here we have a presentation of the online store of Strobl.cz