Trail cameras are becoming more and more popular for observing and studying nature and hunting grounds, and also for the surveillance of houses, gardens, boats or company premises. To meet the increasing demand and fields of application, Minox is expanding its current range of game and observation cameras with the new DTC 1100 model, offering full GSM and 4G functions for an even better, future-orientated network coverage. 
The captured images are transferred quickly and directly through an MMS to a pre-memorized cellphone number, or to the owner's PC by e-Mail. The advantage of the new system is that the user can respond immediately to the situation from anywhere, and take any necessary action.
Minox DTC 1100 trail camera - the setup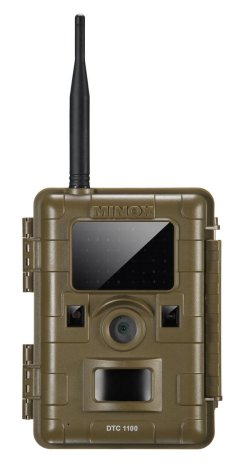 Installing a camera with a mobile communication module has never been easier: as soon as a SIM card is inserted, the Minox DTC 1100 is ready to go and the user can select between a range of preinstalled network providers with easy and fast access thanks to a Plug-&-Play interface. 
Should the area where the DTC 1100 is installed suffer from poor network cov erage, the camera will automatically choose the best connection network (either GSM or 4G, as it's compatible for both protocols), in order to ensure permanent data transmission.
The high-power infrared flash with offers a range of up to 18 meters and reliable images, even in low-light or twilight conditions. A black filter fitted in front of the infrared LEDs makes the wavelength range of the flash invisible to people and animals alike.
The remote control function of the DTC 1100 allows photos to be taken via SMS and then transferred directly (snapshot). An activation period can be set in which the camera is active and the time lapse mode allows shots to be taken at fixed intervals without motion detection.
The intelligent design of the motion detector offers greater flexibility when recording. Due to its individually adjustable sensitivity, the camera only captures desired objects and excludes all recordings of irrelevant motions such as moving branches or grass.
The shutter release of the DTC 1100 is extremely short − less than 1 second. All data are stored on an SD card with up to 32 GB and can also be viewed directly on the integrated 2-inch monitor.
The reliable camera technology of the Minox DTC 1100 trail camera is protected by a sturdy and weather-resistant plastic body to keep out water, dust, cold and heat. A security box for protection against theft is also available as an optional accessory.
The new Minox DTC 1100 comes issued with a fixing strap, an SD card and a USB cable. The manufacturer's suggested retail price for Europe is set at €479,00 (incl.VAT).