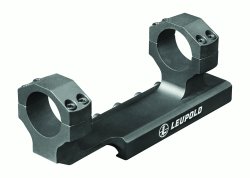 The new optics mounting system introduced by Leupold is called Integral Mounting System (IMS) and includes a line of extremely refined single-piece cantilever design mounts, the most rugged and long lasting design for the most intense stresses.
The base is integral with the rings and fits securely into the Picatinny rails now found on most AR-style rifles and shooting guns. The monolithic construction and the pre-spacing of the rings facilitate the assembly of optics and maintain maximum accuracy in case it is necessary to zero.
Leupold IMS, designed for black rifles and tactical rifles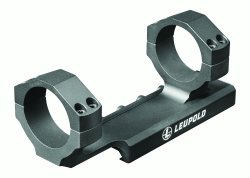 Designed specifically for tactical use, the new IMS system is available in the Mark 1, Mark 2 and Mark 4 configurations and features a cantilever design that is rugged and durable  in even the most intense conditions of use, also exhibiting rigidity and allowing extra adjustment space for an optimal eye relief. In any case, all IMS mounts are covered by the Leupold Full Lifetime Guarantee. The integral base/ring – machined from a single aluminum billet – firmly attaches to Mil-Spec 1913/Picatinny rails of most AR flattop rifles or other tactical rifles, holding the optical axis 1.4" above the Picatinny rail itself, thus eliminating the need for risers or specialized optics with shortened eye relief. The one-piece design ensures easier assembly and a more precise zeroing, as the user only has to mark a position on the rail. Already available for main tube diameters of 1", 30 mm and 34 mm, the range of Leupold IMS mounts is now being expanded with new models and rings with a diameter of 35 mm, to mount the new Leupold-manufactured riflescopes and red dots such as the Mark 8 3.5-25X56 mm or the Mark 8 M5B2 models.
In the US, the starting MSRP price for the Leupold IMS is 159.99 USD.