In some US states and European countries (e.g. Germany), magazines for centerfire rifles are limited to 10 rounds For fans of the AR-15 platform, this is a bitter blow. Because a 10-round magazine affects the handling of the gun quite enormously. Both in terms of dimensions and weight. Hera Arms has been offering the 10-round capacity H3L magazine for some time, which looks and feels like a 30-round one. But at the end of the day, professionals are not only concerned with look and handling, but also weight and feel. To compensate for this shortcoming, Hera has now developed the new H3L PRO model. To make a long story short: a 10-round magazine that also feels like a loaded 30-round magazine in terms of weight.

Of course, the Hera H3L PRO only holds 10 cartridges in compliance with the law, but it has a long 30-round magazine body with all the resulting handling advantages in shooting practice. Because of the larger size, activities such as any weapon manipulation or  tactical or dynamic reloading are much easier and more convenient to perform. 


FOTO-STUDIO SCHWAB REMLINGEN, © FOTO SCHWAB REMLINGEN
The new Hera Arms HL3Pro magazines: a 10-round long version – Good weapon handling despite capacity limitation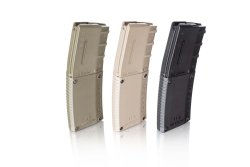 FOTO-STUDIO SCHWAB REMLINGEN, © FOTO SCHWAB REMLINGEN
The detachable, easy-to-clean magazine can be used either as a short Hera H1 magazine without a base or as a long Hera H3L magazine with improved haptics. However, since it was designed without a limiter, it can neither be dismantled nor converted into a magazine with a capacity of 30 cartridges. This means that you are also absolutely on the safe side in terms of firearms legislation.

Another smart feature is the cavity in the magazine base, which can accommodate up to seven commercially available feather keys (DIN 6885 Form A) – in other words, the additional weights that simulate the missing cartridges. The keys are available in well-stocked standard parts stores or can be obtained as accessories directly from Hera and weigh 1.55 oz/44 grams each individually. This allows you to increase the weight of the Hera H3L PRO by up to a maximum of 10.86 oz/308 grams to simulate the weight and drop behavior of a 30-round magazine during a dynamic magazine change. As usual with Hera, the magazines are available in the brand's usual three color options to match the weapons: black, tan and olive green.

In terms of dimensions, the Hera H3L PRO is naturally built to fit into common magazine pouches (on the belt, chest rig or plate carrier) as well as magazine couplers. Like all of the company's polymer products, the magazine is manufactured in Lower Franconia, Germany, is made of high-quality, impact-modified, glass-fiber-reinforced polymer, and is available in black, sand, and olive green.

The Hera H3L PROis priced at 19.90 euros and the associated keys/weights can be reordered as spare parts for 4.90 euros. The new Hera H3L pro magazines are available now. Great idea – Chapeau!

---
More information about the Hera H3L Pro and the manufacturer's other products can be found on the Hera Arms website.