F.A.I.R. adds a further model to the already wide range of Iside side-by-sides dedicated to hunters who are looking for a classic but at the same time modern gun. As its name suggests, the Prestige De Luxe is designed as an aesthetically pleasing version. The forged steel "round body" receiver is finished with an old silver chrome-plating on which we find a triple-depth laser engraving and five gold-inlaid wild game figures. The selective single trigger is also finished in gold; if you prefer, the shotgun is also available with the more classic double trigger.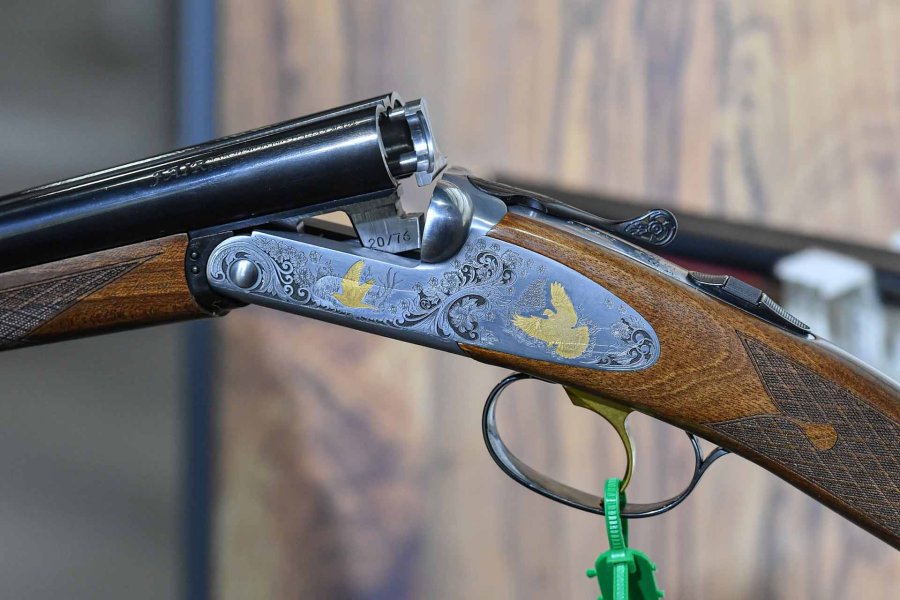 Franco Palamaro, © F.PALAMARO
Locks feature coil springs and hammers with a double safety notch and an oversize cross locking bolt on double lugs. The long-stroke ejectors are automatic. The English stock is made from European select walnut wood with Scottish-type checkering, featuring a high-gloss finish.

The FAIR Iside Prestige De Luxe is therefore a very classic side-by-side in appearance but this should not make us forget that it's a modern hunting gun built with the most modern technology.
The 20-ga barrels with 76 mm chamber are made from UM/7-HD40 steel and are 28"/ 71 cm  long on this version. They are chrome lined and they offer the possibility to mount the Tecnichoke Hunting XP50 internal chokes as an option.
The FAIR Iside Prestige De Luxe is a very handy and light gun, with a weight of only 6.1 lb / 2.8 kg, despite the fact that the receiver is steel and not alloy, to the benefit of robustness and safety.

The Iside Prestige De Luxe is shipped in a plastic case containing five Tecnichoke Hunting XP50 chokes and a choke key.
Retail price is still to be determined.