German manufacturer Unique Alpine is currently releasing several new model variations of its bolt-action rifles. The specialist for precision rifles from the Bavarian town of Erding has set its sights on expanding its caliber range in 2021.

For example, the Unique Alpine TPG-3 A4, developed in close cooperation with FN USA for a US military tender, is now also available in the brand-new .375 Swiss P caliber developed by RUAG Ammotec. The .375 high-performance cartridge can be chambered into actions set up for the .338 Lapua Magnum without cumbersome or cost-intensive conversion measures, but it delivers considerably more power than the .338 LM. In this case, a simple barrel change is all that is required. But even more complex caliber changes than from the .338 LM to the .375 Swiss P would not cause the TPG-3 A4 any problems. In case of doubt, changing the barrel, magazine and bolt head is enough, so that the TPG-3 A4 can be converted in less than a minute, for example, from .300 Norma Magnum to .308 Winchester.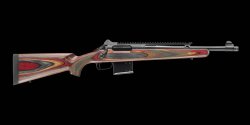 For hunting, Unique Alpine is now offering the leading Kodiak Scout model in .450 Bushmaster. Jakob Eckmayr, Unique Alpine's director of development, says, "The .450 Bushmaster caliber is ideal for driven hunts or wild boar hunting from handy rifles like the Kodiak Scout." Like all of Unique Alpine's bolt-action rifles, the Kodiak Scout features a solid three-lug bolt action. Its smooth trigger is fully compatible with the Mauser 98 trigger assembly, if needed.
Video live interview from all4shooters.com with Jakob Eckmayr, Unique Alpine's development manager: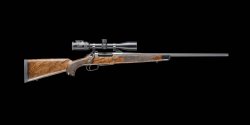 Hunting enthusiasts who want extra luxury will take a liking to the all-new JPR-1 Monaco. However, the new hunting model from Unique Alpine is not only distinguished by its noble walnut stock: its receiver has been given a facelift with particularly elegant, finely rounded contours and a high-gloss DLC (Diamond Like Carbon) coating. This extremely resistant type of surface coating is not only found on the Monaco, but on all Unique Alpine rifles in the JPR and UPG series.

Keyword UPG: this chassis system series combines features from the tactical as well as the sporting area, optionally with a multi-adjustable fixed stock, a corresponding folding stock or with an AR-15 stock. Recently, the Unique Alpine UPG-1 has also been made available in 6mm Creedmoor caliber. Designed by John Snow, the 6mm cartridge is based on the popular 6.5mm Creedmoor, but depending on the bullet, it is supposed to be even more resistant to wind drift and have a somewhat flatter trajectory; factory ammunition for hunting and sporting is available for the 6mm Creedmoor from the US manufacturer Hornady. All new models and caliber variants are available immediately from Unique Alpine – according to the manufacturer, the delivery time for a rifle from the time of order is around 16 weeks.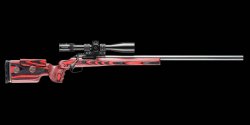 But the new products from the German rifle manufacturer are not always all about new caliber options. Under the name ProAction, the manufacturer is now also offering gunsmiths the actions alone as a basis for custom firearms entirely according to customer requirements. Here, a Unique Alpine custom-made rifle for the F-Class with a stainless match barrel in .308 Winchester and a red laminate stock serves as an example of a custom firearm based on Unique Alpine's ProAction.

Technically, Unique Alpine's new ProAction system is based on the proven bolt actions of the JPR-1 and UPG-1 series. As a customer, you have a choice of five individual solutions: as a pure single-shot, with slightly rounded outer contours for hunting and sporting rifles, angular outer contours for chassis rifles or with a completely rounded exterior, as is typical for hunting rifles. The fifth member of the ProAction family is a Scout action, equipped with Picatinny rail mounts and additional iron sights to suit its intended use as a universal rifle.