The .45-70 Government and .450 Bushmaster calibers both came from the United States: the former a classic caliber that is particularly associated with "Western" long guns, the latter a relatively new ammunition development, among other things, for strong wild boar hunting with current rifles. All in all, rather exotic for the European market – but with both calibers,  for half an eternity in the case of the .45-70 Government and since recently with the .450 Bushmaster, deer and wild boar are hunted successfully in America.

We went to the range for our comparison of the two Americans and had different ballistic media in our luggage. We wanted to find out: how do the two calibers work at shorter distances? And are the somewhat slower .45-70 Government and .450 Bushmaster suitable for driven hunts?

.450 Bushmaster and .45-70 Gov.: ballistic media for the test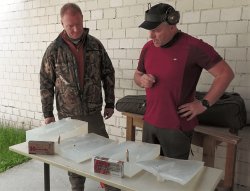 As always, when it comes to a test or simulation, it should be noted that our test does not claim to be complete. It is intended to give the inclined reader a possible scenario that can be adapted in reality. The result leads to conclusions that can be used for orientation.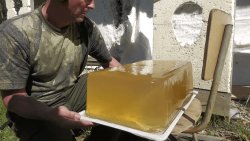 At this point, we would like to thank Jens Tigges (OMI, Outdoor Marketing International), who supported us in the research for this article and pointed out with regard to the different ballistic media that "clear ballistic gel", i.e. the gelatine block, and "wet paper plates" are of course not forensically approved ballistic media.

With that, we would have introduced the ingredients for our test firing. The paper plates, which you can buy in any supermarket, were soaked in water for about three hours in order to create a medium that simulates game body as realistically as possible "as a home remedy". Again, it should be noted that a real game body can only ever be simulated approximately, because neither ballistic soap, nor Clear Ballistic Gel, nor even wet paper plates contain the structures that are found in a game body: bones, fatty tissue, blood, muscle contraction, and relaxed or tense game bodies are missing here.
Test Gun #1: Unique Alpine JPR-1 Kodiak Scout in .450 Bushmaster caliber loaded with Hornady FTX ammo

Nevertheless, we can draw conclusions as to how the two cartridges will probably behave in practice. The .450 Bushmaster Hornady FTX 16.2g/250grs. was used in a Unique Alpine JPR-1 Kodiak Scout hunting rifle with a short barrel. The second .45-70 Gov. caliber was fired with the Hornady 21.1 g/325 gr FTX LEVERevolution from a Marlin 1894 SBL with an A-Tec silencer. The ballistic media were each on a chair and with the ballistic soap we had to fire two shots at a block, as we were only supplied that one soap block for the day.

Before we get to the evaluation, a few words about the calibers and their intended use: the .450 Bushmaster was developed in the mid-2000s to bring down medium-weight game at ranges of up to 250 meters. So, one might think that this load is also suitable for driven hunts. However, one must know that with a bullet velocity of 671 meters per second, the Bushmaster is not one of the fastest calibers. With a bullet energy of 2437.0 joules at 100 meters, it delivers enough energy to safely kill big game. However, one must keep in mind the lead factor when it comes to the "driven hunt" application.

The Unique Alpine JPR-1 Kodiak Scout is conceived for walked-up hunting in the fall thanks to to its design. However, we also see it used by people looking for a short and manageable gun. Everything about this rifle feels massive, rugged and solid. What could still be optimized on this gun would be, from the author's point of view, that the safety is additionally marked with a red dot, so that you can see in which condition the rifle is even under poor lighting conditions.

The ergonomics of the safety is very good and it is easy to use. With the long Picatinny rail, the Unique Alpine model offers plenty of space for additional mounts. The weight of the gun is 3.7 kilos. Its two-stage trigger is adjustable from 0.9 to 2.5 kilograms. The barrel length is 16.5" (419 millimeters), and the overall length of the Unique Alpine JPR-1 Kodiak Scout is under one meter (93 centimeters). Its heavy match barrel has a muzzle thread in 5/8-24 UNEF to accept silencers. Of course, a muzzle brake can also be mounted there. 
Test gun #2: Marlin 1894 SBL in .45-70 Government caliber loaded with Hornady Lever Evolution FTX ammo.
The second model, the Marlin 1894 SBL, has an overall length of 93 centimeters. In our case, we fitted the "Western" rifle with an A-Tec silencer. The classic underlever repeating rifle is also suitable for driven hunts due to its fast target acquisition. This rifle is also worth a look for dog handlers. This model also offers a Picatinny rail on which you can mount red dot sights, for example. In the case of the variant seen in the video, a Leupold Freedom RDS was fitted. We can well imagine that both gun types also play out their advantages in narrow hunting hides. 
The Hornady 21.1 g/325gr FTX LEVERevolution  in .45-70 Gov. delivers 2829.0 joules in bullet energy at 100 yards (E100) – slightly more energy than the .450 Bushmaster FTX. Overall, however, this cartridge is significantly slower and, in our test, heavier than the .450 Bushmaster caliber. So, for the driven hunt application, you have to think about the lead factor again. For the hunter, however, this combination of underlever bolt action rifle and 45-70 Gov. is certainly interesting.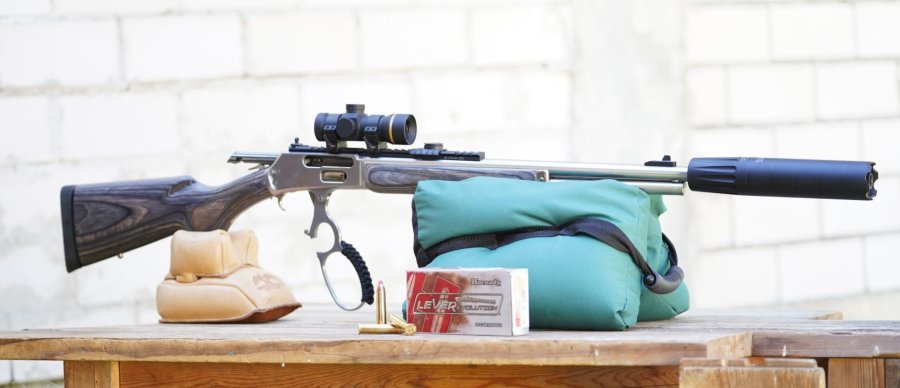 Test firing the .450 Bushmaster and .45-70 Government calibers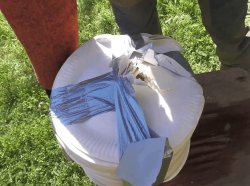 In our test, the cavities looked about the same in ballistic soap. The cavity of the .45-70 Gov. was only five millimeters wider overall than the cavity of the .450 Bushmaster. Both bullets acted through the soap, thus exiting the medium. The .45-70 Gov. produced bullet splinters more quickly. Unfortunately, we didn't have a bullet trap behind the medium, so we can't show you the mushroomed bullet in the video.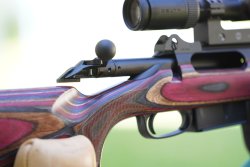 In the second test with the bullet on Clear Ballistik Gel, we had the impression that the Bushmaster had a better stopping effect, because the block was shot from the chair, while the block from the .45-70 Gov. stayed on the chair. At this point, the note that there are certainly better test setups than an old school chair. On the other hand, game is usually only on four legs and not on a wall. Let each reader draw his/her own conclusions.
In the last shooting test on wet paper plates, our assumption was confirmed. The .450 Bushmaster releases all of its energy in the medium, while the .45-70 Gov. worked through the medium and produced a classic exit hole.
.450 Bushmaster versus .45-70 Gov.: conclusion from our test
Both calibers are suitable for driven hunts and both bullets will deliver enough power. For shooting ranges of up to 100 meters, we can conclude that from our point of view, the .450 Bushmaster comes through with a slight lead. However, if you want an exit wound, you should go for the .45/70 Gov., because at least in our shooting test on wet paper plates, the .45/70 Gov. was ahead here. Especially for all those who want to switch from a fast caliber to these slow bullets, it should be noted at this point: go train with the new loads beforehand. 
Good hunting!
---
Further information about the JPR-1 Kodiak Scout hunting rifle can be found on the Unique Alpine website. 
For more information on the "Western" 1894 SBL rifle please visit Marlin's website. 
For more on ammunition and the .450 Bushmaster and .45-70 Gov. calibers please visit Hornady's website.