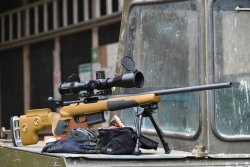 The German manufacturer Unique Alpine is trying to address a large circle of customers with different budgets offering a correspondingly broad product portfolio. Certainly inspired by the enormous success of the low-cost Ruger Precision Rifle (RPR) with light alloy chassis, Unique Alpine offers – among other products – the UPG-1 (tested here), a bolt action rifle with an aluminum chassis for surprisingly little money.
Seven at one go: the great variety of models in the Unique Alpine JPR-1 series
No less interesting is the Unique Alpine JPR-1 series, which offers 7 models in a price range from 1498 euro to 2298 euro. A classic hunting bolt action rifle with wooden stock is the model JPR-1 Europa. The model name is quite fitting, because the slim hunting barrel of the JPR-1 Europa features a metric M15x1 muzzle thread, while match barrels of the other JPR-1 models have US 5/8 "x24 UNEF muzzle threads. The JPR-1 Europa is the most affordable entry-level model without STANAG 4694 mounting rail (an improved version of the MIL-STD-1913 Picatinny) on the top of the action, but is already factory drilled and tapped. At 1798 euro, the JPR-1 Kodiak (tested here) is 300 euro more expensive, featuring a nice laminated wood stock and match barrel. For another 200 euro we get the JPR-1 Kodiak Scout with short 16.5"/420 mm barrel, long mounting rail and LPA ghostring sight: a thoroughbred hunting rifle, which is offered exclusively in .308 Winchester. An elegant appearance also characterizes the JPR-1 Highland with laminated stock featuring a height-adjustable cheek piece and ventilated forearm for the price of 1898 euro. Let's come to our test weapon in the form of the JPR-1 Nordland with "Berserk" adjustable synthetic stock from the Norwegian specialist GRS Riflestocks, priced at 2198 euro. The JPR-1 Nordland Scout (tested here) offers the same equipment, but for a 100 euro surcharge you can have a front mounting rail, which is suitable for the attachment of a night vision add-on for example. Except for the JPR-1 Kodiak Scout, all models are available in the four calibers .243 Winchester, 6.5 Creedmoor, 6.5x47 Lapua and .308 Winchester and barrel lengths of 16.5"/420 mm, 20"/510 mm, 24"/610 mm and 26"/660 mm. All rifles have AICS-style box magazines with a capacity for 5 cartridges.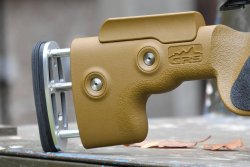 Unique Alpine JPR-1 Nordland in detail
The design of the Unique Alpine JPR-1 Nordland is mainly characterized by the attractive GRS Berserk synthetic stock, which is not only pretty to look at, but also effective thanks to its robustness and practical construction. The model name for the stock is probably derived from the word Berserker – in medieval Scandinavian myths, a berserker is a person fighting in a frenzy, who no longer perceives pain or wounds. Roman sources also report about this kind of warriors, who fought on the side of different Germanic tribes, during the imperial period. The JPR-1 Nordland, featuring the fiberglass-reinforced, 30"/76 cm long synthetic stock, weighs 9.9 lb/4.5 kg.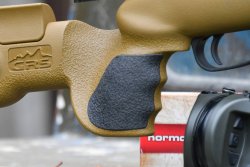 The GRS Berserk features very sturdy quick adjustment mechanisms for individual adjustment of the stock length and height of the cheek piece. At the push of a button these adjustments can be made even when aiming. The distance between trigger and butt plate (Length of Pull, or LOP) can be varied between 13.2"/33.5 and 14.3"/36.5 cm. The cheek piece can be adjusted by a maximum of 1.2"/3 cm. The "Limbsaver Airtech Recoil Pad" butt plate absorbs a lot of recoil energy when firing. The front sling swivel can of course be used to mount a bipod. In addition, the stock is equipped with quick-detachment sling swivels on the left-hand side.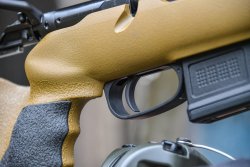 You made your bed, now sleep in it: the action pillar bedding was subsequently filled with casting compound in order to achieve a bedding with as little tolerance as possible. We also noticed this when we removed the two large action screws in the workshop and wanted to remove the action together with the barrel from the stock, which already required some effort. Instead of a conventional recoil lug, the steel action has a milled cut-out in the front area, which engages in a corresponding counter bearing in the stock. This design feature can already be found on old Anschütz match rifles. The solidly dimensioned action contains the three-lug bolt with 60 degree throw. The double-stage trigger with an adjustable weight from 900 to 2500 g and a position-adjustable trigger blade, was even below the 900 g mark on at least one of our test rifles featured a trigger pull weight of only 860 g measured by the electronic Lyman trigger scale. In addition, it also showed crisp and first-class characteristics – there is nothing to improve here. The trigger assembly is combined with a three-position safety mounted on the right side of the rear of the receiver, which acts on the firing pin and has the following positions: "Fire", "Safe" and "Safe and Locked"..
Our test rifle was equipped with a 24"/610 mm match barrel with 5/8 "x24 UNEF muzzle thread, which has a twist of 1-8" (1-203 mm) in the 6.5 Creedmoor caliber.
The video of our Unique Alpine JPR-1 Nordland test rifle in sporty configuration:
This video has been hidden because of an external service (YouTube) that could potentially collect personal data.Allow video services for the duration of the visitAllow video servicesStop allowing video services
Unique Alpine JPR-1 Nordland specs
| | |
| --- | --- |
| Model: | Unique Alpine JPR-1 Nordland |
| Price: | 2198 euro (price may vary in your country) |
| Caliber: | 6.5 Creedmoor |
| Action: | bolt-action, 3-lug bolt |
| Lauf: | 610 mm langer, freischwingender Matchlauf mit 1-8"-Drall und 5/8"x24 UNEF-Mündungsgewinde |
| Barrel: | 24"/610 mm long, free-floating match barrel with 1-8" twist and 5/8 "x24 UNEF muzzle thread |
| Magazine: | Box magazine in AICS style with a capacity of 5 cartridges |
| Trigger: | adjustable double-stage match trigger, measured trigger pull weight 860 g |
| Safety: | Three-position safety on the right side of the action, acting directly on the firing pin |
| Overall Length: | 4.35" to 4.5" (110.5 cm to 114.5 cm) |
| Weight: | 9.9 lb/4.5 kg |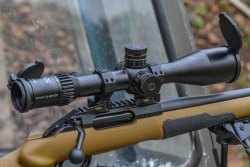 On the shooting range with the UA Nordland in 6.5 Creedmoor long range caliber
The Unique Alpine JPR-1 Nordland, equipped with EAW 365 mounting rings, Schmidt & Bender PM II 3-27x56 High Power riflescope as well as a Harris bipod, was tested for accuracy at 100 and 300 m with a total of 7 ammunition loads in 6.5 Creedmoor, 3 of which were handloaded. It turned out that the repeater with all-round talents was particularly fond of Hornady Hunter Precision hunting ammunition, with 143 gr heavy ELD-X bullet, because with this factory cartridge we achieved the best individual result in the form of a 0.25"/7 mm and a 1.45"/37 mm grouping on both the short and long range. Our moderately loaded hand loads prove that even with reduced velocity and power, very neat accuracy results are possible with the 6.5 Creedmoor.
Unique Alpine JPR-1 Nordland test conclusion
According to the experience we have gained, the Unique Alpine JPR-1 Nordland, which is suitable for hunting and sport, has a lot to offer with the adjustable GRS Berserk stock. Workmanship, equipment, function and shooting performance are all right. In our humble opinion, with a price of 2198 euro an excellent price/performance ratio is offered.