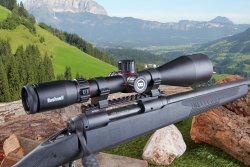 "Savage" can mean barbarian, uncivilized or primitive. But the TAC Hunter has little in common with these associations. For Savage, which is derived from the Latin word "salvaticus", meaning "wild", it also refers to the surname of the company's founder, Arthur William Savage, who established the company in 1894 in Utica, New York. Savage Arms has earned a reputation as a manufacturer of affordable and reliable guns. The Savage 110 TAC Hunter is certainly not a gem, but rather one of those typical American "utility" rifles. This is what hunters and shooters are interested in. They need working technology, without frills or aesthetical niceties – a tool that does its job reliably. Can you expect this from a rifle that costs less than 1000 euros?
Simple aesthetics – The look of the Savage 110 TAC Hunter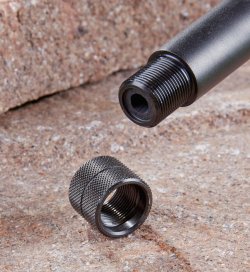 It comes along simply, almost reservedly, in an inconspicuous black look. The company logo on the bolt body is the only embellishment, a checkering on the forend and pistol grip providing the necessary grip on the "plastic" furniture. The bolt handle is cylindrical and fluted, generously sized, which makes it easy to operate for a safe, clean repeating action. The matte blued 22"/56 cm barrel ends with a muzzle thread for mounting a suppressor or muzzle brake. A cap covers and protects the 5/8 24" thread. A striking feature of this model is the non-linear comb of the stock. More of a "pig's back" is found here, which allows for an ideal head position when aiming through the scope. This is due to the new AccuFit system. However, comb height can't be individually adjusted to the shooter. The modular and adjustable length-of-pull by means of stock inserts also comes from this new ergonomics system. A factory-installed Picatinny rail with 20 MOA forward tilt leaves nothing to be desired in terms of variability for cost-effective rifle scope mounting. Four rounds are stored in the steel magazine with plastic floor. When it comes to the trigger, Savage once again uses its proven AccuTrigger, featuring an additional trigger blade in the actual trigger itself.
Simple technology – How the Savage rifle in 6.5 Creedmoor works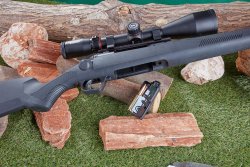 This extra blade provides additional security. A shot can only be released if it's fully depressed. The embedded aluminum rail system – Savage calls this "Accustock" – is designed to improve precision. The system consists in a rigid aluminum rail that extends to the fore-end and is firmly embedded in the stock. The safety is ergonomically situated on the tang and provides the three positions known from the 98 system: safe – bolt can't be opened, trigger is blocked; partially safe – bolt can be opened but trigger is blocked; fire – the gun is cocked, can be cycled and trigger can be operated. If the safety slide is in the foremost position, a red dot provides a visual signal to immediately see that the rifle is ready to fire. Size and design make the slide easy to operate: thanks to transverse grooves, this is also possible with gloves. With a little practice and feeling, the safety can be operated almost silently. The trigger feels crisp and breaks at about 2.2 lb/1000 grams of pull. However, this can be individually adjusted between 1.5-5.9 lb (680-2700 g) using the tools supplied.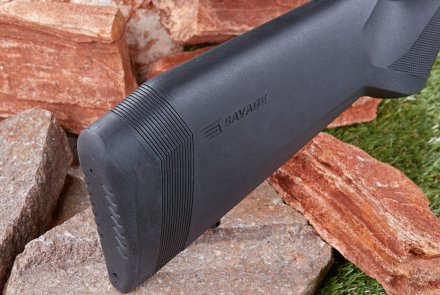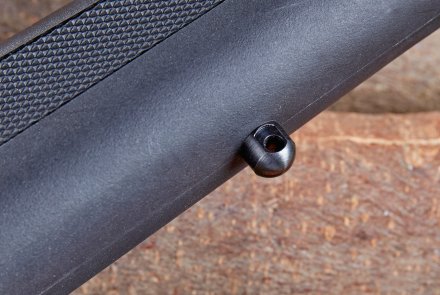 Operating the Savage 110 TAC Hunter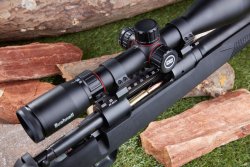 As already described, the stock length can also be individually adjusted. It's quite simple: with a screwdriver loosen the two screws in the stock bottom and add the appropriate insert. The repeating motion is a little bit difficult to get used to at first. The bolt handle must be brought up quite far before the unlocked bolt can be pulled backwards. After a few times, however, the motion becomes routine. The bolt itself is a bit hard to cycle. Here the rifle doesn't feature meticulous craftsmanship, but industrial manufacturing tolerances instead. The cartridges, on the other hand, are cleanly taken out of the magazine and cases are reliably ejected after firing. There were no problems with any of the types of ammunition used. The trigger greatly facilitates accurate shooting, and the resistance of the Accu-Trigger trigger blade can be overcome without any significant effort. The impression of travel is only given by this trigger blade, the trigger itself breaks like glass. The magazine holds up to four cartridges and can be loaded effortlessly. But you have to take care to press first the rear part and then the front part  into the magazine slot. The release lever is a little unfavorably positioned. If the rifle is pushed forward on a flat surface, the magazine can come loose and slip out of the gun.
Overview: specs and price of the Savage 110 TAC Hunter
| | |
| --- | --- |
| Model: | Savage 110 TAC Hunter |
| Price: | 950 euro (SRP in Germany incl. German VAT) |
| Caliber: | 6.5 Creedmoor (test rifle), .308 Win  |
| Magazine Capacity: | 4 + 1 rounds |
| Overall Length: | 42.1"/1070 mm |
| Barrel Length: | 22"/560 mm |
| Trigger: | Accu-Trigger |
| Twist rate: | 1-8" |
| Weight: | 7.49 lb/ 3400 g |
| Left/Right version: | Right-hand side only |
| Notes: | Picatinny rail, extra-large bolt handle, AccuStock embedded system, AccuTrigger system and AccuFit inserts. |
Practical equipment test: mounting the Bushnell scope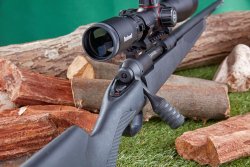 The Savage 110 TAC Hunter was provided to us in 6.5 Creedmoor caliber, a relatively young cartridge, but one that is particularly popular with long range shooters. Introduced by Hornady in 2008 to create the "ideal" competition cartridge for long-range sports shooting, the 6.5 Creedmoor quickly found wide acceptance among hunters. A Bushnell Nitro 3-18x56 scope was mounted. With a 6x zoom and a 30 mm main tube, this riflescope can be used universally for all common conditions. Bushnell has been in the optics segment for over 60 years and is particularly popular with sports shooters and price-conscious hunters. The new "Nitro" optics family features fully multi-coated lenses. The EXO barrier lens coating repels dust, dirt, water, mist and oil. The multiple coating ensures maximum light transmission on all glass surfaces. The Ultra Wide Band Coating provides greatly improved light transmission at dusk and dawn. The German 4 reticle with adjustable illuminated dot in six different brightness levels allows for quick aiming without losing the overall view. It's suitable for precision shooting as well as for the raised hide, mountain hunting and daytime stalking. And if you are prepared to accept a reduction in comparison to premium lenses, the lens can also be used for twilight hunting.
As for ammunition, we were supplied with RWS Target Elite Plus cartridges with a bullet weight of 8.3 g (130 gr) and Hornady ELD Match cartridges – bullet weight of 7.8 g (120 gr).

The Savage 110 in 6.5 Creedmoor on the shooting range

The Savage is very comfortable to shoot. The caliber has a moderate recoil, even without a suppressor or muzzle brake. The expectations that the 6.5 Creedmoor competition cartridge had raised were easily confirmed. With three shots, groupings of 0.6"/1.5 cm at 100 meters with the RWS ammunition and 0.7"/1.8 cm with Hornady could be replicated again and again. The massive barrel was able to cope with 20-40 shots in several groups without dramatically losing accuracy. Wind and weather can't harm the Tactical Hunter, but before storing it you have to get used to dry the metal parts and treat them with gun oil. Rust is a common problem.
Savage budget rifle: conclusion
With the Savage 110 Tactical Hunter you get an accurate, reliable rifle with no frills. If you're not very demanding when it comes to aesthetics, craftsmanship and form, you can be happy with this rifle and stay happy for a long time. Especially for price-conscious hunters, as a starter or even second gun, the Tactical Hunter does its job and does justice to all hunting situations. For use on driven hunts, however, you should practice the repeating motion a little more intensively so that it becomes second nature. For little money you can get a product  that is designed for maximum functionality. The 110 TAC Hunter is available in 6.5 Creedmoor or .308 Winchester. An additional steel magazine is included.
---
Text: Johannes Maidhof and Alexander Losert

Further information about the bolt-action rifle can be found on the manufacturer's website.