Savage's successful 110 bolt-action rifle series welcomed a new addition a few days ago, the 110 Trail Hunter model. Barely the time to process the news, and they are announcing that the new rifle will also chamber the latest in straight-wall innovation, that is the Winchester 400 Legend, in addition to a host of popular predator, varmint and deer calibers ranging from .223 Remington to 7mm-08 Remington and including .30-06 Springfield, .300 Winchester Magnum, .308 Winchester and 6.5 Creedmoor, to name a few.

The gun first: the new Savage 110 Trail Hunter is described as an all-around hunting rifle designed to stand up to the elements, no matter the conditions. For this purpose it features a Hogue Overmolded rifle stock in OD Green to provide outstanding performance and grip. The full coverage rubber overmold on the stock provides the user with a superior hold on the rifle in all conditions. Moreover, to protect from elements, wear and scratches the barreled action has a Tungsten Cerakote ceramic coating.

The threaded, medium heavy barrel is .22"/55.88 cm long and button rifled. Two sling swivel studs, a 2-piece Weaver style bases, a detachable box magazine and a 2.5-6 lb user-adjustable AccuTrigger are also part of the package. Safety is the usual 3-position tang type. MSRP in the U.S. is $629.00.
110 Trail Hunter in .400 Legend: the cartridge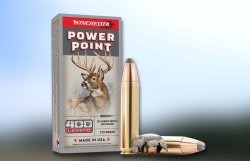 Another straight-walled cartridge, the Winchester .350 Legend, was already among the chamberings initially offered. But the addition of the .400 Legend option "will help give hunters the edge in straight-wall only states and in the woods as a whole". 
The .400 Legend is in fact more powerful than the .350, using a 215-grain Power Point type bullet pushed to a V0 of 685 meters per second with an energy of 3,275 joules. At 100 m velocity is 570 m/s and energy is 2,270 joules. 
We already introduced the .400 Legend cartridge here on all4shooters, in case you need more info.