Benelli in Italy is synonymous with 12-gauge self-loading shotguns with its Montefeltro models. Then came the Argo, and Benelli also became synonymous with semi-automatic hunting rifles. As if that wasn't enough, along came the 828U over/under, which redefined the concept of the double-barreled shotgun, achieving extraordinary success. Some manufacturers would have been satisfied with that. But resting on one's laurels is obviously not part of the Benelli mentality. That's why Benelli introduced the  Lupo ("wolf", in Italian) bolt-action rifle at SHOT Show 2020.

Presented in 3 calibers for launch in the US market, Benelli has expanded the caliber range for 2021 and customers now have a choice of .243 Winchester, 6.5 Creedmoor, .270 Winchester, .308 Winchester, .30-06 Springfield and .300 Winchester Magnum. Important to know: The two versions of the Lupo for the US market and the European market differ significantly. This has been completely incorporated into our update so that you can read here with us exactly what you will see live at your dealer in Europe. And this much can be revealed: The new Benelli 2021 model Lupo is a fascinating, innovative firearm. Here come the details on the EU-version.
What technical innovations and patents went into Benelli's first bolt-action rifle Lupo?

© Benelli / Manfred Alberts
Even at first glance, the Benelli Lupo reveals itself as different from many other hunting rifles. First and foremost, it is distinguished by its chassis-style construction and fully modular polymer stock, which allows the user to customize every detail. Thanks to a shims and spacers kit (for neutral, right or left) called Perfect Fitting, it is possible to customize the stock drop, cast and trigger reach in a total of 36 settings. The interchangeable Combtech cheek pad is available in three heights for the Lupo. The rifle features the Progressive Comfort recoil absorption system, already known from the semi-automatic and the 828U over/under shotguns, but had to be redesigned for the Benelli Lupo and differs significantly from the shotgun systems. It gives the rifle an exceptionally pleasant and mild shooting behavior. The stock length can be easily adjusted between 13.7" and 15.1" (350-385 mm) with spacers and two different butt pads. The stock's grip surfaces feature the patented AirTouch texture for comfort and a firm grip. Sling swivel mounts are integrated into the stock.

The Benelli Lupo's free-floating barrel is attached to a hardened steel barrel extension bedded to a steel block in the alloy receiver. The Benelli Lupo's Crio barrel is made from cold-hammered steel, allowing a sub-MOA accuracy guarantee. Three barrel lengths are offered by Benelli for the Lupo: 20"/51 cm  (6.5 Creedmoor, .270 Winchester, .308 Winchester and .30-06 Springfield), 22"/56 cm (.243 Winchester, .270 Winchester, .308 Winchester and .30-06 Springfield) and 24"/61 cm (6.5 Creedmoor and .300 Winchester Magnum).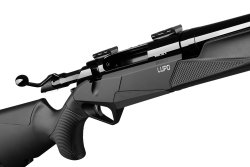 © Benelli / Manfred Alberts
The steel action features an extremely functional and modern design as well as a so-called BE.S.T. coating (DLC "Diamond like Carbon" coating, further developed by Benelli). The three-lug locking system is also BE.S.T.-coated. The rugged steel action with 60° bolt throw allows fast and smooth follow-up shots with the Benelli Lupo.
The Picatinny rail is made of two parts, and sits in front of and behind the ejection port – saving weight and allowing the magazine to be loaded from above. Thanks to a divider and a very soft elevator spring, the patented double-stack box magazine can be loaded as easily as a single-stack magazine, even without removing it from the rifle. The top slide safety is ambidextrous. The magazine holds five cartridges (four in .300 Winchester Magnum).
Depending on caliber and barrel length, weight varies between 6.9 and 7.1 lb (3130-3230 g). In Germany, the suggested retail price is 1798 euros. Benelli gives a 10-year warranty on the rifle and a 25-year warranty on the BE.S.T. coating. (Sold exclusively through specialized dealers).

Of course, we look forward to trying out the new Benelli Lupo as soon as possible.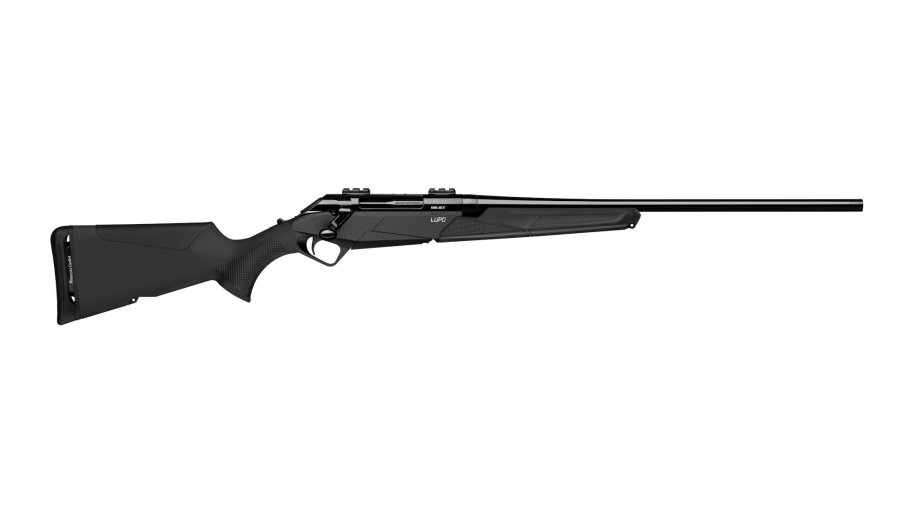 © Benelli / Manfred Alberts
Benelli Lupo technical specifictons and price

| | |
| --- | --- |
| Model: | Benelli Lupo |
| Price: | 1798 euro (price in your country may differ depending on VAT) |
| Type: | Bolt-action rifle |
| Calibers: | .243 Winchester, 6.5 Creedmoor, .270 Winchester, .308 Winchester, .30-06 Springfield and .300 Winchester Magnum |
| Barrel Length: | 20"/51, 22"/56 or 24"/61 cm |
| Magazine Capacity: | 5 rounds (4 rounds in .300 WinMag), double-stacked |
| Stock: | Polymer, fully adjustable |
| Weight: | 7 lb/3200 g approx |