Audrey, based in North Wales, said, "my first shooting experiences were very much rifle-based. I first got into stalking while working at the National Forest. As the company Ecologist, I was responsible for the deer management issues affecting the new trees we were planting and I set up a Deer Management group".
In 2004, she met her husband through the group and started to go with him on stalks and developed her interest to try deer stalking herself.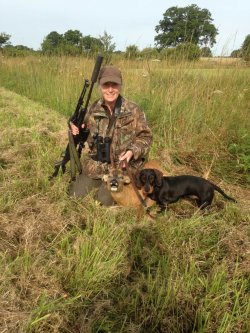 She shot her first red stag on the west coast of Scotland then, her first roe in Norfolk, and 'was hooked'. Audrey passed her DSC 1 in 2004 and her DSC 2 a few years later, and works as a Deer Officer for BASC, and stalks in Scotland, England and Wales. 
"All the deer that my husband and I shoot are processed in our purpose-built facilities and none of it is wasted. Next month, we are off to Croatia to shoot roe in the rut. I enjoy my stalking and also the thrill of taking clients out, especially on their first ever stalk. They may not shoot a deer but as long as they see some and they learn more about the way a stalk works then I feel it is a job well done."
Shotgun lessons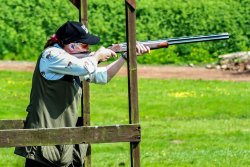 About 9 years ago after feeling vexed at hitting only one or two birds on Beater's day (traditional end of season day where the beaters swap beating for shooting), Audrey decided to have some shotgun lessons to "learn how to use the shotgun properly" and enjoyed shooting with the Yorkshire Fillies and BASC Ladies Shooting. 
"While some may argue that clays and game are completely different targets, I have to say that doing lots of clay days has certainly helped my shotgun shooting as I now swing through a lot better and actually hit more birds in the winter when I go on game days, both on our shoot and on bought days."
---
Who is our author Linda Mellor?
Linda Mellor is one of Scotland's foremost shooting, fishing and hunting female writers and photographers. She is the product Ambassador for Venator Pro, a premier hunting company and stockist of the European brand Hillman. With a lifetime of countryside experience, Linda's passion, enthusiasm and respect for the outdoors and hunting is explored and shared across her writing and photography. 
For more information on Linda Mellor, please visit Linda Mellor's website, Twitter (LindaMellor) and instagram (linda_mellor).