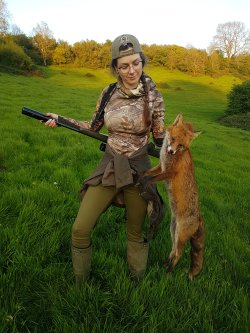 When Chelsea, 29, met her partner in England, she said,  "he mentioned he had a firearms certificate and that he went deer stalking." Her mother's side of the family had always gone hunting, "but it's a man's hobby," and she never had the opportunity to go with them. "I immediately asked if he'd let me shadow him so I could learn more about it out here. Since then, I've completely submerged myself into learning about British wildlife management."
Chelsea is based in Wiltshire, and most of her shooting is done around the county, and on their permissions near the Forest of Dean and in Devon. She enjoys deer stalking because of the involvement level, "I don't just do deer management, some of our permissions are for boar, and there are others for vermin: foxes, pigeons, and rabbits. With each area, an assessment is made of the land. We try to look at the entire ecosystem: how is the vegetation being affected by the species we are considering to cull? What about other animals? Can we accomplish what the landowner is wanting/needing?"
"We'll put together a management plan to discuss with the landowner and go from there. We are proud to say, we've never made a financial profit from this. Everything we have culled has either been consumed in our house or given away to friends and family. We don't have a ton of acres like some people we know, but we try to regularly expose friends to shooting who show a keen interest and take other stalkers out on our permissions to hopefully shoot a species they might not usually get the opportunity to see.'" Chelsea said, "it's always about allowing for those learning experiences, especially for people who might not regularly have the chance to get out."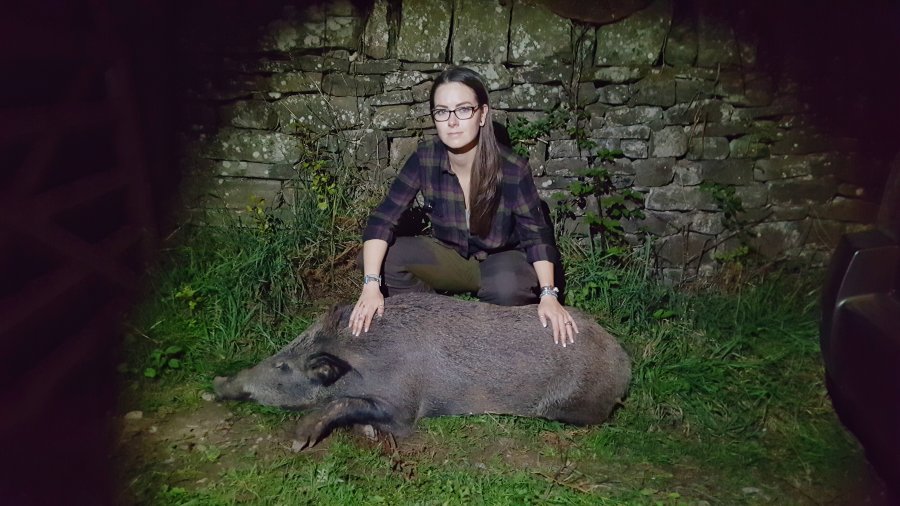 Chelsea enjoys rifle shooting, '"and with my forensic background, I'm able to know exactly how my shots will affect the animal and what reaction to expect. If you ask my partner who is the better shot, he'll sadly admit it's me!'"
You can follow her adventures on Instagram @chelseapwns.
---
Who is our author Linda Mellor?
Linda Mellor is one of Scotland's foremost shooting, fishing and hunting female writers and photographers. She is the product Ambassador for Venator Pro, a premier hunting company and stockist of the European brand Hillman. With a lifetime of countryside experience, Linda's passion, enthusiasm and respect for the outdoors and hunting is explored and shared across her writing and photography. 
For more information on Linda Mellor, please visit Linda Mellor's website, Twitter (LindaMellor) and instagram (linda_mellor).