Judith was brought up on a farm, "I started years ago popping rabbits in our garden with my father's gun. Looking back, I didn't particularly enjoy it, I was easily distracted, I would have much rather been out riding or hunting." 
Years later, Judith had an accident and required reconstructive surgery on her left shoulder, 'every time I mounted the gun, I would shudder waiting for the pain and as a result, would never hit anything. I really started to hate shooting, put down my gun and never picked it back up.'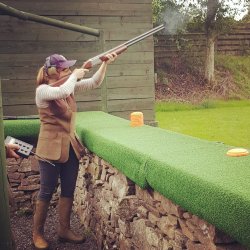 Her partner encouraged her to start shooting again. She tried out a few guns, and shot from her right shoulder, before falling in love with a Miroku MK 7000 Gd 1 Sporter. Judith joined the Scottish Ladies Shooting Club and credits them for helping boost her confidence, and "to venture out to other clubs and small competitions. Meeting like minded people has been great and we have formed smaller groups to travel to different clubs and competitions with."
Since resurrecting her love of shooting, Judith has shot her first snipe, shot clay competitions and shot her first stag. "I have the utmost respect for all the quarry I shoot, but this took that to a new level for me. I understand the need for deer management, it's something that I do as part of my 'day job' but being up on the hill knowing that at some point that day, I would probably take the life of one of these creatures is a feeling that will never leave me."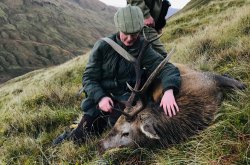 Judith continues, '"I had several tears sitting next to him. I have been brought up on a farm, I'm used to life and death, it doesn't bother me, so it was not the death itself that had me tearing up. It was my respect for these beautiful creatures. Yes, we took pictures, it's a milestone that I wanted to have a photographic memory of, but I hope that you can see the respect and sheer admiration in them."
Who is our author Linda Mellor?
Linda Mellor is one of Scotland's foremost shooting, fishing and hunting female writers and photographers. She is the product Ambassador for Venator Pro, a premier hunting company and stockist of the European brand Hillman. With a lifetime of countryside experience, Linda's passion, enthusiasm and respect for the outdoors and hunting is explored and shared across her writing and photography. 
For more information on Linda Mellor, please visit Linda Mellor's website, Twitter (LindaMellor) and instagram (linda_mellor).