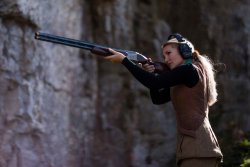 'I enjoy stalking: my mother has lived in the Highlands since I was 12 and I was lucky enough to go stalking there in my early 20s and shot my first hind and stag. We also stalk near home in Yorkshire and our freezer is constantly filled to the brim with venison. At least when you shoot an animal in the wild you are guaranteed wholesome meat; free range, lean and natural, what more could you ask for?'
Fitting shooting and stalking around her hectic fishing diary is a challenge but Marina Gibson hopes to get out stalking when time allows and has a number of shooting dates in her diary. Her favourite shotgun is an AYA side-by-side 20 bore, given as a birthday gift from her husband.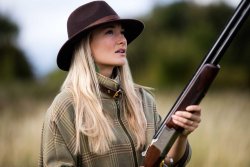 Dawn is a favourite time to go deer stalking, 'getting up early, walking through the woods before the sun rises is a peaceful place for the mind, it's so special to watch the world wake up with the sounds of nature. The bonus is the possibility of taking meat home, hunting is not so much about the kill, more so about the experience and connecting with the outdoors. My favourite part is knowing your meat has lived a free life and it has ethically ended up on the table with the utmost respect. When you've grafted hard for an animal, prepared it and then you cook up a storm for your family and friends it sure doesn't taste like packaged meat from a supermarket.'
Marina is sponsored by Muck Boots. 
For more info https://www.marinagibsonfishing.com/
---
Who is our author Linda Mellor?
Linda Mellor is one of Scotland's foremost shooting, fishing and hunting female writers and photographers. She is the product Ambassador for Venator Pro, a premier hunting company and stockist of the European brand Hillman. With a lifetime of countryside experience, Linda's passion, enthusiasm and respect for the outdoors and hunting is explored and shared across her writing and photography. 
For more information on Linda Mellor, please visit Linda Mellor's website, Twitter (LindaMellor) and instagram (linda_mellor).