Lorraine, from south Texas, was working at a newspaper when one of her colleagues asked her if she would like to take part in a Sporting Clay shoot with her. They borrowed shotguns, went to a skeet range, and taught themselves to shoot, entered the event and won first place for the ladies team.  
"We immediately started to look for other things we could do with the shotguns. Folks at a large hunting ranch graciously hosted us on our first hunt."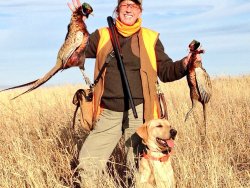 They shot their limit and went home with dove cooking instructions and looked for more hunting opportunities. "The next natural thing was turkey hunting. Again we were mostly self-taught. We read books, got calls and looked for a place to hunt. We had no idea that we had gone from some of the easiest hunting to some of the hardest; wild turkey."
They kitted themselves out in full camo and learned to call the birds and were successful.
Lorraine's interest in whitetail deer grew, so she bought a rifle, and with a little help, hunted on a ranch and took her first deer. "I often had a guide to hunt on private ranches and I learned as much as they were willing to teach. I was by that time fairly good at hunting and a decent shot with a rifle."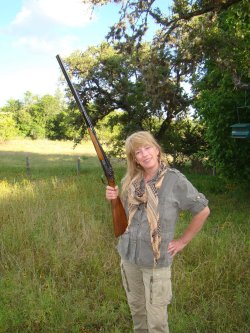 "Each step along the way I was learning more and acquiring new skills." Lorraine got a job working in promotions and marketing for a large sporting goods company. 
"I had pro-staff working for me and was asked if I was interested in hunting in Africa."
Then, a distance shooter introduced Lorraine to another sport, "he kindly gave me instruction and loaned me a rifle. I practised and with his coaching I competed in long distance shooting and am qualified at 1000 yards." 
"I've hunted in the United States, South America, Africa and I made trips to Sweden and Scotland for hunting. I have hunted all of the big 5 in Africa and have 3 of the 5. I've shot in DSC Big Bore shoots, International sporting clays competitions such as the World English, The Nationals (including sub-gauges), and Pan American."
---
Who is our author Linda Mellor?
Linda Mellor is one of Scotland's foremost shooting, fishing and hunting female writers and photographers. She is the product Ambassador for Venator Pro, a premier hunting company and stockist of the European brand Hillman. With a lifetime of countryside experience, Linda's passion, enthusiasm and respect for the outdoors and hunting is explored and shared across her writing and photography. 
For more information on Linda Mellor, please visit Linda Mellor's website, Twitter (LindaMellor) and instagram (linda_mellor).