Growing up in a shooting family gave Julie a great insight into the sport.  They had regular guests who came to shoot geese, rabbits, duck and roe deer on the family farm, and Julie helped out by loading for guests, cleaning guns, looking after dogs, feeding the ponds, keeping butts and hides in good order.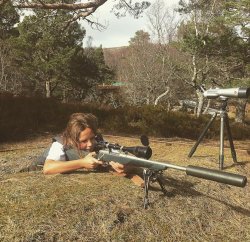 "My grandfather and father made sure I knew about gun safety, where to stand whilst people were shooting, how to look after a gun and maintain it. I was keen to develop my interest in shooting, and my Grandfather was delighted I wanted to shoot, and gave me a side by side 20-gauge Browning which had been in our family for generations.
I remember feeling really proud when I was given the gun, and the three of us going out shooting together."

"We are lucky to have a range of shotguns and rifles passed down the generations, they include a 12 ga Purdey, Henry Aitken 12 ga, AYA 12 ga Charles Boswell 12 ga, Bettinsoli 12 ga, Master 12 ga, and BSA .270, Sako .270, and a Mauser .243."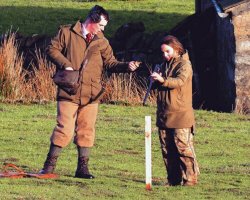 Julie has been involved with all shooting sports, but deer stalking is her passion. Before joining the Reay forest Estate, Julie was a trainee on the Alladale Wilderness Reserve, and was introduced to traditional deer stalking by the Head-Keeper and Under-keeper.
"Very quickly I was interested in deer management. It is a professional skill being able to stalk in on deer, spy deer and separate the beast for culling purposes and being able to pick out the condition of the deer; healthy or unhealthy, young or old. I furthered my knowledge of deer, and the key is to improve the overall health of the deer by keeping a strong healthy herd and handling them with respect.I want to succeed in the industry and strive to do the best I can be."
"I know deer stalking is for me because I enjoy all aspects of it especially where we are taking clients out on the hill, sharing our knowledge, keeping them safe, and guiding them. We make sure we give them the best experience possible.
It's challenging but rewarding."
Who is our author Linda Mellor?
Linda Mellor is one of Scotland's foremost shooting, fishing and hunting female writers and photographers. She is the product Ambassador for Venator Pro, a premier hunting company and stockist of the European brand Hillman. With a lifetime of countryside experience, Linda's passion, enthusiasm and respect for the outdoors and hunting is explored and shared across her writing and photography. 
For more information on Linda Mellor, please visit Linda Mellor's website, Twitter (LindaMellor) and instagram (linda_mellor).