Sophie's love of the outdoors was apparent from an early age. "I instantly loved it! Whether it was an early morning wake-up call to help Dad clean a deer, or to go cat fishing, you could always find me outside." said Sophie.  "Although I was young when I was introduced to hunting by my Dad, I was more of a spectator for years. When I was as young as 5 years old my Dad and Grandfather taught me how to operate a firearm safely, and firearms have since become more than a passion for me, but a lifestyle." 
Going through high school, one of Sophie's favourite pastimes was having friends come out to her land for target practice and shooting skeet.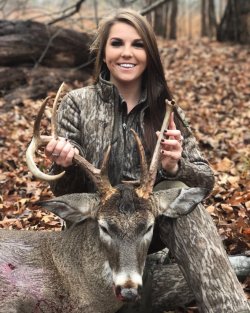 "It wasn't until I was 21 years old, I finally realized what I wanted to do with my life, and that was gunsmithing. I am currently living in North Carolina, enrolled in one of the 10 gunsmithing schools in the United States, and loving every minute of it. It's so empowering being one of the only females in a male dominant industry, especially about something I am so passionate about.

If I'm not working at my local shooting range or at school working on a gun, I spend my free time in the woods, hunting whitetail, waterfowl, turkey, hogs, and more. I'm so grateful for my Dad for teaching me at such a young age, a trade that most females don't learn at all, and I hope to be an influence on other females who would like to learn more about the outdoor industry."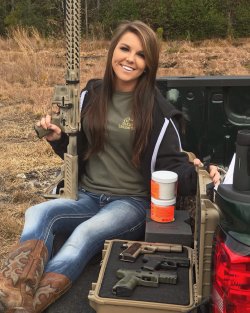 Sophie is on a two-year program and goes to class 2 days a week. from 12-9.30. 
"I am currently building a precision rifle from a Remington-700 bolt and receiver where I am doing a lot of work on the lathe machine. I still have a little less than a year left and I would love to work with a rifle company building rifles, but I am keeping my options open! 
My favourite gun would be my Tikka T3x 30-06 but I'm sure that will be soon replaced with my 6.5 Creedmoor build!"
Who is our author Linda Mellor?
Linda Mellor is one of Scotland's foremost shooting, fishing and hunting female writers and photographers. She is the product Ambassador for Venator Pro, a premier hunting company and stockist of the European brand Hillman. With a lifetime of countryside experience, Linda's passion, enthusiasm and respect for the outdoors and hunting is explored and shared across her writing and photography. 
For more information on Linda Mellor, please visit Linda Mellor's website, Twitter (LindaMellor) and instagram (linda_mellor).